Making healthy lifestyle changes —big or small— can positively impact daily life and overall wellbeing. However, not everyone is aware of the resources available or have access to the information to make these changes.
On November 24, UFV invited local health providers and community agencies to come together to assist with the health and wellness needs of residents in downtown Chilliwack.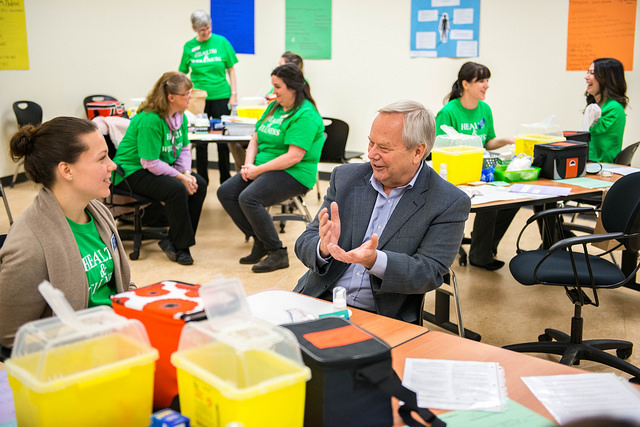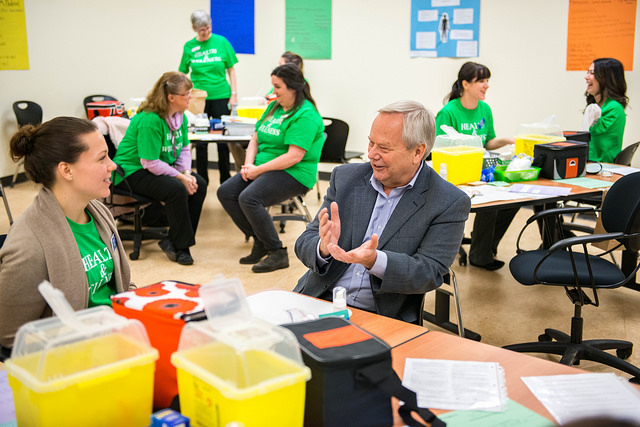 Over 100 community members showed up at the three-hour Health and Wellness Fair hosted at the UFV Five Corners Campus.
The fair provided individuals with access to a free flu clinic, HIV/AIDS/STI and hepatitis testing, blood pressure measurements, chronic pain resources & nursing student information booths on topics ranging from immunizations to stroke prevention.
"We have set goals for ourselves as a university, obviously we have a role to play in delivering a high quality education, but we also play an important role in the development of leaders in our region," says Dr. Mark Evered, UFV President.
"The best way to do that is to get out into the community and find out what the challenges are and work with many other groups, like the Public Health Nurses and the other agencies that are here today, to find ways to reach out to the public in meaningful ways."
Back in March, UFV conducted a community needs assessment at the UFV health & wellness open house.  Over 150 community members in downtown Chilliwack were asked to identify key areas that would improve their overall health and wellbeing.
In response to the needs assessment, UFV students, faculty and staff tailored the fair to address the needs of this population.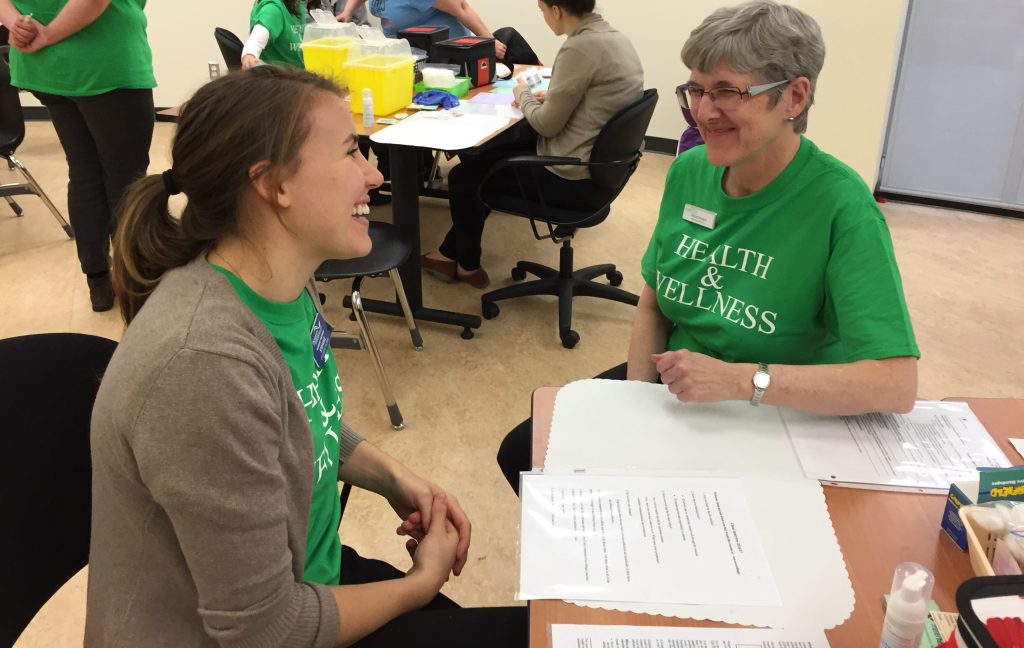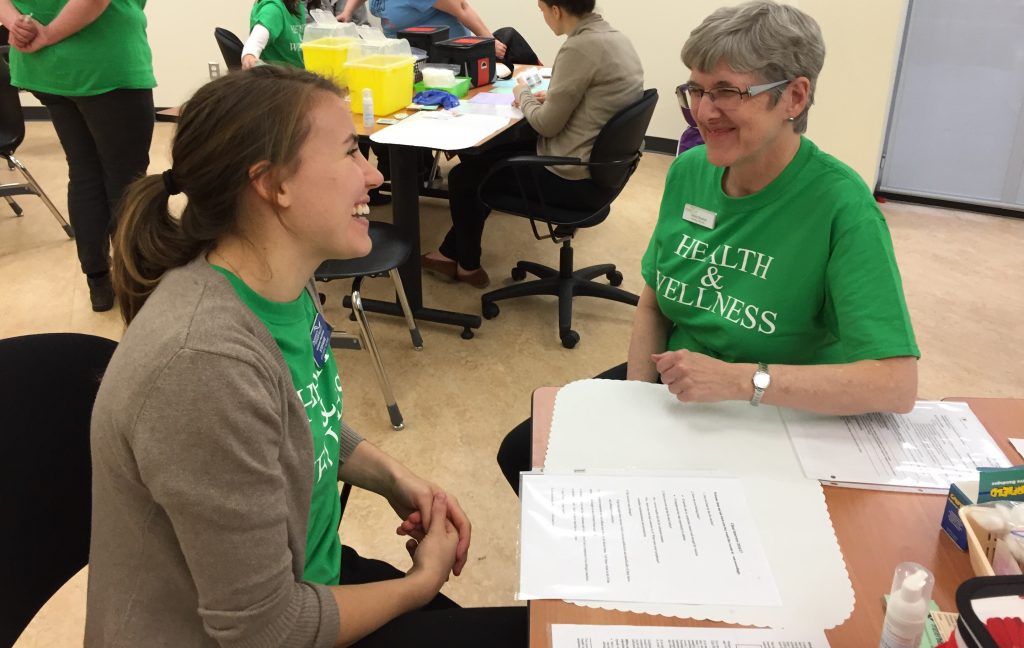 Part of the health and wellness line-up was a free flu and pneumonia vaccination,  UFV nursing students administered the vaccinations to adults under the supervision of  UFV nursing faculty members. Public health nurses were available to offer immunizations to children.
"It is a great opportunity to reach out to the public to share health information and keep people up to date with their flu and pneumonia vaccinations," explained Stefanie Strukoff, who is a fourth year student in the Bachelor of Science Nursing program at UFV.
"This is a valuable learning experience as we get to meet people from our community and teach others about what we have learned in the nursing program."
With the cold, wet weather and holidays just around the corner, nursing students reinforced the importance of vaccinations to protect individuals at risk of complications from catching the flu.
"Vaccinations help to protect all populations from the flu, but especially high risk individuals that are over 65, young children, pregnant women, and those living with medical conditions," Strukoff continued.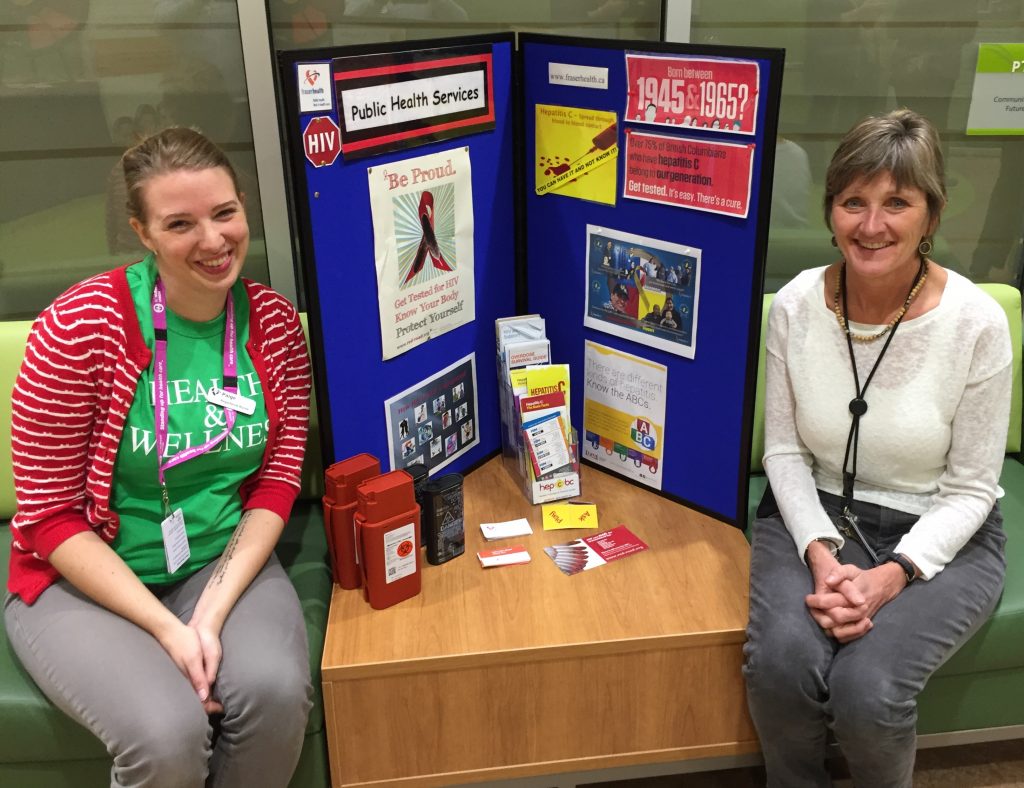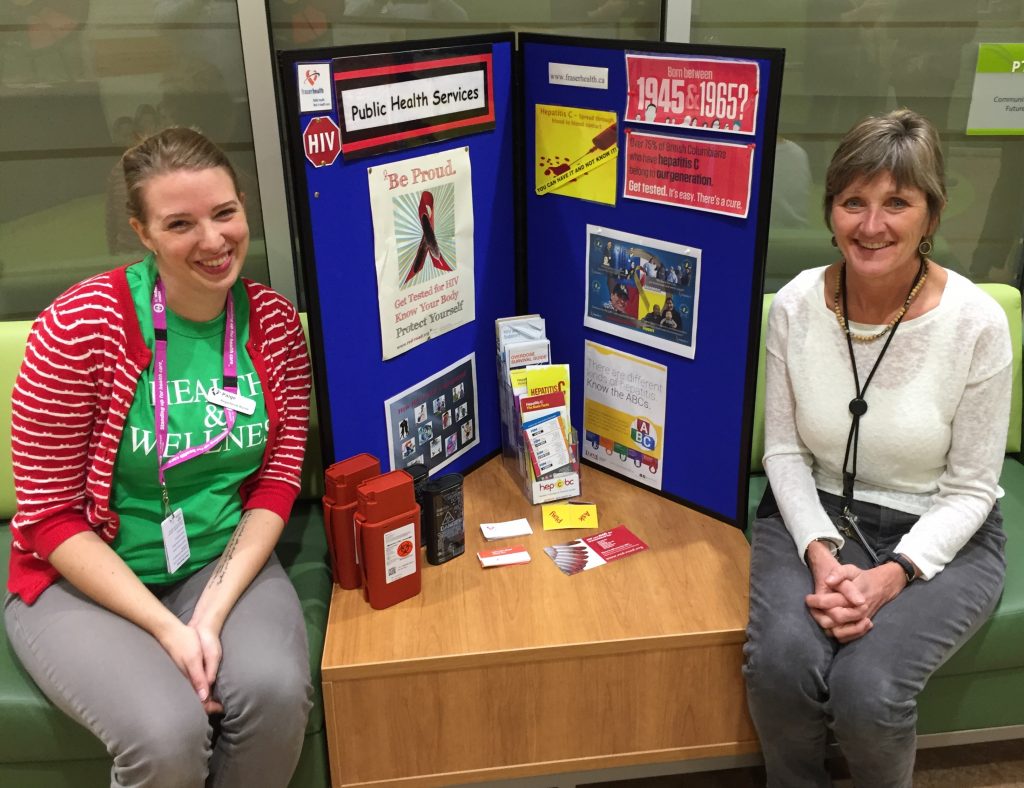 With a nursing program situated in Chilliwack, the fair was an opportunity for students to share their knowledge and gain practical experience in an environment with real people that are dealing with real problems.
Public health nurses from the STOP (Seek and Treat for Optimal Prevention of) HIV/AIDS program were at the fair to talk about support services and offer on-site testing for HIV/AIDS, STI and Hepatitis C.
"A venue like this is really great because it is right downtown and this is where we find the most vulnerable people," says Paige Mackintosh, a public health nurse with the Fraser Health STOP HIV/AIDS team and UFV nursing alumna (BSN '11).
"We have harm reduction supplies available because a lot of the populations we serve are drug users. We always come equipped with needles, pipes and Narcan kits."
As reinforced at the STOP information booth, over 75% of British Columbians with hepatitis C are born between 1945 & 1965 — some may not even know they have it.  The only way to know for sure is to get tested.
To generate awareness about lifestyle changes, the fair included displays to inform the public with healthy tips to incorporate in their daily lives.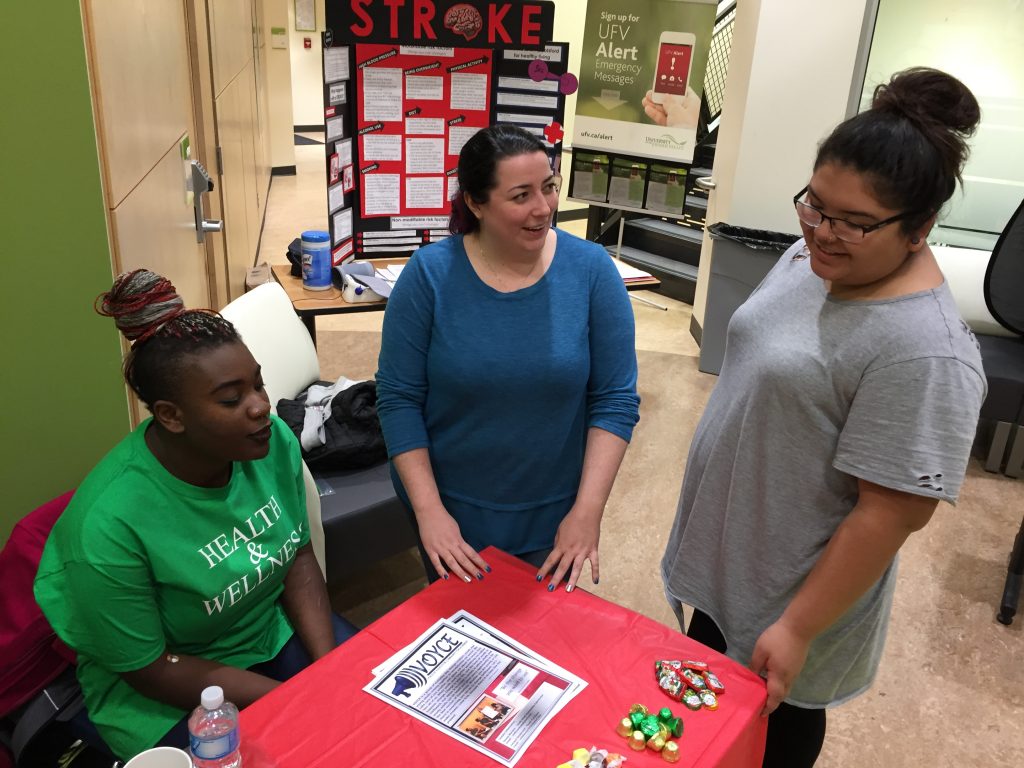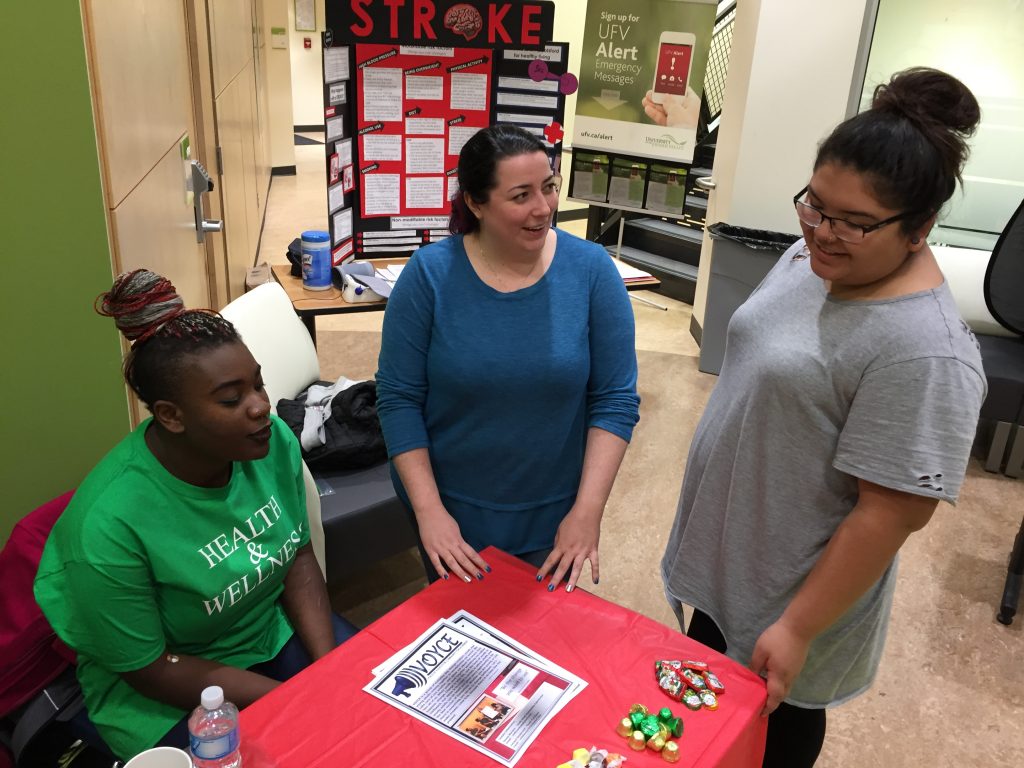 UFV Nursing students were on hand to discuss topics ranging from childhood immunizations to stroke prevention for seniors.
On display was information about chronic pain highlighting the research of Nursing faculty member JoAnne Nelmes. As indicated by PainBC, one in five British Columbians live with chronic pain every single day.  Through her research and PainBC resources, Nelmes informed individuals about chronic pain —an invisible illness — that can impact individuals of all ages.
Through collaboration with community support services, information was available from VOYCE (Voice of Youth for Community Engagement), BC Responsible & Problem Gambling program, and Healthy Families BC to talk about the MEND program.
To help plan future initiatives, a survey was conducted by medical office assistant students to better understand the needs of attendees and how they can be addressed in the future.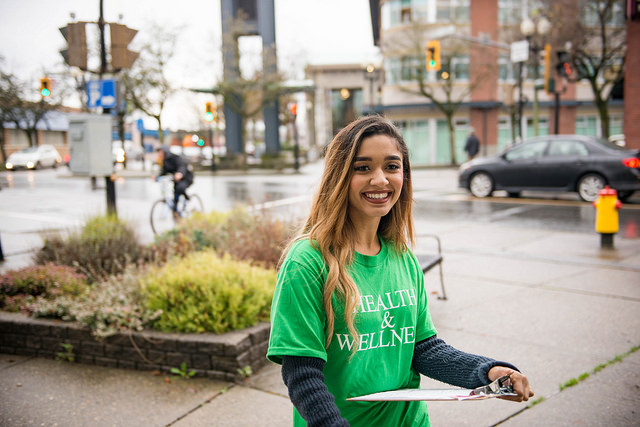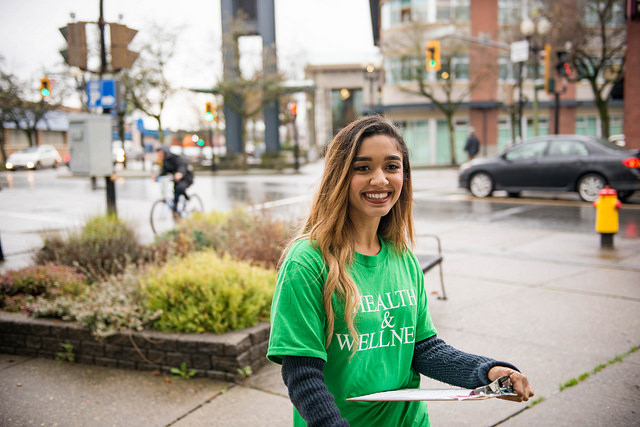 About the UFV Community Outreach Interdisciplinary Committee:
This initiative draws upon resources from various departments and programs at UFV including nursing, dental, kinesiology and social work. This is the second event organized at the UFV Five Corners campus focused on providing resources, support and awareness for downtown residents.