Last week was Literary Arts Week at UFV, but the fun's not over–we've got so many events happening in the next few days that we should be calling it Literary Artier Week! There's something for everyone . . .
March 2nd, the UFV CreWri Club delivers a workshop to help writers keep doing what they do best–writing!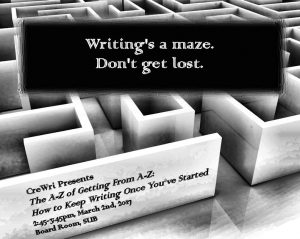 2:15-3:45 in the SUB Boardroom
Free admission
March 4th is the 10th annual Mission Writers & Readers Festival. Check out UFV's current Writer-in-Residence Jordan Abel, UFV's past Writer-in-Residence Daniella Elza, and UFV's Creative Writing instructor Rob Taylor–among many others–as they share their writing.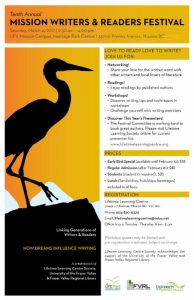 10:00-4:00 on UFV's Mission Campus–Heritage Park Centre, 33700 Prentis Avenue
$40 general admission/$20 students
March 4th is also the "Raiseberry" gala fundraiser for Raspberry, the Fraser Valley's new cultural magazine–founded by UFV English alumni Katie Stoddart and several of her former Louden Singletree and Cascade crew. Join them for nibbly treats and more culture than you can shake a local cottonwood stick at–including live music, a silent auction, a video game demo, poetry, and painting.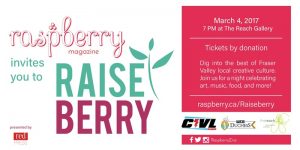 7:00 pm til late at The Reach Gallery, 32388 Veterans Way, Abbotsford
Admission by donation–Click here to purchase tickets.
March 6th may not quite be International Women's Day (yet), but it's when UFV presents A Full House to commemorate the occasion. Written by English professor Rajnish Dhawan and directed by UFV English professor emeritus John Carroll, the second run of this thought-provoking play promises to entertain and inspire.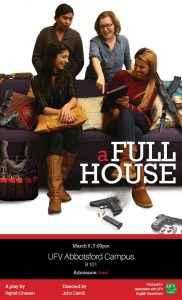 7:00 in B 121 on the Abbotsford Campus
Free admission