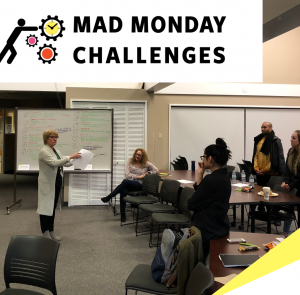 The first Mad Monday Challenge to come out of the College of Arts' pilot project called the Student Experience Design Lab (SXD Lab), which supports real-life student-led learning opportunities, was a success.
On March 9, two student teams were challenged to conceptualize the branding of the College of Arts Experiential Learning Project. Students formed two interdisciplinary teams (comprised of Graphic and Digital Design, Criminology, Communications and Visual Arts) and were tasked to brainstorm ideas, write a report and present.
Each team worked collaboratively and applied their different skills to the challenge in order to win a grand prize of $500.
Assistant Communications Professor, Hannah Celinski, and Associate Dean of Students and Communications Professor, Dr. Linda Pardy, helped mentor and guide the students throughout the challenge.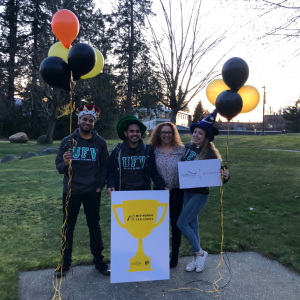 The competition was extremely close. Both teams had amazing recommendations for the client, the College of Arts. In the end, both teams tied. Each team was awarded a $250 cash prize, as well each student received a $100 honorarium, UFV sweatshirt and Letter of Recommendation from Dr. Linda Pardy.
Overall, when asked what their greatest takeaways were, the students agreed it was not the prizes but the practical experience and professional development they gained.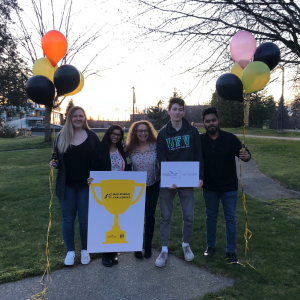 "Mad Monday was so fun! It challenged me as a designer, and was so rewarding as a learning experience. I highly recommend participating," said Rebecca Vandenberg, a Graphic and Digital Design student who participated in the event.
The College of Arts is currently in the beginning stages of implementing both teams' recommendations, such as a new Arts Worx logo, 4 C's campaign (e.g., creativity, critical thinking, collaboration and communication) and social media strategy.
The next three challenges are currently moving to the virtual world (*stay tuned for more info.), one of which will focus on the development of micro-credentialing/digital badging, with the History Department as an early adopter.
Way to go teams! Way to gain practical experience and become career ready. You did great, and you definitely exemplified how Arts Worx.
To see more pictures from the day, visit our Facebook page.