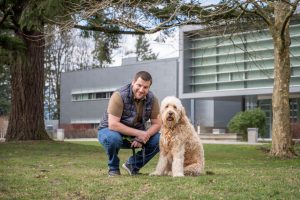 Dr. Michael Corman is an Assistant Professor of Sociology in the Department of Social, Cultural and Media Studies at the University of the Fraser Valley. Dr. Corman's research and teaching interests include a variety of topics that intersect with the sociological study of health, illness, and society.
As students embark on their academic journey, it's not always clear where their degree may lead them or what opportunities they'll encounter along the way. To learn more about what a Bachelor of Arts degree can offer students, we spoke with Dr. Michael Corman, Assistant Professor of Sociology at UFV, about his intriguing career path.
Watch the full, unedited interview:
---
What do you like the best about your work?
I love teaching. I love being in the classroom. I love seeing my student's faces. I also love learning from my students. We have an extremely diverse student body here at UFV which is such a huge asset both as fellow students but also as academics and as professors.

I also love research. What I do for a living in terms of research is that I listen to people and I observe people. How cool is that?
What surprises you about your career?
One of the things, I guess is surprising is how diverse my job is. I teach, I work with medical doctors in Ireland, I publish and do research with nurses, I have students who are so interesting and come from different places and I can learn from their lived experiences. So the ever-changing-ness of what I do for a living.

I've taught Introduction to Sociology for almost thirteen years now and it's never the same. I'm never ever bored.
What are the major factors that contributed to your career choice in sociology?
Social change and social justice
How have your personal values impacted your work?
I have been raised to think about social justice, to challenge inequalities and, of course, this is the underpinnings of sociology . . . to make change, to challenge social inequalities, to challenge power relations that benefit the few and the powerful. So, part of my own values made me align with what I do for a living right now, which is to teach sociology.
What is your preferred learning style and why?
I love to be able to put knowledge into practice. So experiential learning. I love listening to profs and reading content but also to be able to apply it.

In terms of my own teaching, putting content into practice is the major "so what" of what I try to do. Trying to teach my students "why does this matter to you."

I try to engage both as a learner and as a teacher. I try to create an environment in my classroom that is less hierarchical and more conducive to collaboration and discussion so we can learn together.
What makes you feel successful in your work as a sociologist?
Once in a while, I'll get emails from my students that say, "Mike, it's your class that encouraged me to do a sociology degree or go on to my Masters or PhD." And that brings one of the biggest joys to my life.
When did you know that you were good at what you do?
Generally, I think if you like or love what you do, sometimes you can be thought of being good at what you do. But getting feedback from my colleagues and my students to me was that moment where I was like, "I think I'm okay at this."
So what are you reading right now?
Upstream Medicine. It's geared towards making change beyond the clinic to making change in society.
Describe a place that impacted you and what was impactful about it?
Doha, Qatar. My first professorship. Being exposed to such diversity and difference. It really hit me in the face and really made me a better sociologist.
When you think of the future, what do you dream of?
I dream of a more equitable society. A society that challenges inequality, challenges racism, classism, sexism and ageism and all these different axes of inequalities that really we're seeing today but have been underlying and present historically as well.

To me, what I do for a living is ever more important. I see and I hope for a more equitable world based on principles of social justice. A more generous way of organizing society.