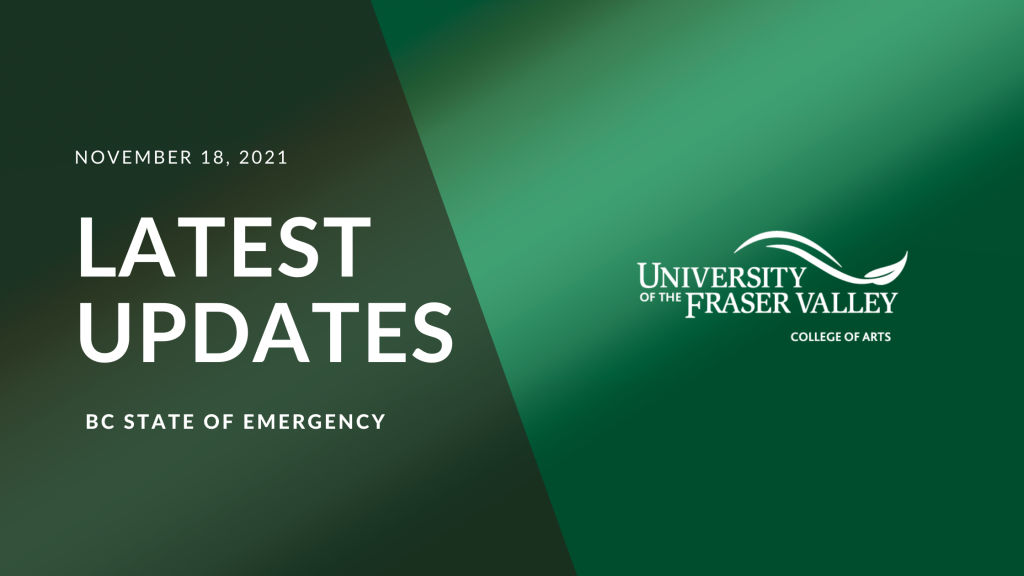 Dear College of Arts faculty and staff,
Our office will be using this channel to communicate directly with all faculty members (permanent and sessional) and staff in the College of Arts about academic matters related to the flood as the situation continues to evolve.
We will also be communicating via the College of Arts website and social media @UFVArts.
For UFV-wide information, please visit UFV Urgent News and see emails from "UFV Info". You can also sign-up for emergency notifications from UFV to your phone via text, email and voice message.
If you have questions or comments, please send them to Lisa.Matty@ufv.ca. She will redirect as appropriate and one of us, or your Department Head/School Director, will get back to you.
Latest updates as of November 18, 2021 – 9 AM
All classes – face-to-face and virtual – are CANCELLED for the remainder of this week (Wed. Nov. 17, Thurs. Nov. 18, and Fri. Nov. 19). All activities and events scheduled for these days are cancelled. Exams scheduled over these dates are postponed and will be rescheduled.
All assignments are to be paused this week (until Monday, November 22, at the earliest). This includes online quizzes and all other forms of assignments. Please remember that some students have been evacuated and/or do not have power or internet connectivity.
PASS system now monitored over the weekend with added options ("safety risk" and "situational") in relation to the current situation: Please continue to refer students to PASS as needed. PASS will be monitored on the weekend until further notice. Referral categories have been added to address the current situation. Click here to access PASS.
UFV campuses in Abbotsford, Chilliwack and Mission are safe and buildings remain open to faculty, staff, and students with very limited in-person services on campus including:

Libraries at the Chilliwack and Abbotsford campuses – open 8:30am to 6pm
Office of the Registrar front counter, Abbotsford and Chilliwack – open 9am to 4pm
Until further notice, building hours in Abbotsford and Chilliwack are from 7 am to 6 pm. Mission hours remain 8 am to 4 pm.

Food services will not be available.
The SUS Campus Connector shuttle bus will not be in service.
All other campus services will continue to be offered online until further notice.