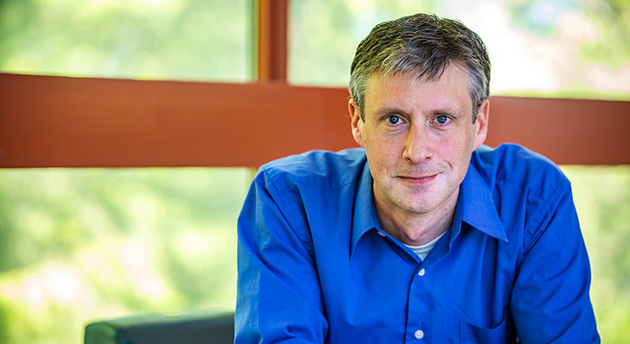 Congratulations Dr. Ian Affleck! He's no doubt a teacher first! He joined UFV in 2005 and has been a remarkable role model for our faculty, staff and students ever since. He was recently recognized for his outstanding teaching within the Faculty of Science. The award was presented on behalf of his colleagues and peers; but it didn't stop there!
Dr. Affleck is one of our superstar teachers ~ Lucy Lee, Dean of Science
Ian went on to receive the prestigious UFV Teaching Excellence Award for 2017. He was recognized by the Board of Governors and the Senate for his academic excellence in teaching.
Ian's commitment to making math accessible to everyone who walks into his classroom and to fostering a love of math in his students deserves to be recognized ~ Miranda Louwerse, BSc Graduate & Faculty of Science Dean's Medal Recipient
Ian's passion for teaching, commitment to his students combined with his ongoing community outreach makes him the perfect recipient. On behalf of the Faculty of Science we wish him continued success!
UFV Today's article written by Darren McDonald captures Ian's story exceptionally well:
Built on the backs of water polo players across countless Saskatchewan beaches, Ian Affleck's dedicated approach to teaching mathematics adds up to this year's UFV Teaching Excellence Award.
"There's no honour I'd rather get, because this is coming from the people that I work with and learn from every day," he says.
A gifted student from an early age, Affleck excelled at math contests in his native Regina. But it was his summer job with Water Polo Saskatchewan that helped him discover a love of teaching. A competitive speed swimmer, he transitioned into the world of water polo in high school. He began coaching after graduation, travelling throughout June to "every small town with an outdoor pool." Then in July and August he'd hit the beaches, using water jugs as goal posts to demonstrate the sport to dozens of kids at a time.
"I think it really helped me find myself as a teacher, coach, and a sharer of something I'm passionate about. It really influenced the role I play in the classroom now," he says.
"As an instructor, you need to be everything for that student, but my favourite hat to be wearing is that of a coach. I'm someone who's been there before and can share advice on how to succeed."