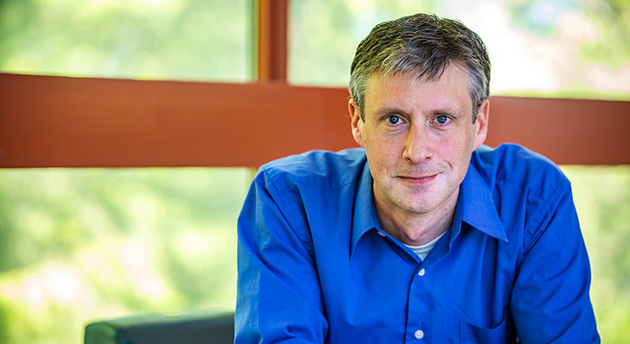 Built on the backs of water polo players across countless Saskatchewan beaches, Ian Affleck's dedicated approach to teaching mathematics adds up to this year's UFV Teaching Excellence Award.
"There's no honour I'd rather get, because this is coming from the people that I work with and learn from every day," he says.
A gifted student from an early age, Affleck excelled at math contests in his native Regina. But it was his summer job with Water Polo Saskatchewan that helped him discover a love of teaching. A competitive speed swimmer, he transitioned into the world of water polo in high school. He began coaching after graduation, travelling throughout June to "every small town with an outdoor pool." Then in July and August he'd hit the beaches, using water jugs as goal posts to demonstrate the sport to dozens of kids at a time.
"I think it really helped me find myself as a teacher, coach, and a sharer of something I'm passionate about. It really influenced the role I play in the classroom now," he says.
"As an instructor, you need to be everything for that student, but my favourite hat to be wearing is that of a coach. I'm someone who's been there before and can share advice on how to succeed."
There's also a direct connection to math.
"You can't learn to swim by watching someone else swim, it's something you have to learn by doing."
Still, the task of teaching mathematics is sometimes as difficult as quadratic algebra itself.
"The math course is kind of the broccoli on the plate in a lot of people's degree program," Affleck explains.
"They're told it's good for them, they know it's good for them, but it's there because it has to be."
He isn't easily dissuaded.
"When there's challenge, there's an opportunity."
He strives to show students math can be interesting by illustrating how it's connected to other disciplines.
"It lives inside biology, chemistry, psychology, business, and economics," Affleck explains.
"Showing them how it's this underlying language and system of rules that everything follows, then helping them to recognize how this is relevant to their own discipline of study is what I'm passionate about — it's something valuable that you can give to students."
As an undergraduate student himself, Affleck was exceptional, earning his mathematics major from the University of Regina while receiving the Governor General's Academic Silver Medal with the highest academic standing in a bachelor's degree (93.4%), as well as the University Medal for highest average among all undergrads during previous 12 months (96.5%), and the University Prize in Science as most distinguished undergraduate student of the Faculty of Science.
He earned his PhD in Mathematics from SFU and has taught ever since, joining UFV in 2005.
He's a leader in the delivery of several math competitions, stretching from elementary to undergraduate students. As the Fraser Valley representative for BC Math Challengers, he welcomes more than 100 Grade 8 and 9 students from Hope to Surrey into UFV every February. He also coordinates the BC Secondary Schools Math Contest at UFV, which brings more than 100 middle school and high school students to UFV campuses each May.
"These contests give intellectually gifted kids something that they can do that's different and special in a way that athletically gifted kids have in so many ways," Affleck explains.
Since 2010 Affleck has also coordinated the UFV Putnam Club, coaching up to 10 students weekly ahead of the wildly challenging William Lowell Putnam Mathematical Competition, written each December.
He's involved with Math Mania, an elementary school outreach program, and was one of the founders of UFV's popular Science Rocks! summer youth program.
As if this wasn't enough, he also served on UFV's Vision 2025 Committee.
His efforts haven't gone unnoticed.
"Dr. Affleck is one of our superstar teachers," says Dean of Science Lucy Lee.
"He's highly regarded by students who demand to be in his classes. His courses are extremely popular and are almost always filled to capacity or more."
His students are equally effusive.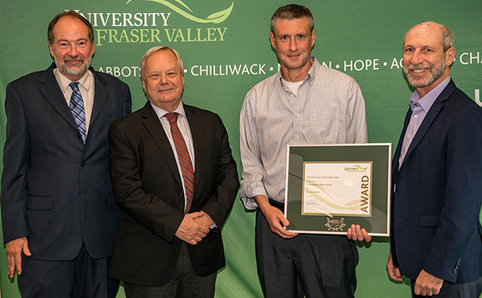 "Ian's commitment to making math accessible to everyone who walks into his classroom and to fostering a love of math in his students deserves to be recognized," says recent UFV BSc graduate Miranda Louwerse.
"Being in his classes and participating in Putnam changed the way that I approach problems and is now shaping the course of my career."
Josha Ho graduated last year, but still carries Affleck's love for math.
"What has inspired me most in my interactions with Dr. Affleck is how engaging he is. Whether it is in a class of 45 people that feels like an intimate seminar, or [at a Math Mania event] in an elementary school gymnasium changing a single child's perspective on mathematics, Dr. Affleck makes you feel heard and appreciated."
Affleck even used a recent sabbatical to begin work on an open textbook creation Calculus for Everyone.
"Math is a vertical body of knowledge. You need to master what's on the second floor before you can access the third floor, and so on. And if there's a weak link anywhere along the way, then everything's shaky," he says.
"By engaging with students and finding their connection to math I feel we can succeed. Personal time is important, you need to commit to students to help them reach their potential."
Judging by his success, it's an approach that definitely holds water.