To celebrate Sikh Heritage Month (2023), Historica Canada released a new Heritage Minute about the historic mill town of Paldi, BC. It is the first Heritage Minute to highlight a South Asian Canadian story as well as the first to be released in Punjabi (in addition to English and French).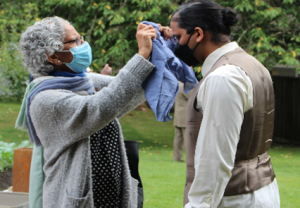 SASI Director Dr. Satwinder Bains was on-set during the 2-day shoot as a historical consultant and said: "Mayo and Bishan Kaur's story evoked in me a poignant indebtedness to the early Sikh settlers who helped build our beautiful province. As an immigrant myself, I am extremely proud of our rich and vibrant history that has been captured in this Heritage Minute."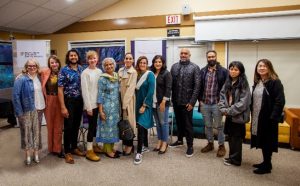 On April 19th, the day of the launch, SASI hosted a premiere screening of the Paldi Heritage Minute with many members of the cast and crew present. Dr. Bains moderated a Q&A with directors Anaïsa Visser and Hayley Gray, and actors Mannu Sandhu and Tarun Keram who played Bishan Kaur and Mayo Singh, respectively. The discussion touched on the significance of telling this story through the lens of Bishan Kaur, wife of Paldi founder Mayo Singh, and of highlighting the women of different backgrounds who made up Paldi, especially during a time when racialized immigrants were unwelcome in Canada.
Within 3 days of the launch, the Paldi Heritage Minute received over 1 million views, serving as a hopeful reminder that there is a large audience for South Asian Canadian stories, both at home and abroad.