On Tuesday, September 29th at 5pm in the UFV S'eliyemetaxwtexw Art Gallery, the Centre for Indo Canadian Studies curated and launched an exhibition on Sikh Feminism's entitled: (Mis)Interpretation: Sikh Feminisms in representations, texts and lived realities
The critical Sikh feminist ethnographic exhibition was created in partnership with the Visual Arts Department and the International Department at UFV and officially opened on September 29th at 5 pm at the S'eliyemetaxwtexw Art Gallery Building B Room 136 Abbotsford campus. The exhibition was available for viewing until October 20th.
The goal of this exhibit was to de-centre the notion of a normatively androcentric faith discourse and to (re)raise the textual and practical meaning of Sikh feminist thought and understanding.
Since the de-installation of the exhibition, we would like to provide this as a space for people to view the exhibition in its online version. Please feel free to leave your opinions, feedbacks, or any thoughts on the exhibition.
We were please that Dr. Nikky Guninder Kaur Singh was able to provide a powerful keynote address. For the full transcription of Dr. Singh's talk, please click dr-nikky-guninder-singh-sept-29-2015.
Curator's Introduction and Opening Panel: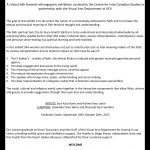 PART ONE: REPRESENTATION through the The Five Kakkars
Artist: Suvi Kaur Bains
KESH/KESKI Unshorn hair and turban
The Khalsa's unshorn hair on the body represents the natural and physically harmonious commitment to the divine order for spiritual maturity. The kesh (hair) are protected by the keski (small turban) which guards the Dasam Duaar (the Tenth Gate), a spiritual opening at the top of the head. These two conjoined articles of Sikh faith are significant because they are the most visible and identify an independent-minded Sikh as an adherent who is committed to being moral, just, disciplined and socially responsible.
INTERPRETATION:
All Sikhs initiated into the Khalsa Panth (a collective of Sikhs that are pure of thought and action) keep their hair long, unshorn and uncut, covering it with a keski (small turban). From a feminine re-understanding as bearers of visual difference, kesh and keski are sacred as a submission to the gender-neutral will of the divine. Declaring sovereignty as a powerful identification of the Khalsa Sikhs embody personal dedication to a moral character, self-respect, courage and piety.
KANGA A wooden comb
The wooden kanga is to be used daily to groom a Khalsa's unshorn hair. The kanga's twice-daily use involves personal patient reflection (dhiraj), meditation (birti) and prayer (simran). Grooming signifies a personal commitment to self (body) and society for purity of thought, personal routine and discipline. The kanga supports physical cleanliness, rigor for a moral mind and gives order to the body and mind.
INTERPRETATION:
Even before the Khalsa were bequeathed to do so, women were already involved in the practice and rigor of character and faith in relation to kesh by maintaining unshorn hair. The feminist ideal of personal discipline and spiritual rigour is perfectly in tune with the same immutable truth. The kanga is symbolic of the removal of entanglements, particularly the entanglements of relationships and personal struggles.
KIRPAN Small sword
The kirpan is worn by the Khalsa on the left hip sheathed in a gaatra (over-the-shoulder holster). The kirpan represents an egalitarian commitment for all Sikhs towards social justice, fighting oppression, defense of the weak, conquering narcissim, maintaining personal dignity and personal power at all times with an unconquerable spirit.
INTERPRETATION:
The word kirpan finds its origins in the word kirpa, meaning compassion and grace as exemplified in the sant/sipahi (saint/soldier) tradition that is accorded to all genders. Sikh women and men commit to courage that will allow her/him to respond to oppression of any kind through thought, action and deed by codifying both internal (personal character and behaviour) and external responses. The kirpan demands that a Sikh's personal knowledge of the self recognizes the duality of subject and object.
KACHHERA Shorts/undergarment
As a practical garment, the kachhera is indicative and representative of a Sikh woman and man's consistent maintenance of a modest, virtuous and moral character along with a spiritual commitment to conjugal fidelity. It affirms the ontological unity of mind (man) and body (tan).
INTERPRETATION:
As a marker of the Khalsa, the kacchera is the crucial symbol representing the breaking down of any divisions and barriers of gender politics. Worn in the exact manner by both women and men, its wearing indicates that a Sikh has a holistic understanding of the spiritual self as a natural sexual being. The article of faith demands a strict adherence to one partner through life. This same adherence forbids male dominance over a life partner and binds life partners in mutual respect.
KARA Iron bangle
The kara is a universally connecting article of faith for Sikhs. It signifies a pledge of restraint and gentility while acknowledging unity with an eternal and infinite spiritual universe, with the circle representing the impermanency of life in the life/death cycle. The kara also importantly elicits a commitment by the wearer towards an honest and ethical duty to perform noble acts in mind and in deed.
INTERPRETATION:
The origins of the kara are found in the representation of an egalitarian code of conduct and belonging for all Sikhs. It demands that Sikhs be held to a high standard (of truthful living) and consciousness activation that is expected of all genders. Its impact as a singularly traditional female accessory in the five articles drawing out the contradistinction of male/female binaries.
PART ONE: REPRESENTATION through Ek Ong Kar
IKK OANKAR: THE ONE CONSTANT
It is the unified primal cosmic essence of existence, consciousness and bliss-one with everything and connecting the one with the infinite.
PART TWO: TEXTS
BARA MAH
Bara Mah Tukhari written in Tukhari raga by Guru Nanak presents the devotee in the image of a woman in which the theme of love poetry has been transformed into that of spiritual form. It is believed that this was the last poetic creation by Guru Nanak – the 1st Guru of the Sikhs.
We see the zenith of lyrical and poetic excellence in this 'Calendar Composition' based on the 12 months of a year. It is one of the most sensitive pieces of this poetic form.
Here we present the last four months of the year: Maghar, Poh, Maagh and Phagun as well as the encapsulation of the twelve months by way of four modern translations.
Sri Guru Granth Sahib Ji (Sikh Scriptures) page 1109.
PART THREE: LIVED REALITIES
Lived Realities
Sikh women's multi-faceted lives explore the nature of social contexts, family, environment, faith, culture, play and work. These photographs challenge the idea of an androcentric interpretation of faith, with a goal towards a truly egalitarian community of Sikhs.
Satwinder Kaur Bains, 58
As a Sikh feminist I am constantly aware of the struggles I face in finding the appropriate responses to my lived realities, my thoughts and views. Although many realities go against the grain, I know my purposeful view takes into account the beauty of both the internal and external forces of my faith. These constants allow me to interpret my multi-textured life in ways that fulfill my spiritual needs.
Sharanjit Kaur Sandhra, 31
My Sikh feminist reality encompasses so many elements: my family, my love and partnership with my husband, my eternal love for my children, my love for my mother-in-law, and how these shape and shift alongside my career desires and my need to grow as an individual. I circle them and they circle me. Being a Sikh allows me to instill my history, my language and feminist values and principles within my two boys. That means everything to me.
Navneet Kaur Sidhu, 34
My divine birthright as a Sikh has informed my childhood, adolescence and young adulthood. Passing on Sikh values can be credited to my grandparents and parents who through their own lived examples inculcated in me a passion for social justice, rights and responsibilities. As I raise a daughter I realize my deep duty to pass on the true nature of my egalitarian faith.
Harmanjot Kaur Bassi, 15
As a Sikh, my life consists of many things. These things hold great significance in my life including my family, my friends, and me as a young individual. The one person in my life who has the greatest impact on me is my mom. As a Sikh, she has taught me many things that have and will continue to have a positive effect on me. She has taught me many things that make me a better daughter, sister, granddaughter, and a better person overall. These teachings will help me prosper in the future. This is what being a Sikh girl means to me in my life.
Kulwant Kaur Gill, 48:
My lived reality as a Sikh feminist has made me question and challenge some of the androcentric conventions that have become embedded into my daily life over the generations.  I strive to find balance between my family, work, school, community, and extracurricular activities while staying anchored in spirituality and my faith.
Meena Kaur Bolla: 21
As a Sikh feminist much of what Sikhism means to me is informed by what the women in my life have taught me from a young age. Being a Sikh woman allows me to connect my culture, language and values with the work that I am pursuing in my community and to appreciate the crucial role Sikh women play in the lives of their families.
Inderjit Kaur Singh, 31
As a Sikh feminist I am both a student (Sikh) and a teacher (guru). I learn so I can show my daughter the honor of being born a woman, as depicted in Gurbani. Sikhi influences my daily actions and interactions which in turn builds my daughter's own unique lens through which she sees the world.
Rishma Kaur Johal, 26:
My daily lived experiences are influenced by a Sikh feminist disposition and affect the way that I examine the world around me. This may be through my camera, research, writing, or interactions with my family. My belief in equality, equity, humanity, and social justice informs my work at large and is derived from a spiritual understanding. Sikhism has given me the courage to stand behind the truth without fear and without hate. Moreover, it has taught me to search for goodness in others and within myself.
Charnjeet Kaur Sangha, 51:
As a Sikh feminist I struggled to understand which values/beliefs were those of the Sikh culture and which of those of the Sikh religion. Today my lived reality embodies these core values of equality, justice, strength and honesty. As a mother I strive to instill these basic tenants of Sikhism in my two sons. My faith continues to anchor me in all aspects of my life – in family, career and spirituality.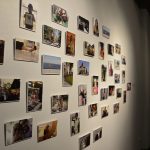 PART THREE: Lived Realities
Daily Engagement
Artist: Rishma Kaur Johal
https://www.youtube.com/watch?v=YXtWctBIjBA 
For a full album on the exhibition launch and the layout of the exhibition, please visit: https://www.flickr.com/photos/ufv/sets/72157659305526301/with/22490572022/