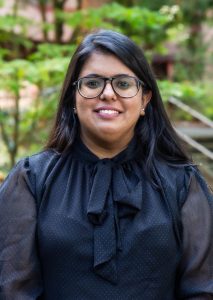 "Wake up, work hard, be kind and consistent." This mantra has been on repeat during my time and journey thus far while working at the South Asian Studies Institute at UFV.
I began my studies at UFV India (located in Chandigarh) and later transferred to the University of the Fraser Valley, Abbotsford.  I pride myself in being an excellent student who has focused on my grades but also outshining in fields of leadership, public speaking and photography. From being the president of the university's Toastmasters Club and the Vice President for UFV's Photography Club, to being a recipient of the prestigious Student Recognition Award for exceptional Leadership, I am so very proud of these accomplishments.
I first joined the SASI in June 2020 as a research assistant to work on the Fraser River Funeral Home project where I learned about an aspect of life that not many people think about: death. We are largely mindful of death and most of us know that it is inescapable. Tragically, not many of us know about the struggles of early South Asian settlers here in British Columbia and Abbotsford and the incredible effort and resistance to make Abbotsford's first crematorium. I worked on the project for two months to understand why there was a need to build a community funeral home when there were commercial services available, how the society was formed and what process they underwent to build the funeral home. Even though this project wrapped up in a short span of time, my journey at the SASI didn't end there. I often refer to joining the SASI as 'all the difference that mattered.'
Soon after the completion of the Crematorium history research project, I was offered a full-time co-op position from September 2020 to August 2021 as a Digital Asset Technician and Assistant Web Developer for the South Asian Canadian Digital Archive Project.
Under the umbrella of the South Asian Canadian Legacy Project, the South Asian Canadian Digital Archive (SACDA) project focuses on the provincewide digitization of South Asian Canadian collections, including artifacts, photos texts, materials, oral histories and other resources available through a digital archive. I am responsible for assisting SASI's digital asset archivist, Magnus Berg, in acquisition digitization and ingestion of assets for the archive. I will also be solely responsible to develop the wireframe for an exhibit based on the Komagata Maru Journey, which is one of the major projects throughout the co-op.
I have had such a rich experience while at the SASI and I would continue to keep it the same way. I was able to practice what I learned at university while at work. I worked with lenders, vendors and peers and through this my leadership skills and my confidence were established.
At the SASI, I have encountered some of the best opportunities of my life. I recently got a chance to assist my supervisor in writing a publication which is very rare for co-op students. I have been involved in various interesting projects such as developing a thesaurus for our portal, devising a user experience plan along with my colleague, brainstorming ideas, organizing workshops and so much more. My co-op journey has helped me grasp the essence of how a digital archive is developed in a deadline based environment. One of my responsibilities was to edit and enhance images that need to be ingested into the system. This helped me practice and enhance some of my pre-existing graphic designing and editing skills.
Not constrained by the major project that is SACDA, I've also worked on tasks such as updating the Institute's website, hosting zoom meetings, being interviewed for educational videos, video, audio and image editing, translations and much more. I also volunteered to design digital art for the Institute and a poster for UFV's Race and Antiracism Network, both of which were added to UFV's calendar for 2021.
Since day one, I have wanted to be laser-focused to set things right and to reach the pinnacle of success for myself, my team at the South Asian Studies Institute and the University. Having said that, I still have a lot to learn. I do not know what's next, but this experience has definitely helped me to move forward with grit anchored in grace.