Firefighting requires above average physical strength and endurance. In early October, UFV faculty, students, and alumni delivered a series of fitness and occupational readiness tests as part of the pre-employment hiring process for the Chilliwack Fire Department.
These standardized assessments evaluate the skills and characteristics to perform as a successful firefighter. The battery of challenging tests is timed and intended to confirm that the candidates possess the physical ability and stamina for such a demanding job.
Facilitating the event, UFV Kinesiology alumnus and City of Delta Firefighter, Warren Balzer highlights, "UFV has provided the students with a very unique opportunity to participate in fitness testing for full time applicants with Chilliwack Fire. It not only allows them hands on testing experience but also gives them a feel for the physical demands placed on a firefighter."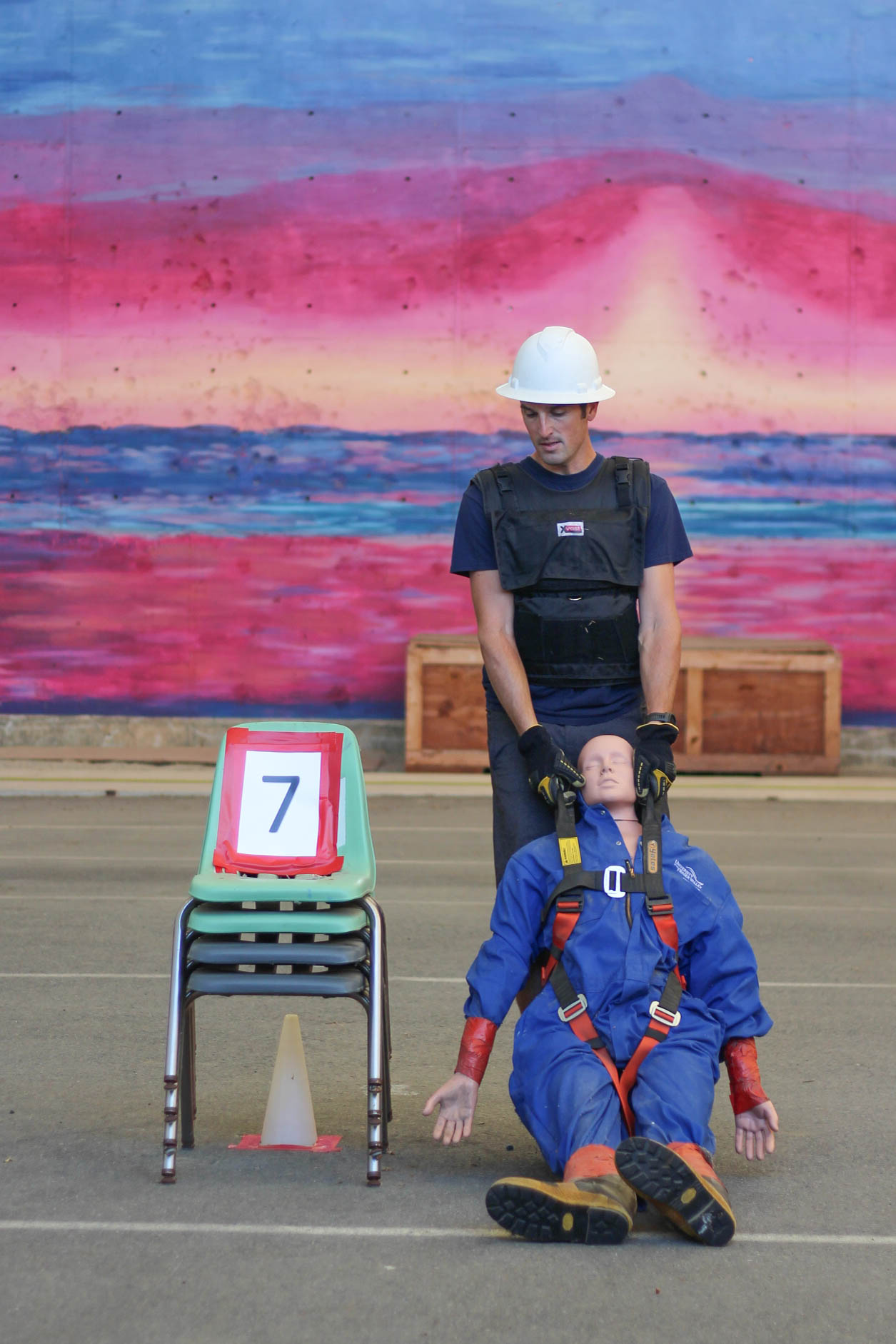 The first series of tests, called the Candidate Physical Ability Test (CPAT), consists of a continuous eight-part course that simulates their activities in a fire scene while wearing a 50 lb weighted vest, hard hat, and utility gloves. The second series of tests is three occupational readiness tests, each with their own completion time that has to be met for the candidates to qualify. These tests are completed with full turn out gear and oxygen tanks.
"It was an excellent experience," says Kinesiology student Connor McCraken. "Getting the opportunity to run the candidates through each of the tests was a great way to put not only our skills as a facilitator to the test, but also experience working through an employment test and seeing how crucial these tests really are to the individuals. Also, having the opportunity to partake in the CPAT myself helped me relate with the candidates to the difficulty of the test."
Successful completion of each of these tests requires a high degree of physical fitness, muscular strength, and flexibility.
In the past, UFV faculty and students also perform a series of health and physical tests in our Kinesiology Laboratory for the prospective firefighters. However, given the COVID-19 pandemic, these tests could not be safely completed this year. Thankfully, the team was able to mitigate the risks and safely conduct the physical and occupational readiness tests using UFV's outdoor covered testing facility – found in Building R on the CEP campus – within the guidelines of the BC Health Authority and UFV Risk and Safety.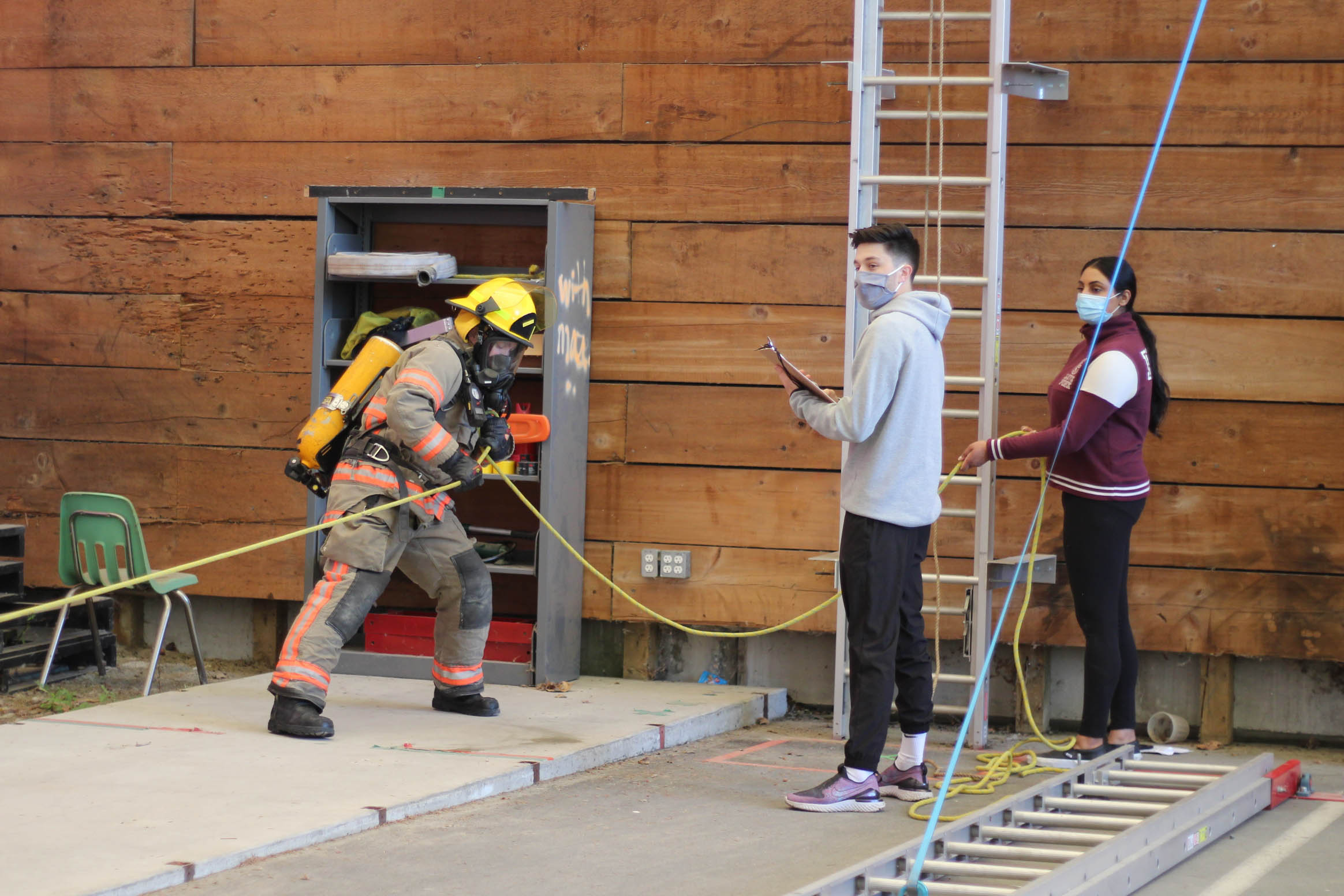 "This is such a great opportunity for students to be involved in," says Kinesiology faculty member Amber Johnston. "As an undergraduate, any experience is good experience. As both a practical and general learning opportunity, students develop their communication and professional skills working alongside other peers as leaders, applying the practical testing skills they are learning in class, and engaging with the community. This is real, live interaction; it's not just a case study on a piece of paper for an assignment. I'm always pleased to see students willing to put themselves out there and get involved, and to see their appreciation after such an event."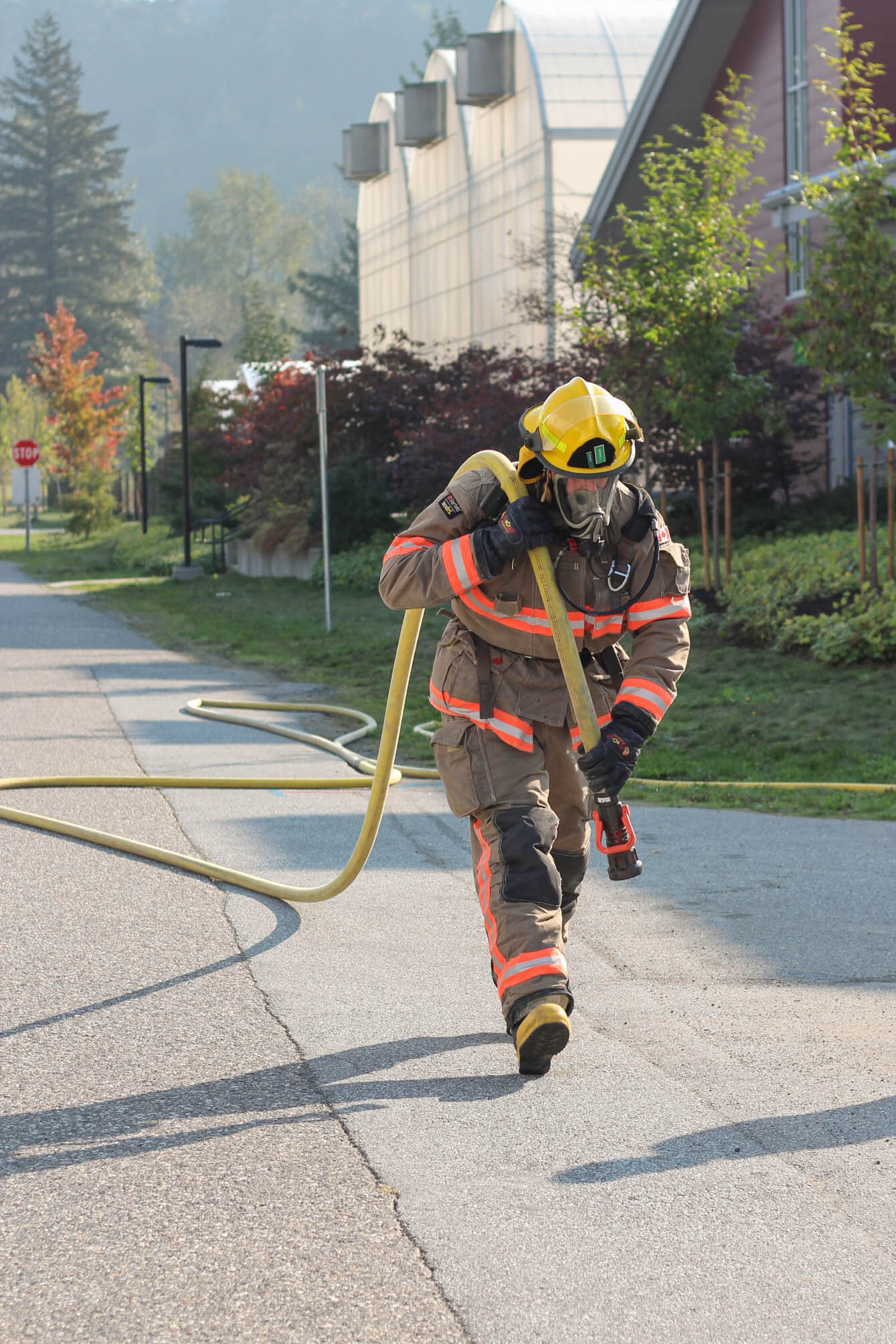 As part of the Healthy YOU-FV initiative, members of the Kinesiology department also work with Abbotsford and Mission Fire for health screening assessments.
"Volunteering to do CPAT and occupational testing for fire fighters through UFV has been a very valuable experience," says Kinesiology student Sarah Bradwell. "It has allowed me to practice what I learn in the classroom with the added benefit of hands on experience through running the tests myself. I now have the confidence and skills to explain and administer CPAT and occupational tests and I was able to advance my communication skills while doing so. I also had the privilege of working with first responders in my community which is always great experience as an undergraduate student."
Johnston confirms, "These community connections provide the opportunity to build relationships within the community and to share our knowledge to educate and promote health and wellness."
The Faculty of Health Sciences greatly values the opportunity to work with each of the fire departments and to be a part of their pre-employment screening process. We hope to continue to build these opportunities and connections within the community to offer our expertise and to provide students with amazing learning opportunities long into the future.
More photos of the testing can be seen on our Flickr page.