Imagine you are running late to class on a Monday morning. You had to organize accessible transportation because you are not able to drive and the bus stop is at an inconvenient distance for you. When you finally arrive to campus, you find out your classroom has been reassigned from the first floor of the building to the third floor. You're already late, and the elevator is acting up. These scenarios are potential everyday realities for countless Canadians with disabilities.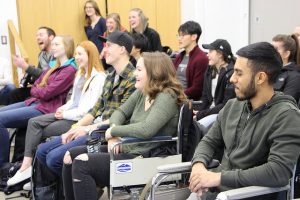 Students from the University of the Fraser Valley Kinesiology 465 course on Adapted Physical Activity were assigned to use wheelchairs for 48-hours to gain a better understanding of accessibility barriers from a first-hand perspective.  As part of their learning, students were asked to reflect on their experience accessing spaces and services within their communities.
"One major thing that I noticed when I was in the chair was how much someone with mobility issues has to plan ahead. As I arrived to my destination, before I even got out of my car I would be checking out the curbs, paths, sidewalks, and building entrances to try and find the most accessible route. This is something that I don't normally have to think twice about," noted fourth-year kinesiology student Molly Rose, who is hoping to become an occupational therapist.  According to BC Government stats, approximately 15 per cent of British Columbians identify as living with a disability.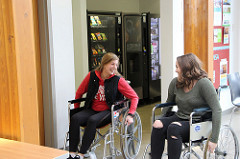 Nearly everyone faces hardships over the course of their life. But for people with disabilities, barriers that impede the function of everyday tasks are more frequent.
Normally when we think about barriers, physical obstacles such as hallways, buildings, doors, weather or stairs come to mind. Yet attitudinal barriers such as misconceptions or assumptions also contribute to perpetuating limitations people with disabilities may experience.
Rose reflects on her 48-hour use of a wheelchair that gave her a different perspective on accessibility.
"I found it interesting how people looked at me differently when I was in the chair. They generally either avoided eye contact or were overly friendly," notes Rose.
These types of behaviours often emerge from lack of understanding about a person with a disability. Challenging negative attitudes towards people with disabilities creates an environment that is inclusive to all.
Alyssa Theodore reports that her "entire comfort zone at home would have to be readjusted," if she were permanently in a wheelchair.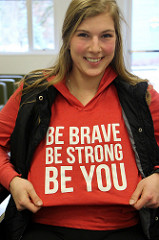 "I couldn't enter my house, go upstairs to the main floor, or enter my  room or the bathroom."
And physical limitations are not the only margins that impede a person with a disability. Social determinants of health, such as access to community services, income, gender, food, shelter, age, geographical location, and health care also extend to influencing the experiences of people with disabilities, often by factors not associated with the specific health conditions associated with disability.
Thinking about accessibility from social determinants of health framework speaks to connections between equity, socio-economic status and health.
Kinesiology students gained valuable insight about what it means for people to live with a disability. For students working towards a career in fields such as physiotherapy, occupational therapy, kinesiology, medicine, health care policy, teaching or chiropractic, educating health care professionals on what it means to live with a disability is an important piece in building a system of inclusion.
Associate Professor Alison Pritchard Orr teaches the course. She believes the 48-hour accessibility lesson provided students with the foundation for adapting everyday activities for people with disabilities.
"I am an advocate for experiential learning, and I believe this accessibility assignment does just that. Certainly I could teach about issues relating to barriers, both physical and societal that people with disabilities experience on a day-to-day basis, and I do, but nothing beats the impact of walking, or in this case rolling in someone else's shoes," notes Pritchard Orr.
Pritchard Orr continues to engage students in learning experiences that bring a first-hand perspective to the classroom, including having guest speaker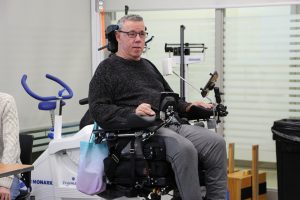 Jim Ryan share stories of his quadriplegic life. Students in Kinesiology 465 also visit the Fraser Valley Child Development Centre in Abbotsford, where they gain insight into a multi-disciplinary team approach to health care. FVCD provides community-based services that are accessible and inclusive to children with disabilities or emotional needs.