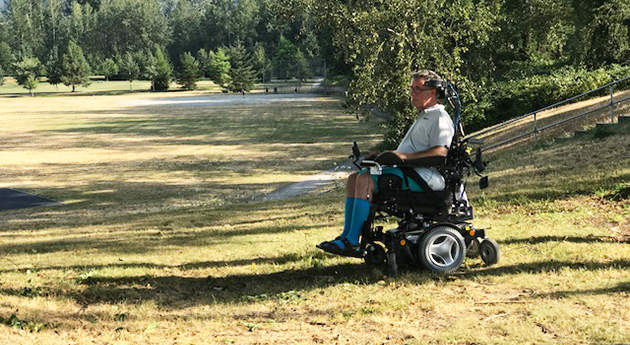 Jim Ryan is living proof that life can change in an instant. And that even after calamity, life goes on.
And he will share that story at the University of the Fraser Valley's Chilliwack campus at Canada Education Park on Mon, Oct 23 at noon as part of the Health Sciences Speaker Series. The event, to be held in the Atrium of Building A, is free and the public is welcome.
One minute in March, 2016, he was enjoying the warm ocean in Maui with his wife, Isabelle. The next, he was twisted around by a wave. His head was driven into the sand and he was instantly paralyzed and drowned. Miraculously, Jim was revived on the beach. He spent almost 10 months in hospital and in rehab and continues with therapy today.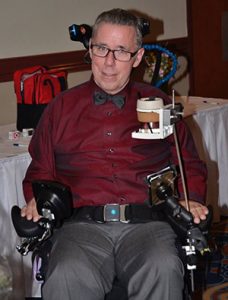 Before his accident, Ryan was as a pilot for almost 40 years. He spent the last 14 years working for WestJet Airlines. He and his wife have raised four children and continue to live in their family home in Chilliwack. They are now learning to live as and with a quadriplegic.
Ryan's story is not just one of survival or how to endure living a new life. It is one of how to prevail in the face of adversity.
Of particular interest to health sciences students will be his story of his journey through the medical system.
"I will discuss my treatment and all the various type of professionals who worked with me. I think I have met someone from every conceivable type of medical profession. I will try to touch on most, if not all of them. I will be, as always, putting forward the fact that, although there may be problems with the medical system, it certainly isn't the people," Ryan notes.
He will also show photos illustrating his journey through rehab and his continuing life.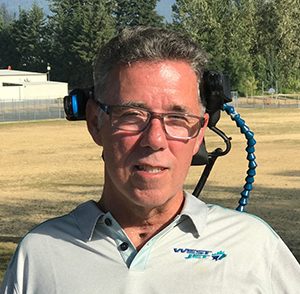 Ryan, his wife Isabelle, and their four children have all dedicated themselves to helping him live as full a life as possible and also educating others by chronicling his journey. He is also working with the Rick Hansen Foundation to spread awareness about the challenges faced by people with disabilities.
You can find out more about Jim Ryan and his journey at his blog, found at www.myquadriplegic.life. You can also follow his adventures in on Facebook at Jim Ryan – Rolling Through Life. Recent adventures have included meeting astronaut Chris Hadfield, paddleboarding on Cultus Lake with the help of a crew of friends, and travelling to Oregon for the solar eclipse.