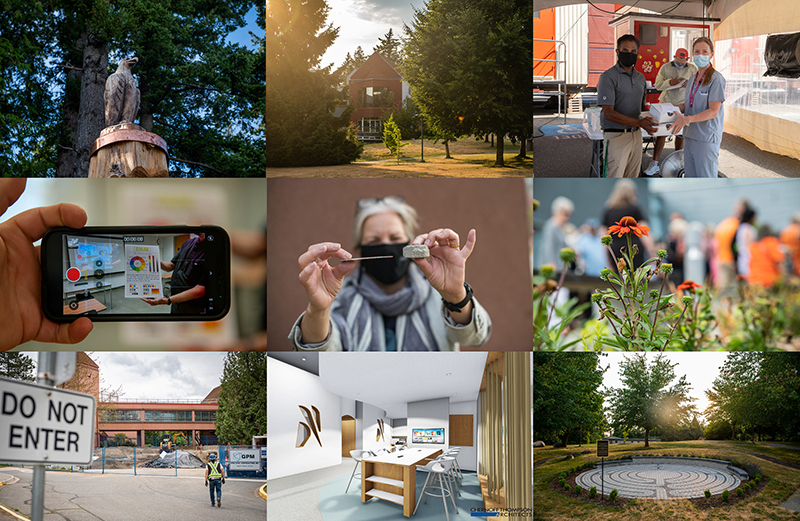 While the majority of employees and students shifted to remote work and learning over the past 18 months, plans and projects continued moving forward across UFV.
As we welcome students, staff, and faculty back for the fall semester, here's a brief look at some of the improvements made around campus (some projects might have updated since the linked articles were first published).
Shakespeare Reconciliation Garden
Ideas for orange flowers and indigenous plants, blended with plants from Shakespeare's time, grew from the reconciliation efforts behind UFV's reimagined Shakespeare Reconciliation Garden outside Building A in Chilliwack. Unveiled in July, the garden's planning involved multiple departments, Stó:lō elders, and students from two interdisciplinary studies courses.
Indigenous Teaching Garden
Showcasing carvings, benches, newly designed walkways, and Indigenous plants, UFV's Indigenous Teaching Garden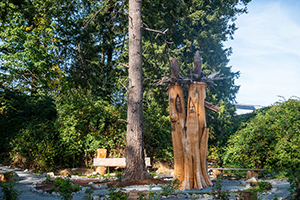 offers a peaceful and reflective spot to expand your education. Find it tucked beside the Student Union Building on Abbotsford's campus.
Building renewal
The largest and most noticeable changes came to Building A-East and D on the Abbotsford campus. UFV's Building Renewal Project brought substantial interior updates while the aging exterior of Building A was removed and replaced with an upgraded exterior insulation and finish system (EIFS). The work continues on time and budget on Building D.
"It's been a real team effort," project manager Nicolle Bourget said as Building A neared completion.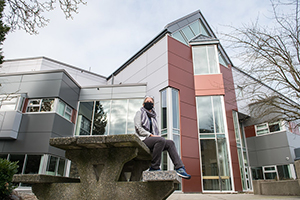 "Everything just looks so much lighter and more open."
See photos and read about it here.
Fresh look
Abbotsford Building A-West, B, and U House (Building F — home of South Asian Studies Institute) were freshly painted with more modern colours to match the A-East and D upgrades. And don't forget to keep an eye out for the labyrinth…
Solar power
While it might not be obvious from ground level, an innovative Photovoltaic (PV) panel project is now perched atop the roof of Building G. These high-tech solar panels are capable of providing up to 30% of all the electrical power used in Building G, which houses the Peter Jones Learning Centre, including the library.
Main entrance makeover
Speaking of substantial projects — improved safety, accessibility, and aesthetics are all coming together to form a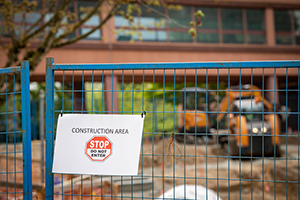 vibrant and inclusive main entrance between Building A & B in Abbotsford. The project is expected to wrap up by late fall, 2021.
COVID-19 testing & pop-up clinics
Peaking at 400 cars daily, a substantial area near Abbotsford's parking lot 10 hosted a Fraser Health drive-through COVID-19 testing area from May, 2020 through August, 2021. The 14-month project wrapped up just ahead of new pop-up vaccination clinics running on both main campuses until Sept. 20.
Criminology upgrade
A unique moss ceiling overlooks the contemporary and high-tech revamped Criminology area in Abbotsford's A203. Construction on this bright and welcoming space started in Jan, 2020 and wrapped up about 10 months later. Separate renovation projects included areas servicing Risk & Safety (B120), the CFO office (A271), and classroom C1133 (Visual Arts).
ITS/Campus Card at CEP
IT Services opened a new Service Desk on the Chilliwack campus. Located in a renovated area on the basement level (A0006), the new space also offers Campus Card services.
AV upgrades
ITS made substantial AV upgrades in 23 classrooms in Chilliwack and 18 in Abbotsford, with much of the new technology dedicated to remote access/lecture-capture services.
New shuttle stop
A new Campus Shuttle Bus stop was added in Chilliwack, near Building A. Find it along Festubert Road, close to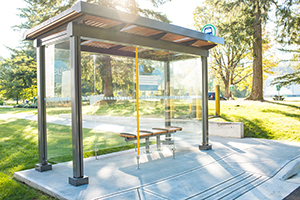 shipping and receiving (across from the wooded area).
Skookum
Not all new additions include brick, mortar, or optic cable. UFVs Skookum magazine made its eagerly anticipated annual arrival, this time featuring Senior Advisor on Indigenous Affairs Shirley Hardman — Swelchalot — on the cover. Read Shirley's story here or browse the entire magazine here.