By Mitch Huttema
UFV's support in the fight against COVID-19 is transitioning from testing to vaccination.
The Fraser Health outdoor testing facility on the Abbotsford campus closed in August — coinciding with UFV's return to campus plans.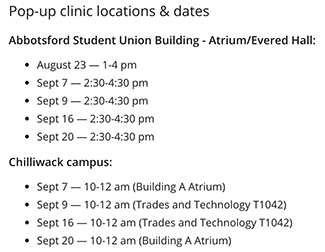 Established in May 2020 near parking lot 10 beside UFV's Envision Athletics Centre and Student Union Building, the outdoor drive-through testing area serviced a peak of 400 cars daily, with 12 to 14 Fraser Health staff working seven days a week. Testing has since moved to Abbotsford's AgRec Centre.
The 14-month project epitomized collaboration and commitment in the fight against COVID-19. From adapting guidelines, to anchoring tents through winter storms and staying cool in summer heatwaves, Fraser Health staff were unwavering in providing a valuable community service.
"UFV is proud to have volunteered amenities and facilities to the Fraser Health Testing Facility and team," says UFV Vice-President, External, Craig Toews.
"It was important work, and we sincerely thank Fraser Health staff and all health care providers for their commitment in the fight against COVID-19. UFV is looking forward to hosting pop-up clinics in the vital work of providing vaccination against COVID during the fall."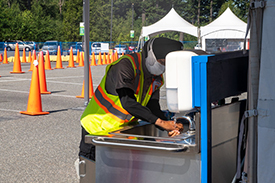 UFV and Fraser Health will continue to partner to protect the health and wellness of UFV community members through pop-up vaccination clinics on the Abbotsford and Chilliwack Campuses in September – find the dates here. If you have not received your COVID-19 vaccination, you're encouraged to do so at your earliest opportunity by visiting a Fraser Health walk-in vaccination clinic.