Makeover at main entrance to UFV's Abbotsford campus aimed at improving safety, accessibility, aesthetics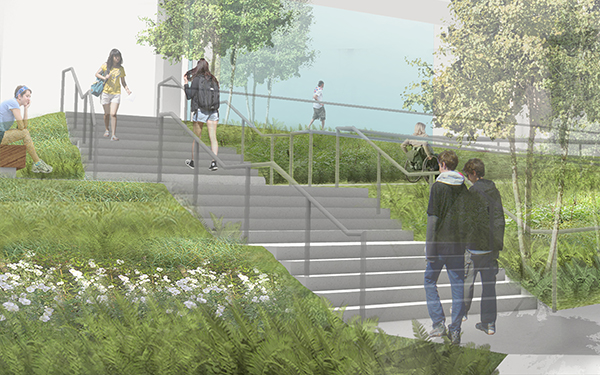 Starting in late fall 2021, students, employees, and visitors will be welcomed to a new lush green space with multiple seating areas at the main entrance to Buildings A and B. The well-lit stairwells, ramps, and extensive landscaping – including groves of new shrubs, perennials, and trees – will be visible from University Way.
Project milestones:
Construction began Aug 3 (photos here).
Construction ends late October.
Access to building A and B will still be open through the breezeway between 8am – 6pm.
Access to the breezeway between A and B will be along the ramp/walkway from 8am – 6pm – the stairs will not be open until safety measures are complete.
Noise from the construction is also expected in and around Buildings A West and B during the months of September and October.
There will be signs throughout the construction area as well as an on-site liaison at critical times to help guide people during the renovations.
The project, which is being designed by Hapa Collaborative Landscape Architects and constructed by GPM Civil Contracting, will also feature a new ramp, stairs, seating, and lighting. The new lighting will enhance safety and accessibility, while accent lighting in the steel walls will have colour-changing abilities for ambience and celebration lighting.
"The goal for the UFV front entry landscape improvements is to create a new formal entrance, welcoming all people equally and creating a place to be, instead of a place to pass through," said Hapa Collaborative's Ryan Broadfoot, the landscape designer for the project.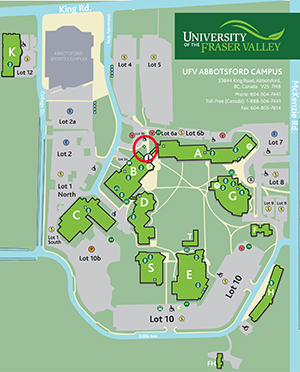 Besides its updated aesthetics and functionality, the front entry is designed with sustainability in mind, including drought-tolerant native species of ferns mixed with ornamental grasses. The removal of an existing cedar tree included a traditional Indigenous tree-falling ceremony. This timber will be milled and repurposed for timber seating in further landscape improvements around campus.
When completed, the front entrance is expected to be an inclusive spot for students and staff to congregate.
"We envisioned a vibrant, inclusive, green space that would not only 'wow' people entering our campus, but provide students with a place where they can be comfortable and hopefully collaborate on ideas and meaningful discussions," says Denise Brown, Associate Director, Capital Projects at UFV.
For construction updates or further information on the UFV Front Entry landscaping improvements, please contact denise.brown@ufv.ca.