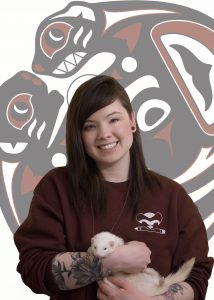 UFV Visual Arts student, Chantelle Trainor-Matties designed this year's 2020 Student Leadership Symposium artwork, which was centered around the theme of "Empathy in Action."
Chantelle Trainor-Matties is a mixed media artist, who is set to graduate with a Visual Arts diploma in 2020. She has created a variety of design work for small businesses and clients from around the world.
She currently works as a freelance artist (frettchanstudios.ca) for herself and also as an artist for Nations Creations. Some of her latest accomplishments include: the 2019 "Pink Shirt Day" hosted by Nations Creations and the New Student Orientation Symbol for UFV in 2019. She recently became international, having her Indigenous artwork sold on merchandise across Canada and Seattle, WA.
Read Chantelle Trainor-Matties' Q & A below to learn more about her creative process: