Winners have been announced for the 6th pARTicipate Biannual Poster Competition. The theme of the 2019/2020 student poster contest was "Save the Earth!"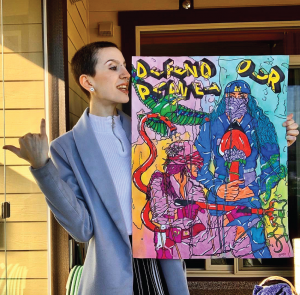 "For this competition I was heavily inspired by a 1960/70's tie-dye, nature-esque look tied in with a military style 'fight for your right' kind of propaganda poster," said Jenna Cowie-Randle, BFA student and second place winner.
"I wanted to put the two ideas together to create a piece that acts as a fusion of hippie and army messages, which at first may seem contradictory, but in the end I thought mixed so well— fighting for nature," said Cowie-Randle.
To countdown and honour Earth Day 2020, the competition invited student participants to reimagine what can be done both individually and collectively for the betterment of the planet, and to empower change for a sustainable community, region and Earth.