Winners have been announced for the 6th pARTicipate Biannual Poster Competition. The theme of the 2019/2020 student poster contest was "Save the Earth!"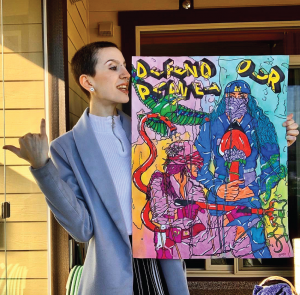 "For this competition I was heavily inspired by a 1960/70's tie-dye, nature-esque look tied in with a military style 'fight for your right' kind of propaganda poster," said Jenna Cowie-Randle, BFA student and second place winner.
"I wanted to put the two ideas together to create a piece that acts as a fusion of hippie and army messages, which at first may seem contradictory, but in the end I thought mixed so well— fighting for nature," said Cowie-Randle.
To countdown and honour Earth Day 2020, the competition invited student participants to reimagine what can be done both individually and collectively for the betterment of the planet, and to empower change for a sustainable community, region and Earth.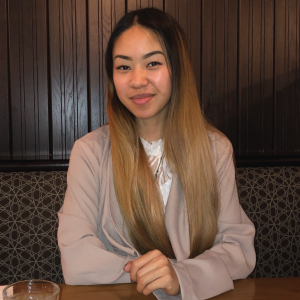 "The 'Save The Earth' competition meant a lot to me because I have always been staying involved in keeping the earth clean and reducing plastic wastes. I don't go anywhere without a reusable cup! For the competition, when I hear save the earth, I think of the oceans' plastic pollution and that immediately got me to thinking of designing a sea full of plastics that overwhelm the number of fish," said Jade Choo, G+DD student and grand prize winner.
Hosted by the UFV School of Creative Arts (SoCA) and UFV Graphic and Digital Design department, the competition gave students the opportunity to gain professional experience as artists.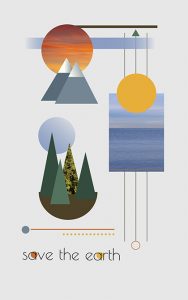 "This competition was extremely valuable to my creative practice. It gave me the opportunity to create artwork, exhibit at the S'eliyemetaxwtexw Art Gallery, engage in friendly competition, and receive professional feedback," said Anoop Dhaliwal, BFA student and first place winner.
The exhibition ran from February  27 – March 13, 2020 in the S'eliyemetaxwtexw Art Gallery.
"My work Save the Earth: Local. Global. Balance., 2020 employs minimalistic design to highlight earth's beauty and the importance of protecting our landscape. The universal shapes represent the global landscape while the photographs, taken locally, represent the local landscape. Together they create balance," said Anoop Dhaliwal.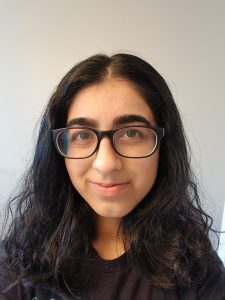 All poster submissions were powerful, creative, and inspirational.
"I have always been a strong advocate for environmental protection and practicing sustainability, so I am glad to have been given this opportunity to express myself in a creative manner and share my views to a wide audience," said Ishman Dhaliwal, BBA student.
Ishman Dhaliwal received a special recognition for her artwork: Nature, Nurture, 2020.
Poster winners included:
GRAND PRIZE: $500
 Jade Choo (G+DD student), Sea the Truth, 2020
FIRST PLACE: $300
 Anoop Dhaliwal (BFA student), Save the Earth: Local, Global, Balance, 2020
SECOND PLACE: $250
 Jenna Cowie-Randle (BFA student), Fight for Our Planet, 2020
THIRD PLACE: $200 
Dana Mandeville (BFA student), Tread Lightly, 2020
SPECIAL RECOGNITION: $150 
Ishman Dhaliwal (BBA student), Nurture Nature, 2020
HONOURABLE MENTION: UFV Bookstore gift-card ($50) Tyler Cunningham (BA student), Frogs Are Friends, 2020
Visit the School of Creative Arts' Instagram page to view all poster winners.