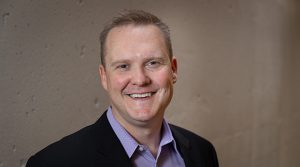 Early on in his career at the Vancouver Police Department (VPD), an aspiring Matthew Harty would occasionally help in street-level undercover work during a patrol shift.
"I was quite young, so I was always a student, that was my story," he says remembering the start of his police career.
He would give the buy money to a drug dealer, and then the signal to his colleagues when it was time to move in.
Now an Inspector with the VPD, the 42-year-old Harty recently revisited his student plain-clothes role — this time actually enrolling in and completing the University of the Fraser Valley's MA in Criminology and Criminal Justice.
The buzz of the bust was replaced with the reward of completing each A+ assignment along his path to a perfect 4.33 GPA graduation.
That persistence led Harty to receive this year's 2019 Governor General's Gold Medal, which is presented to the graduate who achieves the highest standing at the graduate degree level.
"Everyone worked so hard in my cohort and in the school, so I'm very thankful, humbled, and honoured," he says. "If everyone is competing as best they can against themselves they should all feel proud."
**To read more, go to the UFV Today's website**
**Ad sources from by Greg Laychak on June 5, 2019**