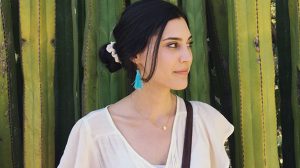 UFV is committed to helping students and alumni make an impact locally and beyond. Sterling Ray is a Bachelor of Arts student who has taken that challenge literally.
Ray is leading intercultural initiatives both on campus and abroad, and will be graduating in June 2019 with a Global Development Studies major and an extended minor in Latin American studies.
Ray expresses that she enjoyed the interdisciplinary studies that are offered in the Global Development Studies program.
"I took one elective on human rights in Latin American Studies and was hooked."
Her specialization in global development and interest in Spanish classes turned out to be the perfect fit during her internship last summer in Oaxaca, Mexico with the International Assembly on Community Development.
Ray's internship gave her the opportunity to participate in round tables and thematic discussions that addressed Indigenous knowledge, stories of resistance, and identity construction. Ray was one of the principal organizers.
"It was a unique learning experience to be in a place where Indigenous knowledge and voices are shared in an assembly based on ancient traditions of Indigenous governance."
She also conducted qualitative interviews with the presenters in English and Spanish, learning about language and identity, and building networks to strengthen Indigenous communities.
Ray is also involved at UFV as the student representative on the Global Development Studies program committee and leads the Global Development Students Club.
"The goal of the GDS club is to build the student community, network, and apply what we are learning to create events and opportunities for global engagement."
The GDS club is open for all UFV students interested in global development.
An upcoming initiative of the GDS club, partnered with the MCC Indigenous Relations program, is the KAIROS Blanket Exercise, to be held at UFV on May 16.
"This is an opportunity for the community to participate in an interactive learning experience, led by an elder, that teaches Canadian Indigenous history as a step towards reconciliation," notes Ray, adding that these types of experiences will also help students become more aware of the Indigenous resources on campus, such as the Indigenous Student Centre.
What's next for Ray after graduation? With a passion for learning she is ready for the next challenge and is interested in pursuing higher education. She is also excited to continue her two research projects on Indigenous media, and refugee claimants.
As for advice for undergraduate students, Ray urges them to get involved.
"Students should enhance their university experiences by learning new languages, and getting involved in research projects, internships and clubs to create change and make an impact both locally and globally."
To learn more and register for the KAIROS Blanket Exercise on Thursday, May 16 from 6-8 pm contact gdsc.ufv@gmail.com
Interested in joining the GDS club? Connect through the GDSC: Global Development Studies Club on Facebook page to learn more