Hello again!
Another amazing day of tourism, this time with a little more flavor. Literally!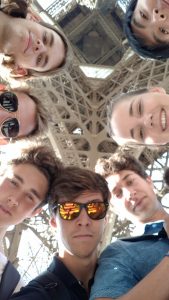 Today began with the usual groggy wake up and a delicious baguette breakfast. We then left, taking the metro to the le tour Eiffel. It's even more magnificent up close than from where we saw it before. Surrounding the tower, there are plates of metal, each with names on them, presumably of the designers and builders.
You learn new things everyday. There's also a restaurant inside, how surprising! Not to mention that there is additionally a gift shop inside, not very surprising!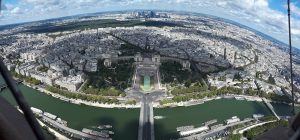 Now, I thought the view of Paris was incredible from the Arc de Triomphe. Let's put things into perspective by saying that the view of the Arc de Triomphe from the Eiffel Tower was decent, considering it was so small from the top of the tower. You can bet there were many panoramas and selfies, capturing the incredible view. We spent so much time gazing at Paris that we started running behind. What made things worse is that we couldn't count on the lift to lower us to the base of the tower in time. And so, 680 Eiffel Tower stairs (give or take) later, we beat the line-up and the lift to the base of the tower. Going down stairs is always the easier way anyway.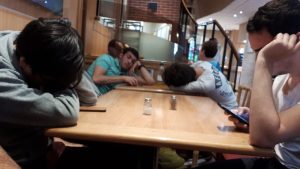 After our visit to the tower, we went for lunch at a new restaurant (always a new and exciting place). Here we had a choice of main course, side, dessert, and drink. Being a Canadian/American culinary loyalist, I chose hamburger with steamed broccoli and fries. It was delicious and filling enough to make a lot of us comfortable enough to give in to our bodies' desperate cries for rest. About 8 of us including myself (maybe more) dozed off during lunch.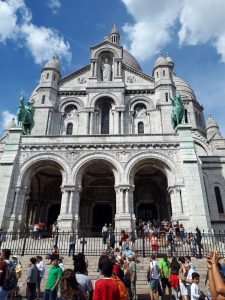 We were awoken to the sounds of our staff members urging us to wake up and head out; the day wasn't finished. No, next we we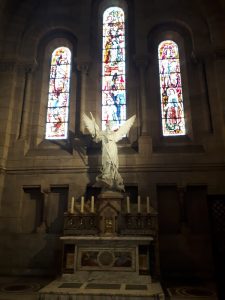 re off the the district of  Montmartre. There, we were met with cobblestone roads, a dozen gift shops, several sweet shops, and a breathtaking view of the Basilica du Sacre-Coeur. We were able to take a tour inside to see the different altars, stained-glass windows, and sculptures.
What could make this day better? That's right. Gelato. So glad you all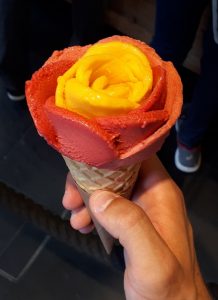 guessed correctly. A few of us visited a gelato shop where we received cones with gelato roses on top. They were very pretty, but even moreso delicious. We sat in the shade on the stairs beside the Basilica, wolfing down gelato and playing games. The virus still ails me, but it was near unnoticeable next to the strong refreshing burst of flavor from the gelato, and the comforting, fun atmosphere of my friends.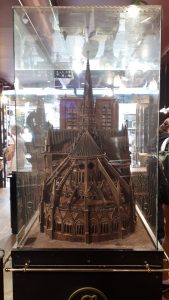 We picked up some souvenirs, checked out an interpretive dance street performance, then boarded the bus to dinner.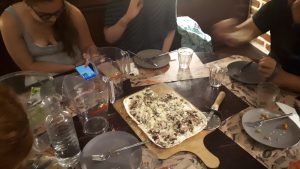 The name escapes me, but for dinner we had a french equivalent of thin crust pizza. Not only for dinner, but for dessert. I was a bit surprised to bite into a thin crust pizza and taste cinnamon. I have to try this food again in the future! Gelato and dessert pizza, I wasn't kidding about today having extra flavour. After copious amounts of "pizza", it was time for us to head back to the hotel.
Now the sensible option would have been to consume more water, and opt for an early sleep to combat the virus. But I'm on currently the greatest excursion of my life. Hahaha, sensible. Opting out of crepes is one thing, but passing down the opportunity to induct more Australians into the world of D&D is another altogether. And so began another short, late-night session of Dungeons and Dragons. By the end of the night, I was so excited to have hung out more with my friends and see our adventure unfold. My voice has transformed into a wicked, airy growl interrupted by the occasional cough and wheeze. Such are the sacrifices I make for D&D and friends.
I'm going to bed very late tonight, but I don't think I'll regret it!
Cheers and goodnight,
Nikola T.
CERN 2018