Hello again!
The first day and official beginning of LIYSF 2018 was today and it was quite a bang to start us off with.
It began with a delicious breakfast and an opening ceremony that was exciting and compelling. Also hot. The heat wave hasn't discontinued and it got quite warm in my vest and dress pants. The price one must pay to look sharp… However, that didn't take away from the introduction, as we got to see the multitudes of flags from participating countries, hear from the mayor of London, and finally meet as a whole, all students and staff. Wow, there are simply so many of us, and we are dangerously outnumbered by Australians.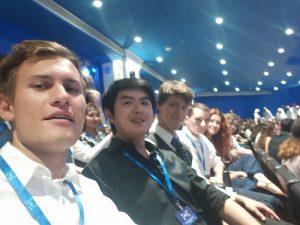 The ceremony wrapped up with a surprise vocal performance and a dance number that was sung beautifully and was a great booster of excitement.
We followed up with lunch in Hyde park, under the blessed shade of some trees, and continued to meet new people and exchange our nationality's stereotypes. Apparently Canadian money doubles as a scratch and sniff, producing the aroma of maple syrup. I'm afraid this poor soul was misinformed, but I can't help but feel like that needs to be a thing. Now.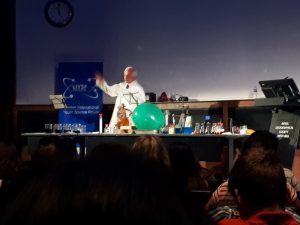 After lunch we had our first plenary lecture, delivered by teacher and chemical science demonstrator Dr Andrew Szydlo. It was quite a colorful lecture, with an explosive atmosphere! I mean literally. There were colors and explosions. His lecture was both enlightening and exciting, and wrapped up with a violin duet. You read that correctly.
Next, we assembled in a line to purchase our optional visits across England and the city of London, which I am already stoked for and you will hear details of in due time.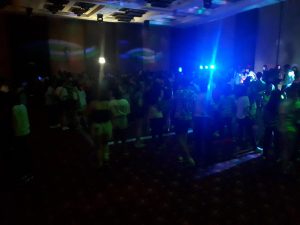 Finally, the day closed with our welcome party, which featured a dance floor, a DJ, some big subwoofers, and a ton of of energetic people.
Today was exhausting, but was nevertheless, a wonderful experience filled with muggy warmth and awesome music. Hence the title: Heat and Beat
That's all for now, thanks for reading and check in tomorrow!
Cheers and goodnight,
Nikola T.
LIYSF 2018