The Physical Geography Department is host to some great courses that offer field trips, here are some were offered this term. (see images below)
Jonathan Hughes
GEOG 219/BIO 219 – Biogeography
Olav Lian
GEOG 202 – Introduction to Geomorphology
GEOG 402 – Quaternary Geology and Geomorphology
Fieldwork on Savary and Calvert Islands
Steven Marsh
GEOG 335/BIO 335 – Methods in Freshwater Ecology
Global Rivers Observatory Project
---
Jonathan Hughes
GEOG 219/BIO 219 – Biogeography
The purpose of the field trip was to find 320-290 million year old crinoid fossils along Slesse Creek in the Chilliwack River Valley.
Students from left to right are Donovan Toews, Marissa Heppner, Tamara Brown, and Aaron Wang. (Images credit to Jonathan Hughes)
---
Olav Lian –

Fieldwork, Calvert Island, BC
Several Geography, and one Physics, research students have spent the past few summers with me at the Hakai Institute field station on Calvert Island (BC Central Coast). Our research involves understanding how the landscape has changed since the end of the last ice age (glaciation). Special importance has been given to the effect of fluctuating sea level since that time. Calvert Island is remote, so the use of helicopters, planes, and rafts, is sometimes necessary to get to field sites.
---
Olav Lian –
GEOG 202, Kamloops, BC
The Geog 202 field trip is a two-day adventure through the interior of BC, where second year geomorphology students are shown evidence of the last glaciation, and are given examples of how the landscape has adjusted since the ice sheet that covered most of British Columbia, between about 30,000 and 15,000 years ago, melted away. Shown is a class in front of Kamloops Lake, the remnant of a much larger lake that existed in the area when glacial ice was melting away.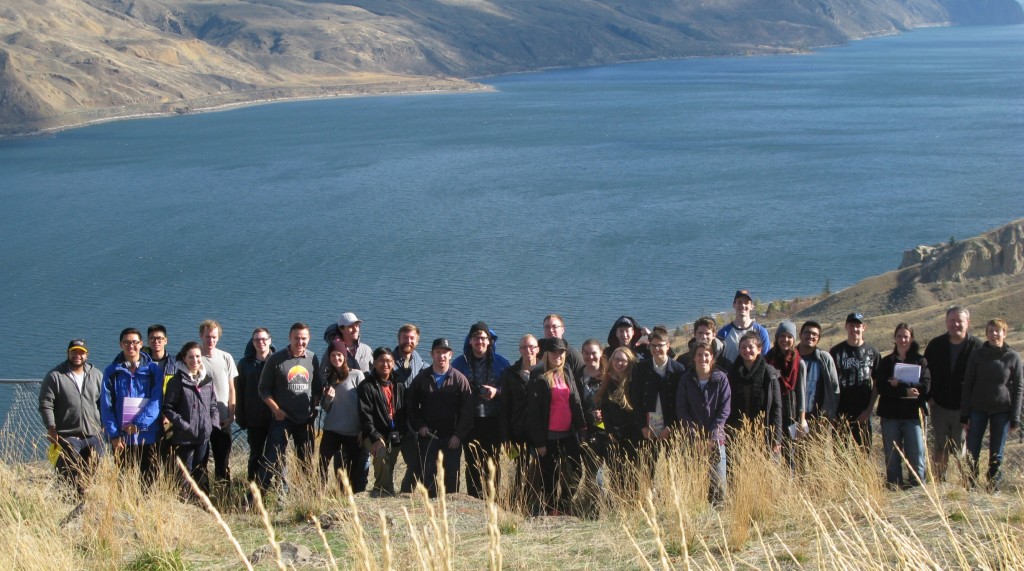 ---
 Olav Lian –
GEOG 402, Muir Point, BC
Muir Point and Lynn Canyon, BC: Fourth-year Quaternary geology students are exposed to organic-rich ('peaty') sediments that were deposited during the warm climate intervals between glaciations. At Muir Point (southern Vancouver Island), sediments deposited about 130,000 years ago are exposed. Pollen and spores found in these sediments suggest that climate around this time was sometimes even warmer than it is today. In Lynn Canyon (North Vancouver, photo in lower right only), sediments deposited between about 50,000 and 26,000 years ago, during the warm interval immediately before the last glaciation, reveal a climate that was much cooler, and sometimes drier, than it is today.
---
Olav Lian –
Fieldwork, Savary Island, BC
Several geography research students have spent the past two summers with me doing field work on Savary Island (near Powell River, BC). Savary Island is also the field area of MSc student Libby Griffin (former UFV BSc Geography grad), who is based in the UFV Luminescence Dating laboratory. Libby, with the help of UFV undergrad students, is doing research on understanding the evolution of large sand dunes that exist on the island beneath the present-day conifer forest. These sand dunes were active sometime in the past (1000s of years ago) when climate did not support the large trees and other vegetation that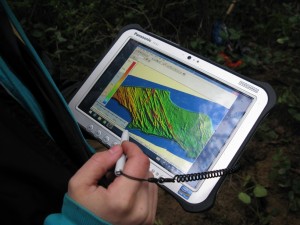 currently grow there. The photo on the right shows Libby in a pit dug into one of the sand dunes, collecting a sample for optical dating. The photo on the left shows Libby holding a tablet showing a false-coloured LiDAR (Light Detection and Ranging) image of the sand dunes. A LiDAR image of the ground surface is created by directing a laser beam from a plane to the ground surface and detecting the light that is reflected back to a detector. The data that is produced is put in a computer program where the laser reflections intercepted by plants can be removed, thus resolving the bare ground surface. Landforms that are often obscured by vegetation can therefore be resolved. The tablet shown in the photograph has a GPS built in which allows one to navigate about the 'bare earth' image, allowing the best sites for data collection to be found.
---
Steve Marsh
Bio 335 sampling – measuring water chemistry using a PRO ODO probe and collecting leaf litter samples.
Global Rivers Observatory project – students collecting bed samples using a dredge, and a student along with Bernhard Peucker-Ehrenbrink (Woods Hole Oceanographic Institution, WHOI), collecting a water sample for analysis at WHOI.
Photo credits to Jonathan Hughes, Olav Lian, and Steven Marsh.