Images available on UFV Flickr

————————————————————————–
Archived from UFV Today – March 18, 2013
UFV students will be showcasing their intellectual talents once again at the UFV Student Research Day on Wed, March 20.
You can drop by the Roadrunner lounge in Building A on the Abbotsford campus at 11:30 am to hear a from a smorgasbord of  11 student speakers in a micro-lecture format. Each will have five minutes to summarize and explain their research process and results. Then from 2 pm to 3:30 pm, 28 student researchers will have posters outlining their research on display in Room B121 on the Abbotsford campus. Both events are free and open to the public.
Student micro-lecture speakers:
Kelly Hodgins, Geography: The effect of the seasonal agriculture workers program on Chilliwack agriculture
Priscilla Barr, Biography: Surveys of juvenile hatchery and wild coho salmon
Mike Rastad, Psychology: The Impact of carbohydrate mouth-rinse sensing on perceptual-motor choice reaction time task in fasted/unfasted subjects
Ali Siemens, Media and Communication Studies: Google search: everything about you. Issues in privacy and social media
Robyn Matthews, Psychology: Reducing bias on the implicit associations task
Lais Maia, Biology: Foraging behaviour in groups of birds
Paul Stephany, Geography: Representing Indigenous narrative: mapping Blackfoot oral history using GIS
Nikki Dionne, Criminology: Programming for children with incarcerated parents
Sol Sun, Psychology: Criterion shifting in recognition memory
Jason Ho, Physics: The quantum field theory of charmonium hybrids
Scott Bishop, Kinesiology: Using heart-rate variability to index recovery from concussion.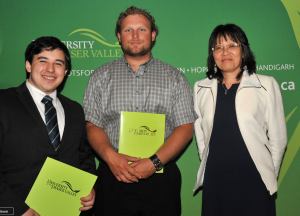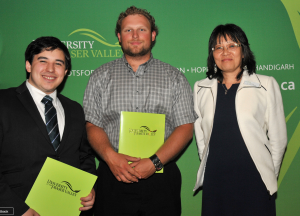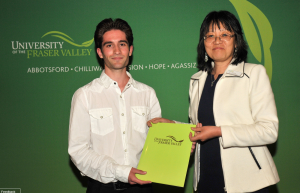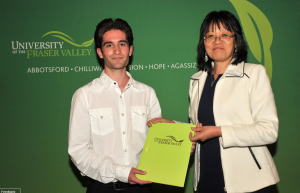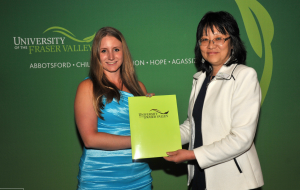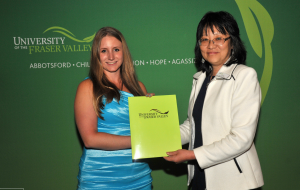 ————————————————————————————
Read the full article – UFV Today – March 25, 2013
If you wandered past Room B121 on the UFV Abbotsford campus on March 20, you would have seen the normally dark room transformed into a hubbub of chatter and enthusiasm.
The event was Student Research Day, and UFV celebrated the hard work of both students and professors by hosting a series of micro-lectures in the morning and a poster presentation in the afternoon.
Of the seven available awards, chemistry students took home four prizes and geography students cleaned up the remaining three.
"While it was gratifying to see our students do well, many others were equally deserving," said David Fenske, UFV's chemistry department head. "The quality and breadth of research on display was truly impressive."
STUDENT RESEARCH WINNERS:
Brandon Yanciw — Provost and VP Academic Award ($200)
Steve Clegg  — AVP Research & Graduate Studies Award ($200)
Ariel Brown — AVP Research Science Award ($150)
Paul Foth — Dean of Science Award ($150)
Meagan Beatty —Dean of Health Sciences award ($150)
Danielle Hamel, Andrew Alexander and Jessica Tennant — Vice Provost and AVP Academic Award ($150)
Paul Stephany — Dean of Arts award ($150)
Kelly Hodgins — Dean of Professional Studies ($150)
Student Projects – Sampler
Danielle Hamel & Andrew Alexander
Examining the suitability of lipid nanoparticles constructed with novel synthetic lipids for ionophore-mediated uptake of anticancer drugs
——————————————————————————-
Paul Foth – Chemistry
Synthetic Steps of GFP Chromophore Analogue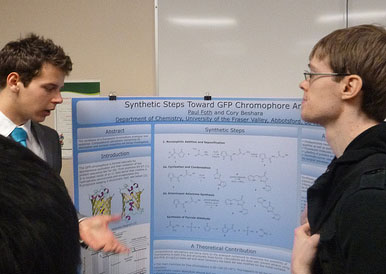 ——————————————————————————-
 Katelyn Knuff – Biology
Biochemical and Genetic Analysis of Four Diesel-Degrading Bacterial Isolates Originating from the Fraser Valley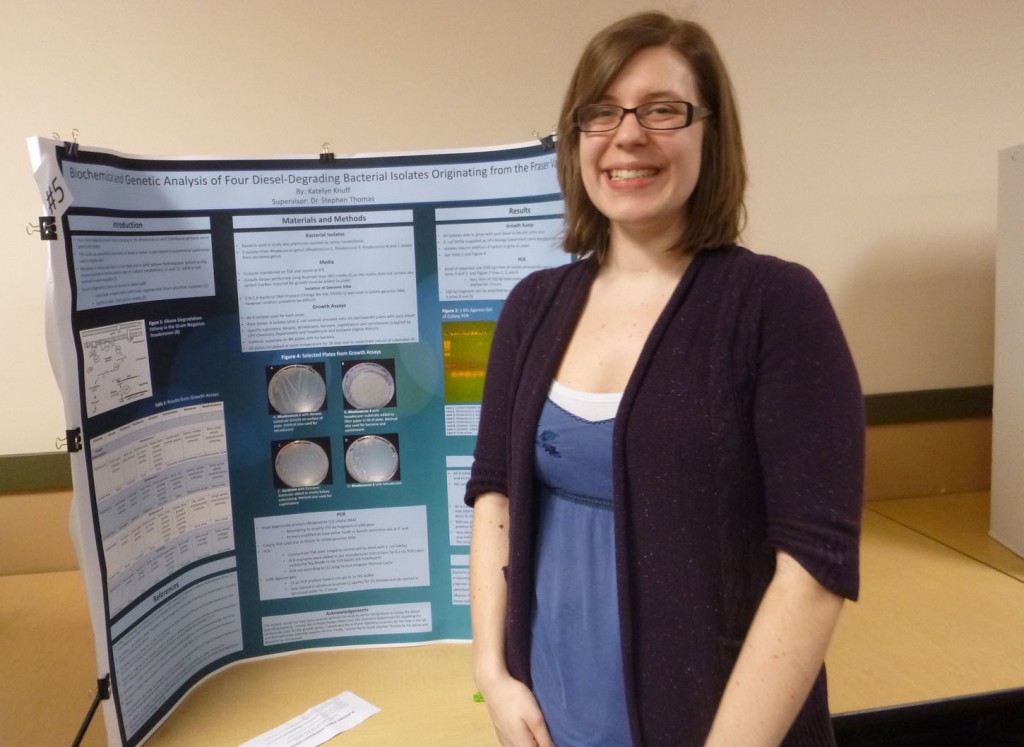 ——————————
Images available on UFV Flickr
The hard work of UFV students spanning a cross-section of studies was on display recently at the annual Student Research Day.
Presented by the UFV Research Advisory Council, the event featured students presenting their research during three-minute talks (also called microlectures), and poster presentations.
To take part, students had to conduct research under the supervision of a UFV faculty member.
Topics ranged from body esteem, to local youth participation in politics, to microgardening in India.
Michelle Mankovits, a psychology honours student in her fourth year, did a speech and poster titled Body Esteem and Female Sexual Distress. Working with Brooke Seal, a UFV psychology instructor, Mankovits says they have found an important correlation between body image and sexual distress.
The Young and the Restless: Youth Political Participation in the Fraser Valley was the title of a project explored by Natasha Smith and Jason Kowal. It's the first project of its kind to measure the political participation of youth on a micro-community level, said Smith, a political science major.
Together, Smith and Kowal investigated the stereotypes of how youth participate in politics ­— from blogging to voting. The pair received a research grant from the provincial government, and moved forward with distributing questioners to local students. Overall, they found that the highest voting turn-out is at federal and provincial elections.
Kowal was involved in another presentation for Student Research Day, but on a very different topic. With fellow geography student Matthew Stoutjesdyk, the topic of improving food security and generating income in poor households of the global south was undertaken.
They teamed up with numerous supervisors, from both Punjab University and the Geography department of UFV. Located in Chandigarh, India, the pilot project began by providing 40 homes with two pots for growing a small vegetable garden to provide food and potential income. With further grant money being provided, the project is expanding.
An interest in addictive behaviour lead Allison Lee  to study common  behaviours and associated mental health issues as part of her research work in the  School of Criminal Justice at UFV.  Most addictive behaviour research focuses on single addictive behaviors and their relationship with mental health. Her study surveying undergraduate students looked at a number of common addictions like shopping, coffee, and internet gaming and their relationship to mental health issues such as depression, anxiety, and self -esteem.
Her findings? The most strongly related concurrent addiction among those surveyed was gaming and food. Shopping and internet addiction were significantly related to depression and high anxiety. In order to effectively address these common addictions, one must consider treating mental health issues such as depression and anxiety.
Lee is applying for further study in the School of Social Work and hopes to apply what she has learned about addictive behaviour to her future career.
A suggestion from geography professor Garry Fehr inspired Ashley Clark to research the hot news topic of run-of-river hydro projects in BC. Harnessing Power for Who? The Costs and Benefits of Long-Term Ownership of BC's Run-of-River Projects looks at the social, economic, and ecological sustainability of this form of hydro generation by studying two different projects.
Lee compared a privately owned project in Squamish with a community-owned project on Vancouver Island. While both projects result in environmental, fisheries, and recreational impacts, the privately owned project may result in power being sold outside the province in 30 years, while the community owned project results in long-term power generation for BC.
What she learned? Lee is now paying attention to other potential run-of-the river projects in her home community of Chilliwack and will continue to ask questions around the long-term costs of this type of power generation.
Looking at faces and names has new meaning to Sol Sun, a UFV psychology student. who looked at racial bias in his  study entitled The Role of Social Categorization on Configural and Featural Processing of Own – and Other — Races'Faces.
Working with Caucasian participants, photos of both Caucasian and African-American faces were used and paired with a race-stereotypical name and an unusual name. The study found that there is a correlation or bias for own-race as compared to other-race faces especially when they have commonly known labels or names, i.e., John with the male Caucasian face versus an unusual name like DeMarcus.
Sol hopes to present the findings of this study at some psychology conferences and perhaps get published in an academic journal.
For more information on the Student Research Day, visit ufv.ca/research.