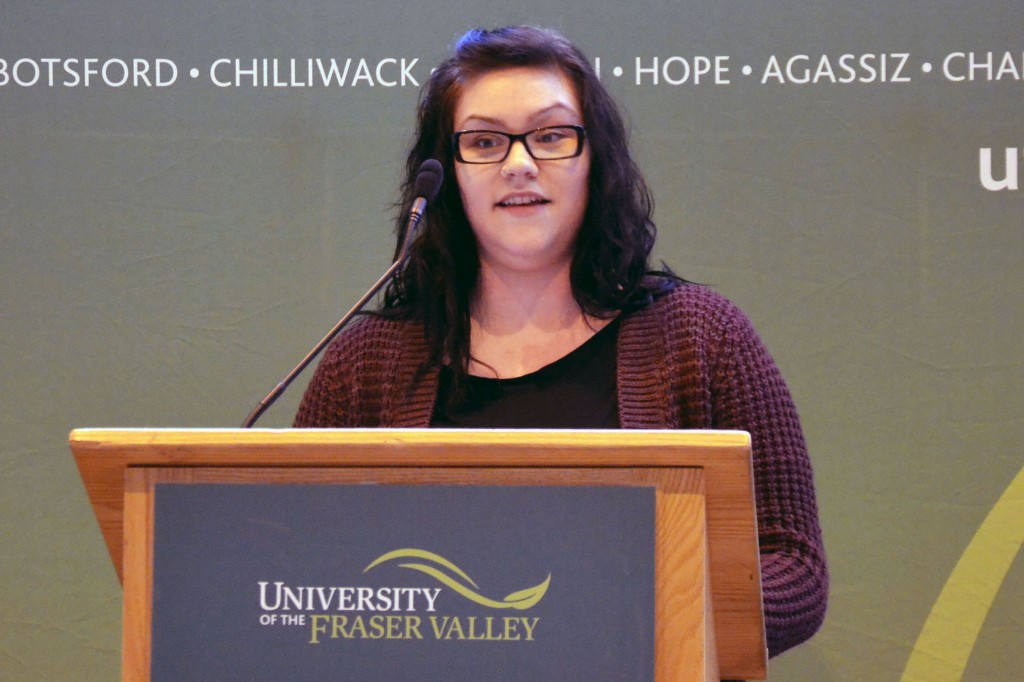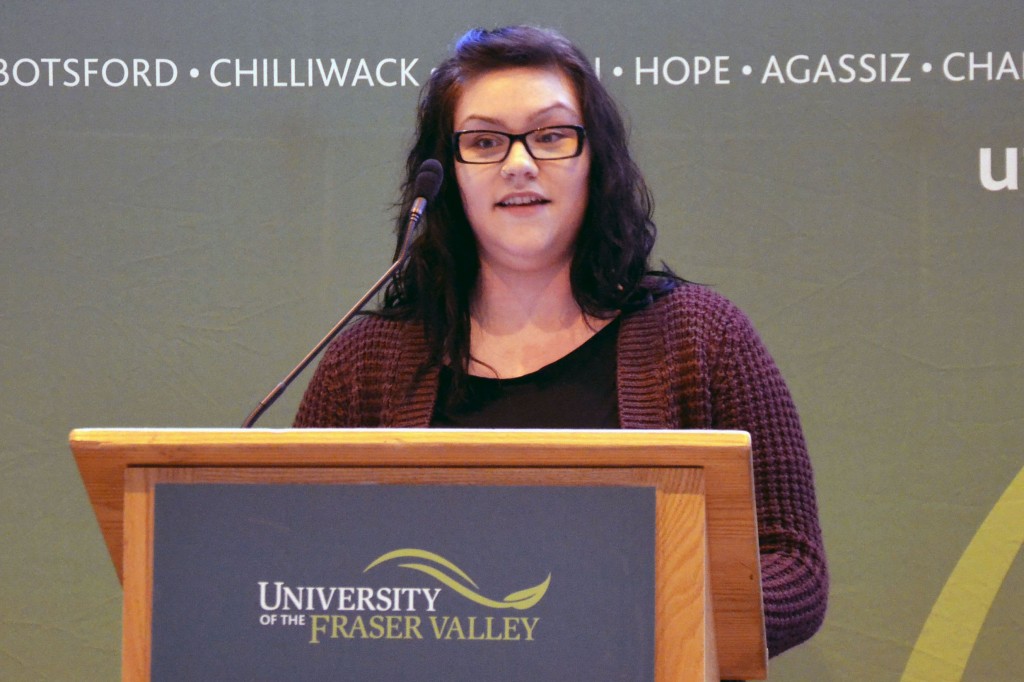 If you wandered past Room B121 on the UFV Abbotsford campus on March 20, you would have seen the normally dark room transformed into a hubbub of chatter and enthusiasm.
The event was Student Research Day, and UFV celebrated the hard work of both students and professors by hosting a series of micro-lectures in the morning and a poster presentation in the afternoon.
The usually open space was crammed full to bursting for most of the afternoon, as close to 30 students and their posters jostled for space and attention amongst a sea of curious visitors.
The research projects spanned disciplines and academic levels, from Communications 155 to 400-level chemistry courses, to a plethora of directed studies ranging from sociology to history to biology and back again.
The students, for the most part completing the last year of their degrees, were able to both rub elbows with other disciplines and eye up the rest of the research community at UFV in a friendly competition.
The 28 project posters competed for seven different awards, which were announced at the end of the day.  Each award included a scholarship amount between $150–200, and the students will be honoured at the annual research awards banquet.
Of the seven available awards, chemistry students took home four prizes and geography students cleaned up the remaining three.
"While it was gratifying to see our students do well, many others were equally deserving," said David Fenske, UFV's chemistry department head. "The quality and breadth of research on display was truly impressive."
"These instructors' commitment, passion and professionalism is making a big difference in our students' lives," said UFV president Mark Evered, extending a thanks to the faculty who supported and guided the student researches. "I was very impressed and proud of our students."
STUDENT RESEARCH WINNERS:
Brandon Yanciw — Provost and VP Academic Award ($200)
Steve Clegg  — AVP Research & Graduate Studies Award ($200)
Ariel Brown — AVP Research Science Award ($150)
Paul Foth — Dean of Science Award ($150)
Meagan Beatty —Dean of Health Sciences award ($150)
Danielle Hamel, Andrew Alexander and Jessica Tennant — Vice Provost and AVP Academic Award ($150)
Paul Stephany — Dean of Arts award ($150)
Kelly Hodgins — Dean of Professional Studies ($150)
A SAMPLER OF PROJECTS:
Shea Wind — Indo-Canadian Studies
White-Canada Forever: A Look Through The Eyes of the Vancouver Daily Province Newspaper 1906–1915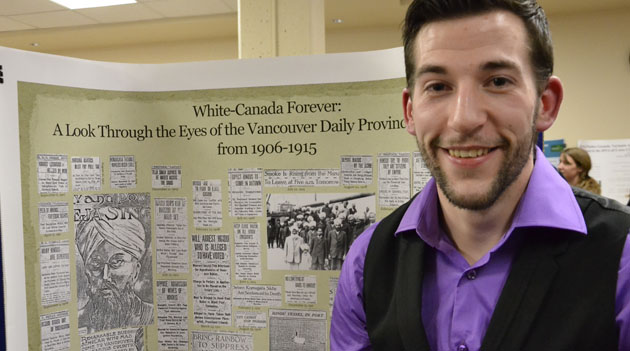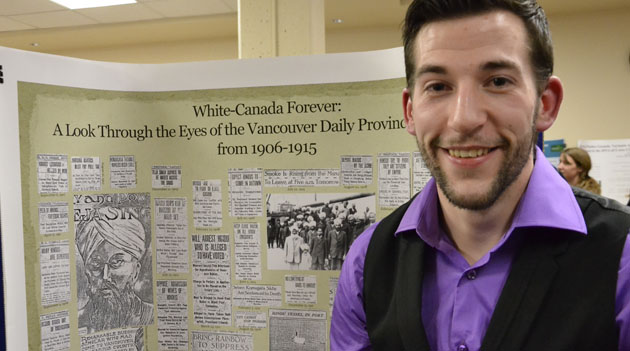 Where some posters were filled with graphs and lengthy text explanations, Shea Wind's posterboard was instead filled with photocopies of newspaper headlines.
"This is pretty much a representation of what I did for the Centre for Indo-Canadian Studies in the fall semester," Wind said. "I transcribed articles from the Vancouver Daily Province newspaper, focusing on Indo-Canadian immigration to British Columbia and the racism that arose from that."
These racist undertones are easy to see in the headlines he's picked out to include as part of the presentation: The headline "Will Arrest Hindu Who Is Alleged To Have Voted" stares at the viewer in all caps, and suspicion seems to be a prevalent theme.
"There are definitely some stories that shock you, that this could happen in the last 100 years. It shows just how brutal British Columbians could be to outsiders during this time period," Wind noted.
This project was one he undertook while working for the Centre for Indo-Canadian Studies last fall.
"I loved the whole project," Wind said.
Paul Foth — Chemistry
Synthetic Steps of GFP Chromophore Analogue
To most people, it might seem more than a little frustrating to spend the better part of a year trying to create a molecule and still not know for sure if you've done it.
For fourth-year chemistry student Paul Foth, it's just the way it goes sometimes.
"A lot of the time in first- and second-year chemistry, you just get an outline of the lab you're going to do, and you always get the result because it's a reaction that's been done for years and is known," Foth said "But once you start doing your own research, you never really know what you're going to end up with."
Under the supervision of UFV instructor Cory Beshara, Foth started his two-semester project by picking a glowing protein in jellyfish.
"Off the coast of Seattle, people found jellyfish that were glowing green," he explains, pointing out a clean drawing of the molecule — called a chromophore — that caused the fluorescent green tinge.
For his project, Foth and Beshara decided to map out the chromophore and then play with the structure.
"We wanted to see if we could alter it to make it better, and see how we could alter properties of it by making something similar but not exactly like it," he explains.
They completed the theoretical stage without a hitch, but unfortunately for the chemistry team, the physical chromophore proved a little more elusive. The final molecule should have been within the spectrum of visible light, glowing like the original chromophore.
"We hoped that we formed it, and I thought that I formed it, but tests showed differently," Foth concluded. "So it may have broken down – that might be why we didn't see it.
"You can get frustrated when things aren't working or when you don't get what you want, but that's just research. That's the way it goes sometimes."
The project concluded on a happier note, however – Foth was awarded the Dean of Science award for his research poster.
Danielle Hamel and Andrew Alexander — Chemistry
Examining the suitability of lipid nanoparticles constructed with novel synthetic lipids for ionophore-mediated uptake of anticancer drugs
"Basically, we tried to take a really nasty drug and package it inside something, so it could where it's needed without hurting the rest of the body," explained Danielle Hamel, gesturing to a variety of graphs and diagrams on the poster behind her.
The project isn't finished yet, but the team is making progress. Hamel worked on the project with fellow student Jessica Tennant in the fall, and the team was joined by Andrew Alexander in January. Hamel is graduating this semester, but Alexander will keep working on the project next semester.
Their research revolves around liposomes. These particles can act as couriers to carry drugs into cells — or, in this case, cancer tumours.
The team attached cholesterol to the liposome to make them more stable, and then began testing its properties. They were looking for a liposome small enough to sneak into a tumour, but large enough to carry a substantial amount of anticancer drug.
First they looked at how much drug they'd be able to load into their liposome.
"We tried it at room temperature, which is standard, and found that it wasn't loading too much — it was about a 50 percent load. Not so great; not enough drug," Hamel explained. "So we increased the temperature, which resulted in almost 80 percent loading. Much better!"
With that battle completed, the team will be turning their attention to the overall size of the liposomes — they're currently about a 160 nanometres, where the team is hoping for something closer to 100 nanometres.
"At this point we're still looking into the reasons behind the volumes we're seeing," Hamel admitted. "It's looking promising, but we're getting a lot of data that's not quite consistent at this point."
"It's really satisfying," Alexander said, pointing to an inconspicuous diagram about halfway up the poster. "I mean, this graph, for instance—we spent two weeks on the data for just that graph. But it's really neat to pull yourself back and say, hey —look at all the data we got.
Hamel, Alexander, and Tennant also walked away with a prize for their work; they were awarded the Vice Provost and AVP Academic award.
—–
Samantha Scott, Susan Im, Kiersten Duncan and Kalei Swanson — Geography
Where do you game? Spatial Location of Table Top Gaming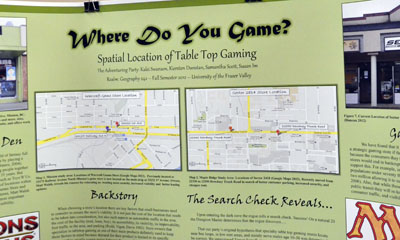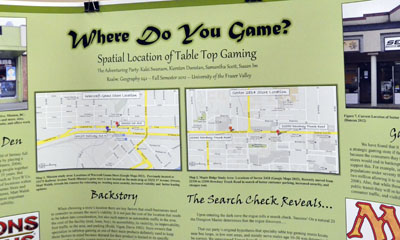 Samantha Scott, Susan Im, Kiersten Duncan and Kalei Swanson took a look at the placement of two gaming stores – one in Mission and one in Maple Ridge – and from there, deduced why the stores picked the locations they did, and how they appealed to their demographics.
The term "gaming store" is sometimes a catch-all phrase —something the four geography students quickly realized.
In an effort to draw more customers to the store, owners often branch out into anything that might appeal to their demographic — for lack of a better word, the geeky crowd.
This means gaming stores can carry anything from trading cards to board games to action figures to Dungeons and Dragons paraphernalia.
This was just one way the stores draw in their customers — and these student researchers were in search of the other ways stores appealed to their demographic.
And since they're geography students, after all, they began with the ins and outs of the location.
The team deduced that the stores survived by being the sole store in an area, and also noted that these stores placed themselves at the geographical crossroads of several factors — both stores recently moved to more central locations to combat a slew of break-ins, which also placed them closer to bus routes and made them more accessible to walk-in traffic.
"The best part about it was actually going to the store and interviewing the store owners," Scott said with a grin. "That was a lot of fun."
—-
Katelyn Knuff  — Biology
Biochemical and Genetic Analysis of Four Diesel-Degrading Bacterial Isolates Originating from the Fraser Valley
"Basically I have four bacteria able to degrade diesel and I want to know how they can do that," Katelyn Knuff explained. "So I'm just looking for the first gene in a pathway able to degrade diesel."
Although you it would be easy assume that the reaction has only two parts — bacteria and diesel — Knuff split both parts into even smaller bits to see what, exactly, was reacting. She broke the diesel into seven different pieces, and then managed to isolate the portion of the bacteria she theorizes was doing the degrading.
"I amplified just a small segment of the gene, and from that I can say these bacteria probably have it," Knuff said. "I have yet to sequence it, but once I do that, I can say for sure."
Knuff's been working on the project for two semesters, and although things were slow to start she says she's back on track now.
"I spent like a month and a half getting nowhere, so when I finally got the results it became more fun. A month and a half of nothing is kind of horrible," she said with a laugh. "Now it'd better be done in a month. I need to graduate!"
Although this project — and her undergrad degree — is coming to an end, Knuff has a long path in biology set out for herself. She's applied to Queen's University to be a master's student in the pathology molecular medicinal department.
"I'll hear back any day now," she said, her smile equal parts excitement and terror. "Fingers crossed!"
 -30-