The SASI was pleased to host renown political activist and intellectual Yogendra Yadav who spoke about India's farmers movement. As the ongoing farmers struggle in India completes six months, it has attracted global attention. The Indian diaspora has taken special interest and played a key role in this movement. Focusing on extraordinary milestones and the hopes ahead, Yogendra instilled a sense of optimism and hope.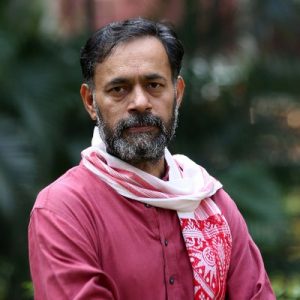 Yogendra Yadav is an author, social activist, journalist and Psephologist, whose primary interests are in the political and social sciences. He has taught Political Science at Panjab University, Chandigarh (1985-93) and has been a Senior Fellow at the Centre for the Study of Developing Societies (CSDS), Delhi since 2004. He has published a number of articles and books. His current book, "Making Sense of Indian Democracy: Theory as Practice" was published in 2020. He was an editor and advisor for various publications, such as the European Journal of Political Research. He is the national convener of Jai Kisan Andolan (JKA), and also a convener of All India Kisan Sangarshana Coordination Committee (AIKSCC) of the Sanyukt Kisan Morcha (SKM) that lead the current farmers' movement in India.
If you missed the conversation, you can watch it on the SASI's Youtube channel.