(From Dan Kinving, Cascades Athletics)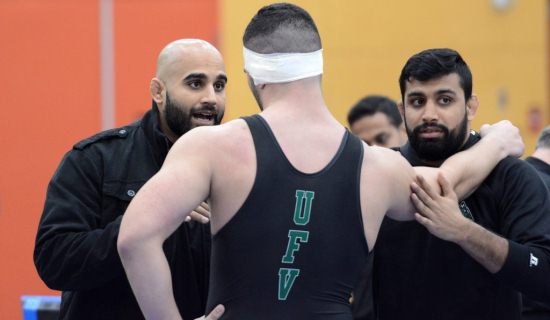 One of the most exciting developments for the UFV athletic department this summer was Cascades wrestling coach Arjan Bhullar earning a contract with the Ultimate Fighting Championship, the world's premier mixed martial arts (MMA) promotion.
Bhullar has coached the Cascades varsity wrestling program alongside former Canadian national teammate Raj Virdi since its inception, ushering the men's and women's squads into Canada West in 2014-15.
A much-decorated athlete himself, Bhullar has worked over the past several years to make the transition from the wrestling mat to the UFC Octagon.
The Richmond, B.C. product was a member of the Canadian senior national wrestling team for five years, highlighted by a bronze medal at the Pan American Games in Rio de Janeiro in 2007 and a gold medal at the Commonwealth Games in India in 2010. He was a member of the Canadian Olympic team for the London 2012 Summer Games, finishing 13th in the men's freestyle 120 kg division. Bhullar was the first Canadian of South Asian descent to qualify for freestyle wrestling in the Olympic Games, and he was named Canadian Wrestler of the Year in 2009.
After retiring from wrestling following the London Olympics, Bhullar transitioned to MMA and won his first six professional bouts. That drew the attention of the UFC, who signed Bhullar earlier this summer. He's the first athlete of South Asian descent to sign with the company. Bhullar is slated to make his debut at UFC 215 in Edmonton on Sept. 9, taking on Luis Henrique in a heavyweight bout.
Steve Tuckwood, UFV director of athletics and campus recreation, extended congratulations to Bhullar on his accomplishment.
"We're proud of Arjan," said Steve Tuckwood. "He's been a great asset to UFV Athletics, and he's a great example to our student-athletes of what can be accomplished through hard work and determination. We'll be cheering him on Sept. 9."
Satwinder Bains, director of UFV's South Asian Studies Institute and Principal, UFV India, hailed Bhullar's move to UFC.
"Arjan Bhullar's proclamation of breaking another glass ceiling is apropos as he covers new ground in signing with UFC," Bains stated. "Reaching these new heights as a young Canadian of South Asian heritage is both exhilarating and poignant to the community at large and to us in particular at the South Asian Studies Institute at UFV. We recognize that he stands on the shoulders of giants of the past who have helped pave the way for Arjan to dream and for his hard work and dedication to make that dream a reality. The future generations have a role model to look up to and aspire to do the same and more as he leads by example."
Arjan's first UFC fight took place in Edmonton, Alberta with his winning over Luis Henrique. With this first win, Arjan has become the first South Asian Canadian fighter on the promotion's roster, and the first fighter of Indian descent to find success in the octagon.