A crowd of excited community members spent Friday afternoon waiting patiently for a special visitor on the grounds of the Gur Sikh Temple national historic site and Sikh Heritage Museum on South Fraser Way in Abbotsford.
And, at around 1:45 pm, they were rewarded as Prime Minister Justin Trudeau emerged from a private tour inside the gurdwara to give a brief address in the courtyard. The visit from the Prime Minister was arranged through the office of Member of Parliament for Mission — Matsqui — Fraser Canyon, and former UFV Board Member, Mr. Jati Sidhu. The Prime Minister spoke about the importance of multiculturalism in Canada, especially during this year as the nation celebrates 150 years since Confederation.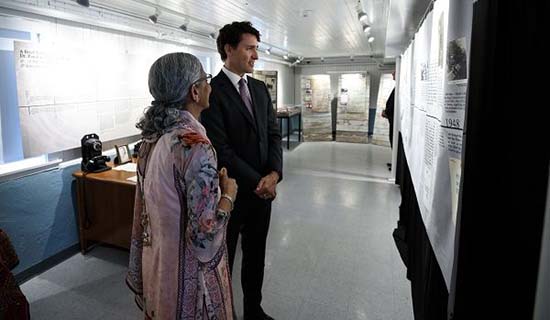 He noted that it had been one year to the day since his government formally apologized in parliament for the 1914 Komagata Maru incident, which saw a ship of Sikh men (and British subjects) intending to immigrate to Canada denied entry in Vancouver harbour, before being forced out and back to India, where they were shot at by British Indian troops with most men were either killed, injured, imprisoned, or forced into exile.
Trudeau added that 2017 is a year to celebrate Canada's 150th birthday, but also to continue to work on reconciliation and acknowledgement of the injustices suffered by Canada's Indigenous peoples over several generations.
After the speech Trudeau walked through the crowd, shaking hands and posing for selfies with many enthusiastic audience members at the small, invite-only event.
"The Prime Minister was absolutely genuine and earnest in his tour of the site. He took the time to take in the historical content but also revel in the historicity of the space and Heritage gurdwara itself," said Sandhra. "When I told him how honoured I was to meet him and that my boys and I watched the swearing in of his federal cabinet together and saw it as such a proud moment for Canada, as a rejuvenated energy — Justin said that that energy is because of all the people he is surrounded by. He is such a nice and humble man!"Satwinder Bains and Sharanjit Sandhra, director and coordinator of the UFV South Asian Studies Insitute (SASI), met with Trudeau inside the temple prior to his speech and toured him through the exhibit (Dis)Enfranchisement 1907-1947: The Forty-Year Struggle for The Vote, which chronicles the 40-year struggle to attain the vote for Indo-Canadians in Canada. The exhibit is funded by a Canada 150 grant from the federal government.
The Prime Minister's visit was a historic moment in the 106 year history of the Gur Sikh Temple as he recognized its Canadian presence as an iconic site of both struggle and success. While he toured the exhibit on The Forty-Year Struggle for The Vote, he expressed dismay at the franchise being taken away from early immigrants of many stripes by the governments of the day, according to Satwinder Bains.
"He was dismayed that the governments of the time would 'take away' the vote — he thought it had never been offered… but to take it away he said was absolutely wrong. He asked about the role of Dr. Pandia who made many trips to Ottawa to reinstate the right to vote," noted Bains. "He commented how surprised he was that the National Historic Site resembled many prairie homes but then said; Of course that would have been the expertise in architecture in 1908. He thought he would have been seeing an exotic looking building but seeing its prairie connection made it that much more precious as a Canadian iconic site."
Other UFV-related community members in attendance included CFO and VP Finance and Administration Jackie Hogan; Abbotsford councillor Kelly Chahal, one of UFV's Top 40 Alumni;  geography instructor Terah Sportel; members of the SASI advisory committee; past and future honorary doctorate recipients (Parm Bains and Andy Sidhu); UFV students; former UFV Board member and federal MP Jati Sidhu; and Alumni Association board vice-chair Nav Bains.
For more images, please visit the SASI Flickr page.