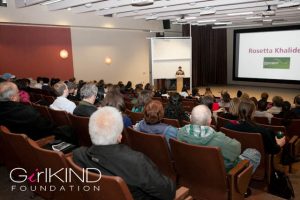 In some parts of the world, the words "it's a girl" aren't always greeted with joy on the part of the parents of a newborn infant.
In India, China and many other parts of the world today, girls are killed, aborted, or abandoned simply because they are girls. The United Nations estimates as many as 200 million girls are missing in the world today because of this so-called "gendercide."
Girls who survive infancy are often subject to neglect, and many grow up to face extreme violence and even death at the hands of their own husbands or other family members. The war against girls is sustained by deeply ingrained cultural dynamics which, in combination with government policies, accelerate the elimination of girls. But we must also remember that female gender favoritism is not limited soley to these nations-this is indeed a world-wide concern.
Although as 'outsiders' of these tragedies, we often feel helpless in terms of what we can do in order to exact change and justice, faculty, staff and students at UFV, in addition to community members, were invited to do just that-help exact change through learning.
On Mon, Nov 19, at the UFV Abbotsford campus lecture theatre (B101), the UFV Centre for Indo-Canadian Studies presented a documentary called It's a Girl. This powerful documentary sheds light on issues of female gendercide in South Asia and East Asia-although female infanticide does occur in other cultures outside of these two as well.
The CICS worked alongside GirlKind Foundation (www.girlkind.org) to bring this screening to UFV. Proceeds of the ticket sales went towards the foundation. The turnout was amazing-with over 95 attendees.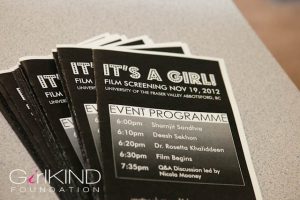 Dr. Rosetta Khalideen, Dean of Professional Studies at UFV provided the introduction, while the q&a and discussion afterword was moderated by Dr. Nicola Mooney, a Senior Associate of the Centre for Indo Canadian Studies and a faculty member in the Social, Cultural and Media Studies Department.