"Hips back! Shoulders pumping up and down! Feet parallel to the floor!"
Laura Robinson's words of encouragement, and safety, leave her class coming back for more.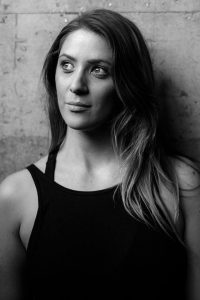 Robinson manages Iron Cycle Club, an indoor cycling studio based in Abbotsford, where classes are grounded in evidence-based knowledge gained through her experience in the UFV kinesiology degree program.
Robinson graduated with a Bachelor of Kinesiology in 2013. With a passion for working with people and helping others meet their health goals, she worked for five years as a kinesiologist with Innovative Fitness in Abbotsford.
It was her love of teaching people how to prevent injury and reach peak physical performance that led her to operating Iron Cycle Club full-time.
"I always enjoyed group fitness as a hobby," noted Robinson. "When I was working as a kinesiologist, one of my clients approached me about an opportunity to start Iron Cycle. With limited business planning experience, I was hesitant, but I'm so proud to say we've been operating for seven months now."
Iron Cycle Club is founded on the principles of empowering people to reach their optimal health goals by instilling the confidence and skills to physically challenge their bodies and minds.
While boutique cycling studios are increasingly popular, and gyms continue to offer indoor cycling, Iron Cycle Club remains unique in its quest to pump you up.
"Before we launched the business, I participated in classes at other studios across the Lower Mainland and it was clear everyone loves spin classes, so I knew I had an audience."
She decided that the "value add" she would bring to the market was expertise in designing spin classes with an emphasis on safety and injury prevention.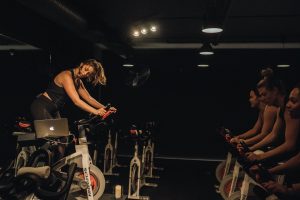 Using her understanding of exercise physiology and exercise prescription, skills she gained as a student in the kinesiology program at UFV, Robinson created a specific indoor cycling program grounded in science-based knowledge. She personally designed classes with a focus on theories of performance and recovery.
"I knew it was necessary to evaluate how we can push people to a reasonable level without leaving them feeling defeated or injured," explained Robinson. "To the average participant, it's a fun and engaging fitness class, but a lot of hours have been dedicated to ensuring there is an intentional flow to the sequence of exercises on the bikes."
"We want to help people get and stay fit in a way that empowers them with the tools to focus on prevention and well-being."
With beads of sweat rolling down their faces and blood pumping, cyclists ride to the beat of music in a dimly lit room. Every aspect of Robinson's program is intentional. From the playlist she uses to each movement on the bike, Iron Cycle Club offers three different levels of classes aimed at building strength and confidence.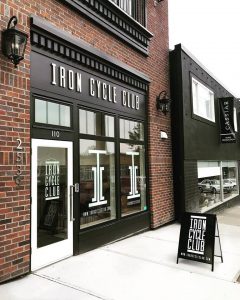 "I try to incorporate theories of sport psychology into my planning," says Robinson. "By balancing arousal and intensity of the class using music and lights, we've taken a fun fitness phenomenon and placed thought behind it. These are ideas I learned at UFV and in my practice as a kinesiologist."
Robinson and her team are certified indoor cycling instructors. But she takes training one step further by providing in-house development for her employees. By working one-on-one with her team of instructors, Robinson can ensure each fitness class is consistent in delivery.
"I want our instructors to feel assured they are leading a safe and effective workout in a way that helps educate the group about muscle engagement, posture, and recovery," says Robinson.
Instructors start by attending classes as a participant and Robinson takes time to breakdown the formula they follow by teaching them the basic exercise science principles behind the movements on the bikes.
"We teach people how to set up and use the bike properly, how to use resistance safely and effectively for their bodies, and we empower the class to take control of their fitness by offering suggestions for modifying movements to prevent injury, for example."
A fusion between fitness, fun, and science, Robinson is using her degree in the business of health. She praises the hands-on learning experiences gained at UFV with helping lay the ground work for Iron Cycle Club's exclusive approach to indoor cycling.
Photo credit: Sean Dalin Photography