Exam season has come to a close and marking is well on its way to completion. It's time to reflect on the semester and check in with your mental wellbeing. After a busy and productive term, when was the last time you did something for your mental health?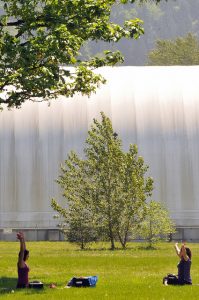 The University of the Fraser Valley Faculty of Health Sciences is excited to collaborate with the RCMP Pacific Region Training Centre during the Canadian Mental Health Association's annual Mental Health Week from May 7 to May 11 on Canada Education Park in Chilliwack, BC. As part of the initiative, workshops, fitness classes, and information sessions will be offered on the Chilliwack campus.
"First responders deal with complex and critical situations on a daily basis. They work with vulnerable individuals who are often facing significant crises. As such, the mental health needs of this workforce are unique, and employing strategies to maintain wellness and build resilience becomes essential for survival in these fields. This is an excellent chance for us to raise awareness of the importance of mental health in the workplace and to initiate some discussions on mental health promotion as a whole," says Maggie Shamro, UFV nursing faculty member and mental health advocate.
Both campuses support mental health and wellness in the workplace and will be providing a variety of events that are open to all UFV employees and students, PRTC staff, Upper Fraser Valley Regional District RCMP, UFVRD Dispatchers, Chilliwack BC Ambulance Service, and Chilliwack Fire Department.
Events Calendar:
Tuesday May 8th 2018
10:00 am -11:00 am
Fitness event: Yoga for all levels of fitness
Location:  PRTC Main Gym Building 1119, Calais Crescent on Canada Education Park
12:00 pm – 1:00 pm
Presentation: "Mind Body Connection" by Ken Ross, RCMP Provincial Fitness and Lifestyle Coordinator.
Location: UFV Aboriginal Gathering Place, 45190 Caen Ave, Building A
Wednesday May 9th 2018:
10:00 am – 11:00 am
Fitness event: Nature Walk on the Rotary Trail
Location: Meet in parking lot of PRTC Building 1122 (directly east of UFV Building A).
12:00 pm – 2:00 pm
Presentation: "Building Resiliency for First Responders", by Dr. Brian Atkinson, Psychological Services for the Fraser Valley.
Location: UFV Aboriginal Gathering Place, 45190 Caen Ave, Building A
Thursday May 10th 2018:
10:00 am – 11:00 am
Fitness event: Yoga for all levels of fitness
Location: PRTC building 1122, Caen Ave – building directly east of the UFV Building A
12:00 pm – 1:00 pm
Presentation: "PTSD: A Clinical Picture for First Responders" by Maggie Shamro, Associate Professor, Nursing and Stephen Clews, nursing student.
Location: UFV Aboriginal Gathering Place, 45190 Caen Ave, Building A
For more information about mental health week, visit:
https://mentalhealthweek.ca/
http://ridedonthide.com/