In the midst of exam season, scoping out the best study spot on campus is essential. If you're going to spend the majority of your day turning pages and sipping coffee, you want to secure that cozy spot. Let Health Sciences put you at ease, leaving you more time to hit the books.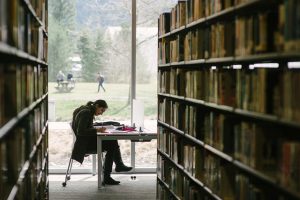 The UFV Chilliwack Library has a number of group study rooms for students to gather together quietly. There is no doubt that the library is the best space on campus to prep for your next exam. Group study rooms can be booked online, and many include white boards and wireless options. There is no shortage of resources and individual spots too. Choose to study alone in a cozy carrel or meet up with friends to swap ideas.
Hang out in the green. It's no secret that UFV Chilliwack campus is home to a lush landscape. Put a blanket down, grab a coffee, and find a quite spot under a tree, or venture over to an inviting park bench on the Vedder River.
The Student Life Lounge on the Chilliwack campus is located on level zero of Building A. It comes equipped with couches, tables, and chairs. Everything you need! The lounge space is available to all students.
Spirit Bear Cafe not only serves delicious hot beverages, but houses plenty of space to spread out your books for a serious day (or night) of cramming. Check out their exam hours to be sure you're fully nourished all day long.
The Indigenous Student Centre is located at both the UFV Chilliwack campus in the 400 Wing and on the Abbotsford campus in the Student Union Building, room S1113. Staff in the Indigenous Student Centre can provide support, connect you with academic and community resources, and offer a welcoming study room with wireless access.
The Health Sciences Student Study Room in Building A Room 2311 is open to all students in Kinesiology, Nursing, and Dental. The room is located outside the Nursing labs on the second floor, and includes a number of group study spaces overlooking our beautiful campus.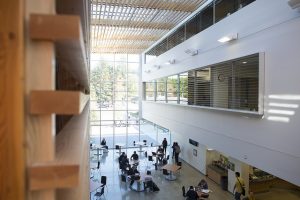 Don't forget to feed your physical and mental wellbeing during exam season. Head over to the Qube for a workout, connect with UFV Campus Rec for the latest fitness class schedule, or just take a minute to chat with your friends. Your health is equally important as your academic success!
Do you have a favourite study spot on campus? Let us know on the Health Sciences social media pages, and it will be added to the list!