Asking questions, gathering and analysing data, and drawing conclusions gives students the skills to dig for answers, make connections to their learning, and be autonomous.
Health Sciences students brought their learning to life on Thursday, April 5 at the annual Student Research Day event hosted by the Research, Engagement and Graduate Studies department.
The event included a two-minute micro-lecture challenge, where students shared the results of their research in a fast-pace format, followed by a poster fair and research awards.
Research is often something undergraduates learn about, but don't regularly get to participate in doing. At UFV, a relatively high number of research opportunities and support exist for undergraduate students.
Engagement in research in the undergraduate years is not only helpful for students who wish to purse graduate studies. Experience conducting and disseminating research can help students obtain awards, scholarships, and skills for the work force.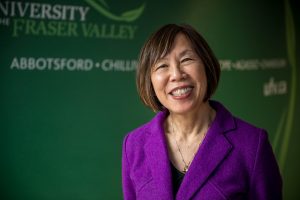 "Having an undergraduate student involved in a research project is one high impact practice that is often cited by Universities and Colleges. UFV is definitely proving it's worth by providing these experiences for our students," says Dr. Adrienne Chan, Associate Vice-President of Research, Engagement and Graduate Studies. Chan is a respected researcher herself, and played a leading role in the development of the Master of Social Work degree at UFV. Her experience has helped to raise the profile of student research at UFV.
Students from the Faculty of Health Sciences were on the scene as they presented projects related to nursing, kinesiology, and health.
Kinesiology student Molly Rose investigated the relationship between balance and visuospatial processing in children with fetal alcohol spectrum disorder (FASD). As part of her research involvement in a larger exercise intervention study called Exergames, under the direction of kinesiology faculty members Dr. Kathy Keiver and Alison Pritchard Orr, Rose recruited twenty-four children between the ages of 6 and 12 in the local community. Her findings suggested that children with FASD performed poorly on balance testing in comparison to the control group of typically developing children, but not on the visuospatial processing test.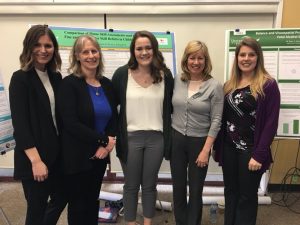 Rose's research is ongoing, and although there is still work to be done in the area of child development and FASD, Rose notes that, "doing research was a great experience to have. Throughout our undergraduate courses we review research articles, but don't actually get to do the testing. Doing the research really illustrates the challenges, everything down to going through the research ethics process."
Also working under the supervision of Dr. Kathy Keiver and Alison Pritchard Orr, kinesiology student Mia Harries carried out a comparative study on working memory and sleep quality in children with FASD. In order to analyze if a relationship exists between sleep quality and working memory, Harries used the Xylophone Test and the Child Sleep Habits Questionnaire. Her research highlights the importance of sleep management in children with FASD.
"I found it really interesting that my results did not support my hypothesis. Addressing the research question and thinking through the problem allowed me to use the knowledge I gained in my degree outside the classroom," says Harries.
Erin Hryhoriw researched motor skill deficits in children with FASD and the ways in which assessments are performed and analyzed. Her investigation looked at assessment of gross motor and fine motor skills, and the tools used to measure discrepancies and make improvements through intervention programs. Hryhoriw is a kinesiology student working with Dr. Kathy Keiver and Alison Pritchard Orr. Her research is part of an ongoing program at UFV called FAST club.
"I loved doing student research," noted Hryhoriw. "I had the opportunity to test assessment tools that had never been examined or tested before," she says.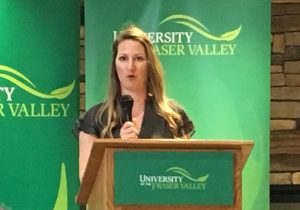 Nursing student Karen Pickford shared her research on perceptions of health risks in older adult populations. As a registered practical nurse, Pickford enrolled in the Bachelor of Science in Nursing program at UFV to deepen her understanding of nursing practices. Little did she know, her educational experience lead to doing research with Shelley Canning, a UFV nursing professor and aging research scholar. Pickford explored how health and health risks in seniors are viewed by nursing students in comparison to older adults. Her findings offer insight into how perceptions of health and health risks of older adults impact their care.
"Part of the reason I came back to school to complete a BSN is because I'm passionate about older adult health," says Pickford. "Doing research allowed me to learn about the process of creating new information and problem solving. I will bring this research back to my practice as a nurse, keeping in mind that health is not only physiological, but psychological and social."
Following the eventful day, the Research, Engagement and Graduate Studies department awarded students with cash prizes.
Winners from Health Sciences were:
Erin Hryhoriw
Faculty Supervisor(s): Dr. Kathy Keiver and Alison Pritchard Orr
Award: Associate Vice-President, Research, Engagement & Graduate Studies Award, $200
Mia Harries
Faculty Supervisor(s): Dr. Kathy Keiver and Alison Pritchard Orr
Award: Faculty of Health Sciences Dean's Award, $200