Q & A with Joanna Sheppard,
Associate Professor
Department of Kinesiology
How long have you worked at UFV and what do you enjoy most about being a faculty member at UFV?
[quote style="boxed" float="right"]I always tell my students that if they walk into my class 100% ready to learn then I will give them 150% of my energy.[/quote]I have worked at UFV for 8 years now! There are many things I enjoy about UFV such as the friendly smiles and collaborative faculty and staff I work with. However, what I enjoy the most is the small class sizes. With such small classes, I really get to know my students as well as watch them develop into passionate and professional UFV graduates as they walk proudly across the stage!
What is your favourite course to teach and what makes it special for you?
Hands down my favourite course to teach is KPE/KIN 221 Instructional designs in physical education and sport settings. Within this course, both pedagogical theory is met with practical and dynamic active lab experiences that are realistic to the physical education or sports specific learning environment.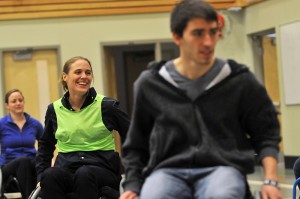 How to plan, create, modify, observe, assess and teach, guides our students understanding and appreciation of the moving and always dynamic human body. I also get to dress up like Harry Potter and teach my students all about the hybrid invasion game called Quidditch! What can be better than that!
What was the focus of your PhD research?
As a PhD graduate from the University of Toronto — more specifically in Education — my research focused on the impact a focused physical education class can have on the personal and social responsibility of our students. With successful curricular planning and implementation, our students can learn more than just the physical benefits of physical education, but also the cognitive (thinking) and affective (feeling) benefits as well.
What current research projects are you working on?
As a pedagogy and curricular physical education specialist, my research has me involved locally, provincially, nationally and internationally. These projects entail working alongside my colleagues in the elementary and secondary physical education environment, providing practical models, tools and assessment ideas while studying the significant impacts these environments can provide for our students.
Let's look at your international involvement, can you tell us a little bit about the UFV Antigua Champions program?
The Antigua Champions program actually started in Ontario where I was a PhD student at the University of Toronto under the mentorship of Dr. Andy Anderson. While Andy and I were presenting at an International conference on the importance of life skills teaching, the Minister of Education in Antigua — at the time — met and invited us to visit the island. After many collaborative meetings, the Antigua Champions for Health Promoting Schools Program was realized. Unfortunately, Andy died in 2007, and even though it was tough to move forward without such an amazing mentor and guide, my successful candidacy as the newest pedagogy faculty member at UFV brought the Champions program out West!
The first UFV Champions team embarked to Antigua in 2009 and for the past eight years, the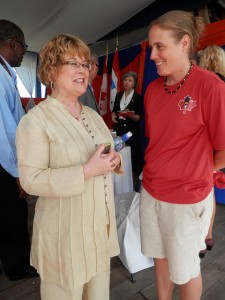 Champions for Health Promoting Schools program has been a collaborative effort between myself as a member of the UFV Kinesiology department and the Antigua/Barbuda Ministry of Education.
With the sustainable support from the Physical Education and Health and Family Life departments within the Antiguan Ministry, undergraduate students from the University of the Fraser Valley (also known as Champions) volunteer within nine elementary schools for a four-week placement. The Champions volunteer within the same elementary schools each year as well as are placed at one school for their full four-week program therefore to gain trust from their students and confidence in their teaching environments.
Since moving the program out west, over 140 UFV undergraduate and teacher education students have been involved in the program.
How do you help prepare students for travel? What type of activities/lessons are students preparing for this international volunteer experience?
The foundation of this program is to teach the students of Antigua life skills that can help them navigate through life's many challenges.  We focus on teaching life skills as well as other lessons as defined by the United Nations which include: communication and interpersonal skills; decision-making and critical thinking skills and; coping and self-management skills (UNICEF, 2012). Our preparation begins every Fall with the collection of applications and completion of two group interviews in order to create the best Champions team for that year.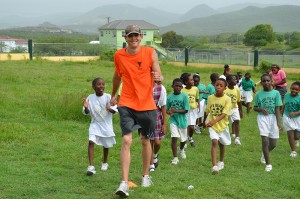 Through months of preparation, the yearly Champions team modify and perfect over 200 physical and health education lesson plans pertaining to these life skills. More specifically embedding life skills focus on conflict resolution, patience, personal and social responsibility, sportspersonship, making healthy decisions and taking ownership over one's environment. UFV students are also involved in preparatory meetings which include team presentations about the Island of Antigua, Safety and Security measures, fundraising initiatives and team building activities!
How has this collaboration become stronger as the years have progressed? Can you describe the benefits you have seen in both countries?
Throughout the past eight years, many positive connections and collaborations have been established and maintained within Antigua as well as in Canada. The Champions have been invited yearly to participate at the Antigua Barbuda Teacher's Union Professional Development day, therefore having the opportunity to collaborate with physical education and generalist teachers on the island. At this event, our champions are involved in professional workshops presented by myself as well as other Antiguan educational specialists.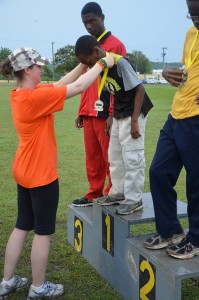 We have volunteered with the Antiguan Wings Sports Club in both Annual Track and Field Meets and Basketball Tournaments. In addition, we have participated in many physical activity events across the islands supporting and emphasizing the importance of living a healthy active life every day.
The Champions program has also financially supported the bi-yearly professional exchange of five Antiguan educators. For two weeks, our Antiguan colleagues attend lectures at UFV within the Department of Kinesiology, and are involved in practical teaching experiences with local Physical and Health Educators as well as Principals in British Columbia school boards. They present as guest speakers for our Champions for Health Promoting Schools program preparatory meetings, participate in a "Best Practices" workshop as well as meeting key executives, faculty and staff at the University. Therefore, this collaboration is for our Antiguan colleagues to not only gain new knowledge from the British Columbia Educators — which they would then bring back to their country's classrooms — but also share their own unique knowledge and experience from Antigua with BC educators.
Looking at a recent development at the provincial level, as an appointed member of the viasport Physical Literacy Advisory Group, how do you envision the new sport MoU (Memorandum of Understanding) helping to develop and explore new opportunities and promote physical literacy?
Physical Literacy is a journey for each of us, we must be motivated, confident and physically competent to want to be physically active. What an exciting time to be a part of the Physical Literacy movement.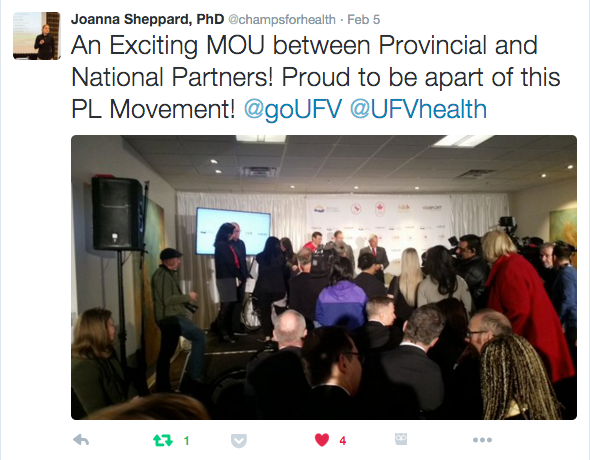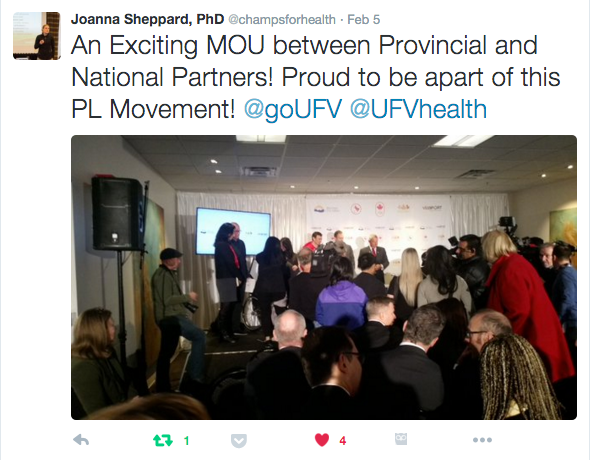 With the new MoU collaboration between the Canadian Olympic Committee, the Canadian Paralympic Committee, the Own the Podium program, ViaSport and the Government of British Columbia, we as active educators can help provide cohesive and comprehensive policy and programming to meet the needs of all British Columbians!
Why is it so important for individuals to be physically literate from a young age, how does this help us as adults?
Great question, Physical Literacy is a journey!
At every turn, we are learning how to move with more confidence and creativity.
Here is an example: As a young child, I will learn how to balance my body whether it be in a symmetrical shape (both sides the same) or in an asymmetrical shape (different on each side). This type of balance is fundamental to all human movement. Through my teenage years, I have used a more specialized balance while playing defense in basketball or trying to skate down the ice.  In my adult years, I have used this learning of balance to reach that top shelf in my home, and in my senior years, I will use lifelong learning of balance to prevent a fall. It is this literacy of movement, which helps us all strive to live healthy, and more active lifestyles throughout our entire life!
What makes kinesiology an exciting field of study and what kind of jobs are your students getting when they graduate?
Kinesiology is a very exciting field. If you just look around my department you will be welcomed by passionate educators and researchers which see kinesiology from the many different lenses (see our website for all our courses!).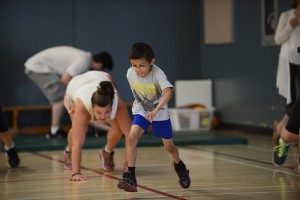 With a kinesiology degree, students see through these lenses to create their own sense of understanding and appreciation of the study of human movement!  After successful completion of their undergraduate degree — and for some, a second professional or graduate degree — our students work in a wide range of fields including teaching, personal training, athletic training and therapy, physical and occupational therapy, chiropractic, occupational health, medicine and research.
What are some resources or guides that you would use in class to help individuals live a healthy lifestyle?
A few of my favorite resources that I use in class involve both physical and health promotion for themselves and others. These include: Game ideas, playsport.net for Educational and Coaching Ideas, phecanada.ca, and for Health Eating Ideas.
I know a lot of people ask you this question, but where does all your energy come from? 
As much as this sounds like a cliché, my energy truly comes from my students. Their passion for learning makes me focused and enthused on providing an environment that is driven on an equitable balance of theoretical and practical teaching experiences. I always tell my students that if they walk into my class 100% ready to learn then I will give them 150% of my energy.
As an active user of social media, what do you think are the main benefits of sharing faculty achievements online?  
I really am a big fan of social media, when used effectively and one tool that I use to connect with my colleagues, alumni and current students is Twitter. What a great venue to find the latest article published, or a new physical activity program just launched across Canada or the World that I can share with my followers.  I also have a blog site for the Antigua Champions for Health Promoting School Program (healthypromotingschools.com) which is an invaluable outreach for all of our supporters of the program. Through this venue, I am able to post pictures, videos and student blogs providing our supporters at home in Canada a glimpse into our day to day successes.
Are there any upcoming conferences that you plan to attend in 2016?
I have two upcoming conferences. Later this month, I am co-presenting at the Abbotsford School District Professional Development Day with a workshop. Based on the practical use of the Sport Education model in the Secondary Physical Education Environment with my colleague from a local high school.  As well, I am off to Cologne Germany in July 2016 to present a practical workshop at the International Teaching Games for Understanding Conference.
Where do you think the field of kinesiology will be in 2025?
With 2025 not that far away, I see that the field of kinesiology will be steadily influencing the choices we make as active citizens of British Columbia and the World.  Making us all think and appreciate Active Health. Whether we are involved in preventative measures (teaching, fitness instructing), working with elite athletes (sport psychology, athletic training) or helping those get back into activity (physical therapy, occupational therapy, chiropractic), I am certain the field of kinesiology will be stronger than ever. I look forward to 2025 and seeing what our healthy and active future holds here at UFV!