Communications
– Communications Assistant Professor Nicole Stewart published an article titled "Virtual reality, metaverse platforms, and the future of higher education" for Media Development.
Nicole is also attending the National Communication Association's (NCA) 107th Annual Convention in New Orleans in November, where her co-authored paper ("Dialogues for Equity: Precarious Parent-Scholars in Times of Crisis") has been selected as a "Top Paper in Ethnography." She has also been invited to sit on an NCA-organized panel called "LYEDIL: Living Ya DEI Lifestyle in Communication Strengthening a Central PLACE for DEI in Communication Studies."
She was also recently appointed as the Faculty Ambassador in Canada for the International Association of Media and Communication Researchers (IAMCR) and is launching a new academic podcast called IAMCR and friends.
– Communications Sessional Instructor Dr. Adam Vincent published a new book, "Poetic inquiry: Unearthing the rhizomatic array between art and research". This book offers a key contribution to the study of poetic inquiry, and in particular, it honours the legacies of those who have made poetic inquiry possible. Vincent's vision for the future is rooted in equitable, inclusive and diverse applications, and as a result, this book serves as an open invitation to students and scholars alike to take up these practices.
---
Criminology
– Criminology Assistant Professor Dr. Mark Kersten has contributed two opinion pieces on the war crimes in Ukraine.
– Criminology Associate Professor Dr. Jon Heidt wrote an article on cannabis and criminology. Wheeldon, J., & Heidt, J. (in press). Cannabis and criminology: A history of race, addiction, and inconvenient research. Journal of Criminal Justice.
– Criminology Associate Professor Dr. Jon Heidt wrote an article on cannabis legalization. Wheeldon, J., & Heidt, J. (in press). The paradoxes of normalization: Cannabis as nuisance crime, medicine, and consumer good in British Columbia before and after legalization. Deviant Behavior.
– Criminology Professor Emeritus Yvon Dandurand and Associate Professor Dr. Jon Heidt wrote a book on youth crime prevention and sports. Dandurand, Y., & Heidt, J. (2022). Youth crime prevention and sports: An evaluation of sport-based programmes and their effectiveness. Bristol University Press.
– Criminology Associate Professor Dr. Kim Polowek was appointed as an Independent Chairperson for the Correctional Service of Canada's Pacific Institution.
---
Economics
– Economics Assistant Professor Dr. Michael Batu and Associate Professor Dr. Bosu Seo published a research article on "Gender roles and safety of women at home in the COVID-19 era: evidence from 101 countries." The article was published in the International Review of Applied Economics Journal and is available at Taylor and Francis Online.
---
Global Development Studies
– Dr. Geetanjali Gill, Assistant Professor in Global Development Studies, will present on a panel with NGO Right to Play speakers at the Canadian Conference on Global Health, November 21-23, 2022. The theme is 'Localizing the development of participatory tools to understand social norms related to gender-based violence amongst adolescents in refugee settings.'
---
Philosophy
– On October 21, 2022, Philosophy Department Head Dr. Anna Cook and Philosophy Associate Professor Dr. Anastasia Anderson presented at the BC Social Studies Teachers' Association 2022 BCSSTA Conference: Teaching for Inquiry: Philosophy, Pedagogy and Praxis.
---
Political Science
– Political Science Department Head Dr. Edward Akuffo co-published a section titled "Reflections on Natural Resource-Based Development in Africa in the 2020s" in the book "Natural Resource-Based Development in Africa: Panacea or Pandora's Box?" edited by Nathan Andrews, j. Andrew Grant and Jesse Salah Ovadia.
---
School of Creative Arts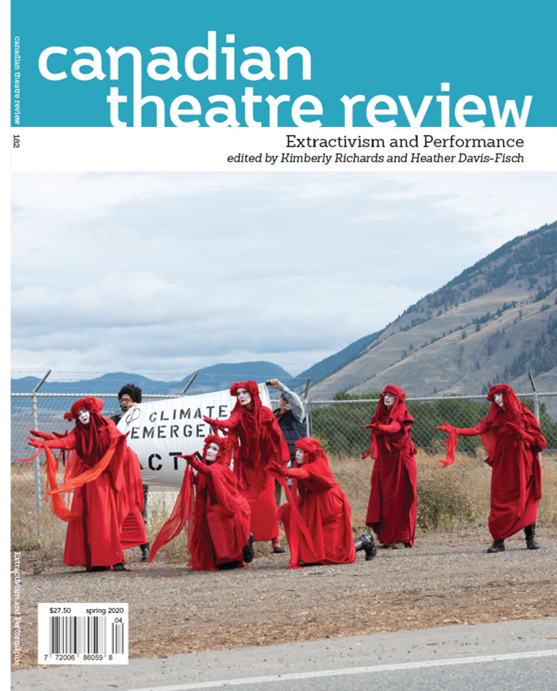 – SoCA Director and Theatre Associate Professor Dr. Heather Davis-Fisch received the 2022 Patrick O'Neill Award for best-edited collection of essays from the Canadian Association for Theatre Research. Heather received the award with Kimberly Richards for their issue of Canadian Theatre Review on Extractivism and Performance (published in Spring 2020).
Heather's chapter, "The Royal Arctic Theatre and the Search for the Franklin Expedition," was published in the anthology Canadian Performance Documents and Debates: A Sourcebook(University of Alberta Press, 2022).
– SoCA Assistant Professor Aimée Brown completed an artist residency in Sanquhar, Scotland, with the MERZ Gallery in September. The residency focus was responding to place, collage, recorded histories, and the Folklore and Genealogies of Uppermost Nithsdale written by William Wilson in 1904.
Aimée's artwork 'Metaphoric Rocks', which investigates how stones and rock formations are featured in the local geography and folklore, was featured in the MERZ Gallery group exhibition Mythical Landscape: Secrets of the Vale in September 2022.
Aimée is a contributor to the UNESCO publication RisiliArt 100, which was launched at the MONDIACULT 2022 conference, in Mexico City, on September 28, 2022. Collected from panels, debates and conversations between artists and cultural professionals from around the world, the project features 100 recommendations on how to rebuild the creative sector with more resilience and inclusion, gathered through the #ResiliArt.
On October 07, 2022, Aimée was shortlisted for the 2022 Collage Awards in two categories: analogue portfolio and analogue series. The Contemporary Collage Magazine selected the shortlist from over 450 international artists currently engaged with collage as part of their studio practice.
– Theatre Assistant Professor Dr. Anna Griffith received a $10,000 Strategic Innovation Fund grant from UFV for the Creativity Lab for Climate Resilience project. The project, which was developed and implemented with Hannah Celinski, Chantelle Marlor, and student RA Kyla Mitchell-Marquis, brought together UFV students, staff, and faculty from various disciplines, along with members of the community, including local artists, activists, and representatives from Fraser Basin Council, Fraser Valley Nature Conservancy, Abbotsford Arts Council, Fraser Health, the Abbotsford School District, Abbotsford Community Foundation, the Golden Ears Transition Initiative and more. In each of the four Labs, participants worked to develop cohesive, transdisciplinary, and cross-community project ideas to support (Re)Building for Climate Resilience in the Fraser Valley. The projects have been compiled into a "seed bank of ideas" and will be published as part of a research report this fall.
Anna has also received a ROSA award for a research project titled Regenerative Education: Aligning Education for Sustainable Development and Indigenous Pedagogies, to be completed in fall 2022. This project builds on her work related to anti-racism, decolonial pedagogy, and education for sustainable development (ESD). The goals of the project include articulating how ESD can help non-Indigenous faculty and students move into better alignment and understanding of Indigenization efforts through an emphasis on reorienting our relationship with nature.
Anna Griffith is presenting a 45-minute workshop titled "High Impact Inclusion and Sustainability" at the Global Conference on Sustainability in Higher Education (GCSHE), hosted by the Association for the Advancement of Sustainability in Higher Education, on October 18, 2022.
Anna is also releasing season 2 of her research podcast Creative Praxis in mid-November. Season 2 features interviews with participants from the Creativity Lab for Climate Resilience. These conversations focus on the bridges and intersections between creativity and sustainability.
– SoCA Assistant Professor Alejandro Yoshizawa and colleague UBC English Assistant Professor Y-Dang Troeung have received a $60,000 Canada Council for the Arts grant for their short film project, set to shoot in early Fall 2022. The film is inspired by the true events of Prof. Troeung's Cambodian refugee family's resettlement in Canada in the 1980s, as they negotiate the everyday questions of what it means to survive in a new country, to carry the painful wounds of the past, and to remake a new life as an Asian family in a small town, rural setting. The film will interweave the historic "Easter Epic" hockey game (one of the longest games in NHL playoff history) with the events of April 18th, 1987, as lived by the Cambodian refugee family.
– SoCA Associate Professor Davida Kidd has been invited to have her presentation for IMPACT 12 BRITSOL, The Dark Side of The Digital, "Composite Artifacts and the Cosmonauts of Virtual Synthesis," screened at the Print in Action Festival in Plymouth this October.
– Visual Arts Associate Professor Grace Tsurumaru participated in a group exhibition titled Piers, curated by Kim Dhillon, an art theorist and award-winning writer of art criticism. Piers showcases contemporary artwork ranging across media by 18 artists spanning generations, nationalities, and backgrounds and explores how artists' practices change through teaching, learning, and mentorship. The exhibit includes a collection of creative non-fiction, essays, and poetry and is available to view until December 15, 2022, at the Legacy Art Gallery, Victoria.
– SoCA Assistant Professor Melanie Jones was awarded a Research and Creation Grant in the Canada Council Explore and Create Program. The grant was to write the first draft of a short experimental film called "Astronomical Bodies". The story will explore themes of isolation and human connection through three intertwined character journeys set in the vastness of space.
– Theatre Associate Professor Parjad Sharifi is the winner of the Jessie Richardson Theatre Award for Outstanding Lighting Design in the Large Budget Division in 2022. This award is for the production of Dolly Parton's Smoky Mountain Christmas Carol, directed by the Arts Club Theatre Company, which has also won the Outstanding Production of a Musical this year.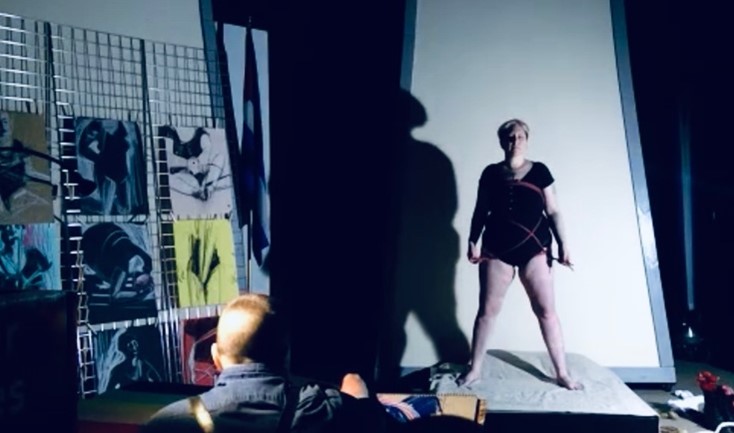 – SoCA Associate Professor Shel Stefan collaborated in a live art performance at the Leather Archives & Museum in Chicago, Illinois, entitled Drawing Tending Tying: an art & rope experiment which was live-streamed from the museum and was recently published. Read more about this performance on the Leather Archives & Museum (LA&M), Instagram and the Chicago Tribune website.
– SoCA Instructor Toni Latour, in collaboration with Dr. Syrus Marcus Ware (Toronto), received $70,000 from the Canada Council for the Arts and $15,000 from the BC Arts Council for the creation and exhibition of The Black Lives Matter Memorial Project. They have commissioned an original new piece of classical music composed by Maestro Jason Ikeem Rodgers and performed by Orchestra Noir (Atlanta) for this project.