Seasonal Sociology announced as a 2021 PROSE Awards finalist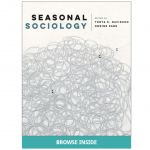 Social, Cultural & Media Studies (SCMS) Professor Emeritus Dr. Elizabeth Dennis recently co-authored a book chapter in Seasonal Sociology with colleague, Alison Thomas, from Douglas College. On January 21, Seasonal Sociology was announced as a 2021 PROSE Awards finalist in the Social Science Textbook category.
Political Science Instructor's recent article publication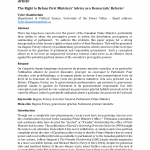 Political Science Instructor Dr. Tyler Chamberlain's article was recently published in the Canadian Political Science Review (CPSR). The article, entitled: "The Right to Refuse the Ministers' Advice as a Democratic Reform" also won the Marjorie Griffin Cohen award.
Dr. Sumin Fang talks about fitness and communication studies
Communications Assistant Professor Dr. Sumin Fang was interviewed by The Cascade to discuss fitness apps and the importance of communications studies. "In exercise adherence literature, there are two parts of motivation – external and internal motivation. External motivation refers to the motivation factors that exist outside oneself – for example, other people's admiration or praises for one's body shape. Internal motivation is, 'I exercise for me to become healthy and stronger.' In the literature, it shows that internal motivation can motivate people to exercise more consistently," says Dr. Fang in the interview.
Dr. Kimberly Richards receives Postdoctoral Fellowship
English Sessional Instructor Dr. Kimberly Richards has received the Postdoctoral Fellowship in Public Energy Humanities through the Transition in Energy, Culture and Society network at the University of Alberta.
SoCA's Visual Arts Diploma Show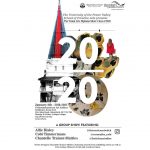 The School of Creative Arts (SoCA) presented the Visual Arts Diploma Show Class of 2020 at the S'eliyemetaxwtexw Art Gallery from January 8-28.
This group exhibit featured the following UFV Visual Arts 2020 diploma graduates: