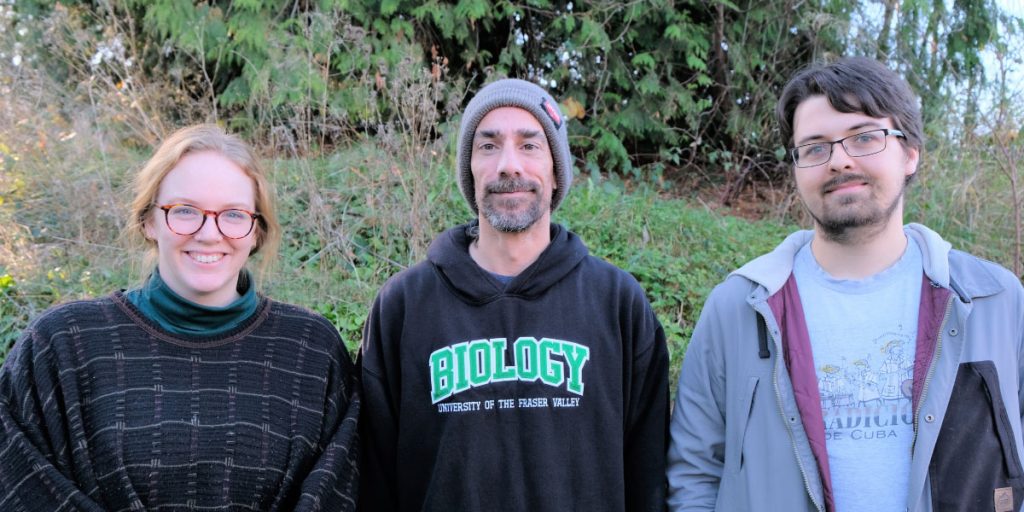 On November 21, Jessica Smith, Donovan Toews and Connor Fleming took part in a student Question-and-Answer session about the Work Integrated Learning (WIL) component in Dr. Stefania Pizzirani's Geography 331: Environmental Assessment and Management course.
Work Integrated Learning (WIL) is a process that combines theory and practice to prep students in both the academic and work setting. Each university or college uses its own terms to explain this type of learning. For instance, the College of Arts uses both WIL and experiential learning interchangeably.
Essentially, WIL allows students to more easily transition from school to work. Approximately, 65% to 70% of post-secondary students take part in some form of Work Integrated Learning during their studies. To learn more about Work Integrated Learning in the College of Arts, visit the website and/or contact our Practicum and Internship Coordinator: Elise.Goertz@ufv.ca.
Here's what three geography students had to say:
How has the Work Integrated Learning component of this course impacted your understanding of environmental related work as a whole?
JESSICA SMITH:
I think that I learn best by actually doing things. That's been really helpful when we're learning about grant writing because we're actually actively doing it. And it's not just a process you learn and, then, that's it. It's also good practice and experience to have on your resume. I'm kind of like getting a taste of the field in a way.
Having guest speakers come in was really nice, and understanding their position and how it works. We had a man working in forestry speak to us and a grad student give a presentation on how she is helping to change laws, and then just recently we met with Elders here at UFV. Listening to their perspective and stories added to what I've learned in this class. Especially Indigenous relationships, it's important to really consider their voice because we're on their land.
DONOVAN TOEWS:

For me, because I've been a student longer than most at UFV and I've done a lot of various work projects throughout the year, this course has really helped open my eyes to all the nuances of stakeholders, logistics and issues that a lot projects have, and understanding that even the big money backer has just as much of a stake-hold as single family residents that live in the area. It's understanding that and being able to learn how to better communicate to all stakeholders, rather than just those with money.
Another thing that was really impressed upon me within this class was really understanding the reason, purpose and source of scientific research. For example, how we learned in this one full study about how plastic bags have less of an environmental impact than a lot of other things, which is why it's so important to understand and look at the methods used and who funded the study. I had a question at the very beginning about our older generations and how they view things like climate change, and how there's a lot of people that don't believe in it or agree with it. It highlights how important the communication of science is. It's been a very eye opening experience to understand how my parents' generation is dealing with science news, especially in comparison to me who has learned to look at things a lot more critically. I look for the purpose behind something, not just what it is, but why they're doing those things. So, that was really useful to learn and think about the challenges that my parents' generation has with science. I'd never really made that connection before I came to this class.
CONNOR FLEMING:

A lot of the core subjects have us feeling helpless and hopeless. For example, sometimes all we can do is protest and as soon as we leave, the entire area we were trying to protect is clear cut, as we learned in a case study. So, it's learning how to deal with the larger corporations. You can't take anything they say at face value, like much of the subject matter in this class; it's a lot of interpretation. Even the guidelines by the United Nations are all so very loose and not concise in any way, shape, or form, which creates all these big gaps in a country's ability to protect its environment. What can we do in order to help protect the world we live in? It's a tricky situation, like okay, so how do we fix this when we don't even know how to do it?
What have you learned from writing these grants? Are there parts of the work you liked or didn't like?
JESSICA SMITH:
I think the challenge is to really narrow it down because you want the big picture, you want to think broad, but then with grant writing you have to be very specific. And that's the challenge that my group found. We wanted to do so many things but realistically, like, you have to look at one thing at a time.
I liked how we were able to give input on the grading rubric, which I think was really nice because when you're handed one it doesn't necessarily match. When you make it together you really know what's expected of you. It was really nice to be involved in making the rubric because, yeah, we all could clearly understand the expectation, right?
CONNOR FLEMING:
I found it interesting how, as we worked through our proposal writing, we were like: "Oh, we should probably include this and that." Then, it just kind of kept going until we reached a point of max capacity in our proposal only to realize that we failed to capture what the investors wanted. We ended up almost having to scrap it and work from the ground up again. So, that was quite the learning experience.
Do you think the work you've completed in this course (or courses like it) has assisted you in conceptualizing the type of career you want to pursue in the future?
CONNOR FLEMING:
Seeing just how much paperwork goes into this has, kind of, deterred me away from this type of work that requires you to sit down at a desk and write proposals, everyday of the week, hoping one goes through. So, I think I want to try and go more towards the management side of things instead of the project based side of Environmental Sciences. I'd rather be out in the field than be a paper pusher.
DONOVAN TOEWS:
One of the projects I am doing is actually out in the field doing an invasive plant management plan for a school, so there's less about grant writing and more about understanding all the different pieces that go into it. And, as I want to move forward into environmental management and restoration conservation, that sort of aspect, I'm also not wanting to sit behind a desk for very long. So, understanding the pieces that are required to go ahead has been great.
I can now help write the proposal and make sure that I'm giving the right information to the grant writer. For example, if I'm talking about a budget, I actually know what goes into it. Even though, like Connor, I don't want to be behind a desk, seven days a week, writing and writing and hoping that somebody will fund me. I definitely want to be out implementing things and working on the ground but also able to work with a grant writer and make sure that all the information that is required is there. So, this course has really benefited me into knowing: what I want to do. I want to, you know, work to live with the environment.
Do you think Work Integrated Learning and/or experiential learning in the classroom are valuable?
DONOVAN TOEWS:
There's been a lot of work related opportunities that we get here at UFV with directed studies, work study programs and the co-op program. Other university undergrads do not get these opportunities, so being able to start way back, in even first or second year, and get involved with a work study program has really helped me focus what I want to do, ultimately. I understand that this is really something I want to do, you know. Sitting at a computer five days a week would drive me crazy, so being able to have different real world learning opportunities has been really eye opening as just a simple undergrad.
JESSICA SMITH:
Actually doing the work; I think a lot of classes should do this. I think most schools, even the K to 12 schools, want to and should be doing this. There's a whole other kind of learning that happens when you're actually doing the work. It's way more beneficial. You remember it better, too, because you're not just learning about it you're actually practicing it.
When you start applying for jobs after school that's when you have to start learning how to actually do it. But being able to practice in-class allows you to get a step ahead so when you go into the workforce or into your career, you have that experience already. You're not learning it for the first time there. Also, it's less like detrimental if you make a mistake. The stakes are not as high when you're in class and you have somebody to help guide you.
We get to see what the work entails before we enter the workforce.
CONNOR FLEMING:
Having it [Work Integrated Learning] more included in our courses would be more beneficial.
There's been a lot of theory, especially in the Human Sciences portion of geography. It's a lot of just theory and trying to understand: Why these decisions are made this way? Or, what's the reasoning behind something? Without actually seeing how those decisions are being implemented in our world. It's a lot of, "Oh, well, this is a Marxist thought or Malthusian thought and here's information about their history." Okay, but how does this apply to now? How do all these different ways of thinking affect our policy? How does all that get integrated into our real world? Having a bit more of that integrated into the classes, instead of just regurgitation would be a lot more useful.
JESSICA SMITH:
I think it [a Work Integrated Learning component] would benefit first year students. I think that that if you're able to experience that in first year, it encourages you to take on more and understand what field you want to go into and say: "Actually, maybe I don't like this." You can say that because you've already done a little bit of practice in it from first year on.
I've been in school for 10 years and I only have one class left in my degree, but I only just realized that I enjoy this area of work. I could have participated in a co op or paid internship in this area, but it's almost too late. And, now I have to go and do that outside of my university, like a career. Having it in first year would have been helpful.
Comments about the Truth and Reconciliation component of Geography 331: Environmental Assessment and Management class.
DONOVAN TOEWS:
I have to say that of the six years that I've been here, of the over 200 credit hours I have on my degree, this class has had the most inclusive Truth and Reconciliation component in any course that I've taken. I've taken lots of classes and, generally, the only Indigenous comments throughout the entire semester were: "Oh, we just like to acknowledge that we're on unceded Stó:lō territory." It took me three years to understand that unceded did not mean I didn't plant a seed in the ground.
I find that this class, in particular, truly incorporated the whole Truth and Reconciliation movement that Canada is trying to accomplish. And we need more of that component within this school. And I really thank our professor [Dr. Stefania Pizzirani] with how much that has been involved in this class. This is the only class, in like I said 200 credits, six years, that truly brought Indigenous people into this subject matter and it was very appreciated.
I know it's sad on the one hand, but it's great that we're getting more people on board with it and starting to educate and inform. How it was incorporated into our daily classes, not just a piece of the class, but literally it is a part of the course. And it was really helpful and encouraging.
JESSICA SMITH:
It wasn't just like a token. Yeah, it wasn't just an acknowledgement. Shout out to our amazing professor!
**To learn more about Work Integrated Learning in the College of Arts, visit the website and/or contact our Practicum and Internship Coordinator: Elise.Goertz@ufv.ca.