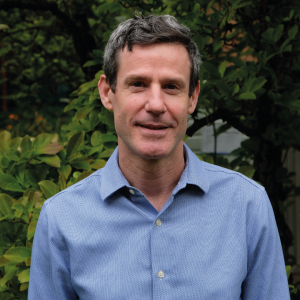 Dr. Jonathan Hughes, UFV Associate Professor, Geography and the Environment, 2018 
"When I first got to UFV in 2006, retiring professor, Don Tunstall, had left this box of Kodachromes on my desk," says UFV associate professor Dr. Jonathan Hughes, a bio-geographer and paleoecologist in the department of Geography and the Environment.
First used in the 1930s, a Kodachrome is a 35 mm slide used for professional colour photography. "I started looking through them thinking these are kind of interesting" says Hughes. Hughes discovered that the Kodachrome slides had originally come from a local farmer during the 1948 flood, who had recorded images and field notes of damaged properties in the Matsqui and Hatzic areas.
Having a paleoecological interest (the study of interactions between organisms and/or organisms and their environments) and having studied the evidence of ancient earthquakes, the idea of ancient floods appealed to Hughes. "I thought there should be a sediment signature here, so I contacted Metro Vancouver Parks" says Hughes.
Hughes has since been developing a research program in conjunction with Metro Vancouver Parks and, with the help of his students, has begun to map ancient flood deposits preserved in the Langley Bog, which contain approximately 5000 years of flood history. "There would be more records except there's been lots of loss of wetland habitat through development, hence the need to restore" says Hughes.
"I take students in there with the intent to collect data that would be informative to the managers associated with Metro Vancouver Parks" he says. Third and fourth year students enrolled in Hughes' soils, wetlands and paleoecology courses are given the opportunity to carry out field work at Sumas Mountain and Derby Reach Regional Park. There, the students collect, compare and share data from different sites, bring the data back to the lab for processing and write individual reports.
"The students really like it because it's tangible" says Hughes. Last winter, Hughes received a request from Metro Vancouver Parks to develop a restoration plan for the bog. Students were able to use the data they collected, along with case studies, to write a recommendation on what tools to use during their restoration efforts.
Hughes courses are applicable, local and provide community outreach for students. Many of Hughes students have gone on to work with government agencies (including Metro Vancouver Parks, the Fraser Valley Regional District and the Fraser Valley Watersheds Coalition), environmental consulting companies, and not-for-profits, as well, many students have been accepted into graduate programs.
To watch Dr. Jonathan Hughes' short video interview, click on the link: [Jonathan Hughes short video]
To watch Dr. Jonathan Hughes' full video interview, click on the link: [Jonathan Hughes full video interview]