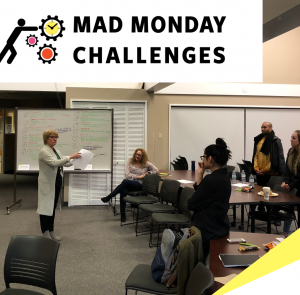 The first Mad Monday Challenge to come out of the College of Arts' pilot project called the Student Experience Design Lab (SXD Lab), which supports real-life student-led learning opportunities, was a success.
On March 9, two student teams were challenged to conceptualize the branding of the College of Arts Experiential Learning Project. Students formed two interdisciplinary teams (comprised of Graphic and Digital Design, Criminology, Communications and Visual Arts) and were tasked to brainstorm ideas, write a report and present.
Each team worked collaboratively and applied their different skills to the challenge in order to win a grand prize of $500.