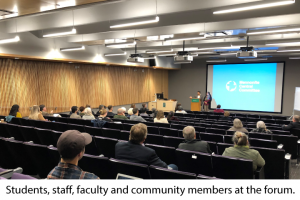 On October 29, students, staff, faculty and community members came together to discuss peacebuilding efforts locally and globally with area directors Cesar Flores and Lizzette Miranda from the Mennonite Central Committee (MCC) in San Pedro Sula, Honduras.
"It's very important to see faculty, students and people from the community interested in this big topic because there are realities that the world is facing," said Flores.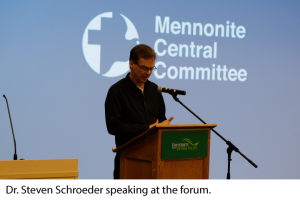 The College of Arts' new Peace and Reconciliation Centre (PARC) along with MCC in Abbotsford held the community discussion titled: "Conflict Transformation in Central America: Legacies of Civil War, Migration, and Peacebuilding" on Tuesday from 11:30am – 1:30pm. UFV's associate history professor, Dr. Steven Schroeder also spoke at the event along with PARC's coordinators, Shaheen Shivji and Alfred Ochen. "The Peace and Reconciliation Centre is the first of-its-kind in the province. In that it was conceptualized by academic and community leaders for students and the greater community within the university's catchment area, with a vision to encourage peace and acceptance of pluralistic values for the well-being of individuals, the populace and the world we live in," said Shivji.
Peacebuilding is a long-term and highly collaborative process that aims to support societies facing challenges. Flores and Miranda spoke at the forum to share their reflections and insights from their work and experiences in Central America.
"I think it is very important to share what we are doing in Central America, what MCC is doing, and to share the challenges," says Flores.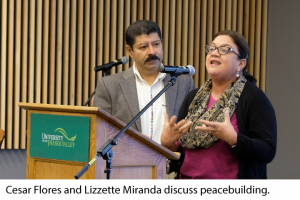 Their work is diverse in nature, including the legacies of civil war, gang violence, disaster preparedness and response, food security, migration and many aspects of peacebuilding. During the event, Flores and Miranda focused on the aftermath of civil war, including migration of people, and numerous endeavors to establish durable peace in the region.
"We need people to think about peace. People in many countries have been suffering through years of violence, legacies of war [and a] lack of resources. They are carrying heavy loads and many are forced to migrate that is why we need to keep supporting our efforts of peacebuilding," says Flores.
Miranda also highlighted peacebuilding from a woman's perspective. "I'm very excited to see the work that MCC and its partner institutions are doing regarding women's rights. We like to have women who can work and be able to capture their hopes and dreams for themselves but also for their children and community. MCC is aiming to do this within their programs locally and abroad," she says.
This public discussion, held in UFV's Lecture Theatre, exemplifies MCC's vision and mission, which aims to care for vulnerable people by working with communities and partner organizations to meet local needs with local solutions.
"It has been a real pleasure to be here at the university and learn and discuss ways to work and build a better world. Together we can work from different ends to build peace and help people," says Flores.
*Click to learn more about MCC.