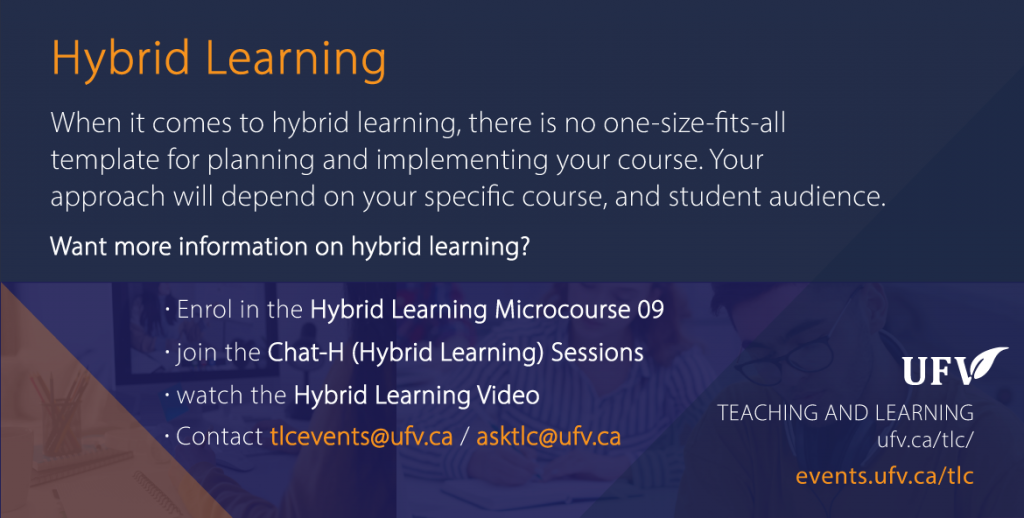 Want more information on hybrid learning?
Enrol in the Hybrid Learning Microcourse 09
https://events.ufv.ca/tlc/events/new-microcourse-9-managing-your-hybrid-course/
Join in Chat-H (Hybrid Learning)
When it comes to hybrid learning, there is no one-size-fits-all template for planning and implementing your course. Your approach will depend on your specific course, and student audience.
We realize you may have many questions! Bring any questions you may have to our chat session on hybrid learning (Chat-H)! Times and dates listed in events.ufv.ca/tlc/
In this drop-in session, topics covered could include:
Answers to general questions
Planning for hybrid
Course delivery
Scheduling
Examples of hybrid learning activities
Feedback on lesson design/assignments
Tech questions
Anything else you'd like to talk about regarding hybrid!
Watch the Hybrid Learning video
https://video.ufv.ca/media/Hybrid+Learning+in+Practice/0_jlm8vnb6/236404
View our full events listing: events.ufv.ca/tlc/