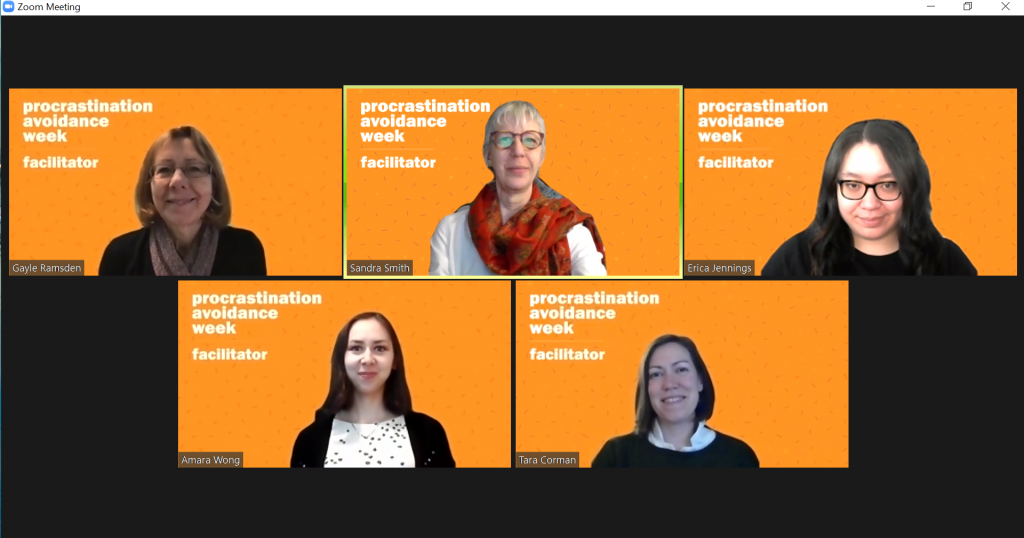 UFV Academic Success Centre team featured in a zoom session during the PAWS event. Sandra Smith is top row, center.
There's nothing like a pandemic to spark innovation, and Sandra Smith, the Academic Success Centre's Coordinator, was recently lauded for exactly that. She and two colleagues from Simon Fraser University, Ruth Silverman and Julia Lane, are the 2021 recipients of the Learning Specialists Association of Canada (LSAC) Team Award, which is presented once every two years:
"The LSAC Group / Team Award is presented to a project, team, or group that has worked either on an outstanding project or within an outstanding centre that has met high standards of leadership, met the expected learning outcomes, and followed a culture of inclusion and collaboration." http://learningspecialists.ca/Group-Team-Award-Nomination
The outstanding project they developed and delivered is called Procrastination Avoidance Week (PAW) https://ufv.ca/asc/paw/ and it took place on Zoom from March 8-12. The initial spark for this idea came from casual conversations about the two institutions' Long Night Against Procrastination https://ufv.ca/asc/lnap/ and how it might be run as a virtual event. Musings about co-facilitating a UFV/SFU LNAP became motivation to explore platforms and scheduling possibilities, which very quickly resulted in lots of meetings to plan and produce the new event.
As other learning specialists became aware of what the group was doing, what started with three people around a virtual coffee table last December turned into a national event for 25 post-secondary institutions. Sandra and the team produced a week-long virtual conference around the theme of procrastination avoidance inviting participants from universities and colleges across Canada to pool their expertise and resources for all students to access.
The response from participants—both student and professional staff—was strongly positive:
"I had the pleasure of facilitating a workshop and attending multiple online activities throughout the week. I shared a conversation about healthy fruitcake recipes with another student residing in the Toronto area, I learned how to bullet journal and even picked up a few proofreading strategies during a workshop! I know a year from now, I will reflect back on this event as a benchmark experience that essentially broke barriers as one of the most meaningful, valuable and productive uses of technology used to socially connect and uplift students during a global pandemic." – Sukhanjote K. Mann, University of the Fraser Valley.
"I was a little nervous volunteering to be alongside much larger institutions. On the Friday before the conference, I received a warm welcome from the PAW team as they taught me how to take Zoom facilitation to another level. It allowed me to feel closer to this group as well included in the LSAC membership. I enjoyed the whole week and will endeavour to become more involved in LSAC. I also witnessed a culture of inclusion and collaboration as Julia, Sandra and Ruth welcomed and provided assistance to anyone that joined the online group. The PAW team have achieved something that deserves merit and I believe will be a template for further online conferences." – Todd Solarik, Selkirk College