The Faculty of Science mourns the untimely passing of Gayle Ramsden, from the Academic Success Centre.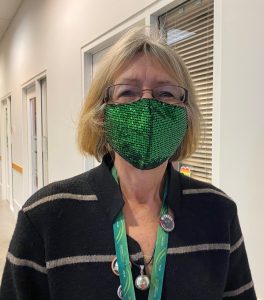 She was a beautiful soul and a champion for Environmental sustainability. She was always smiling, even behind a face mask, and always willing to help.
As a Learning Strategist, she helped many students as well as Peer Tutors as they assisted with learning strategies and academic work.
Gayle was dedicated to empowering students and helping them change their lives as they pursued their educational goals and dreams.
She was an instructor in the former department of Fashion Design. Always fashionable, she was keenly aware of the impact of the fashion industry and its environmental footprint, and she tirelessly worked for sustainability and responsible use of fashion materials, always recycling and reducing waste. She was part of the inaugural "UFV Teamwork Award" recipient as a member of Green UFV Team in 2016.
She was with UFV for over 25 years and was loved and appreciated by many of her colleagues. She will be sorely missed.
Read more about Gayle and her time here at UFV
MEMORIAL GATHERING:
Thursday, November 18, 2022
11:30 am to 1:30 pm
U-House (F124) on the Abbotsford campus