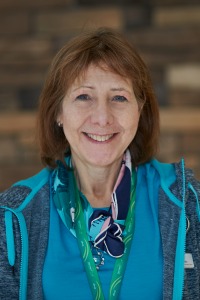 Many people at UFV will be saddened to hear that long-time employee Gayle Ramsden, a learning strategist in the UFV Academic Success Centre, has passed away. 
Gayle passed away on Thursday, October 20, after a valiant heart-related 16-day battle in intensive care units in both Abbotsford and New Westminster. Her husband Greg, sisters Glynis, Glenda, Gaye, and mother Ellie sorrowfully miss her. 
Gayle's career at UFV spanned almost three decades, most recently in the Academic Success Centre (ASC) where she devoted her time, energy, and vast experience to mentoring, training, and supporting peer tutors as they assisted students with academic work and the development of learning strategies. Gayle was dedicated to empowering students and helping them change their lives as they pursued their educational goals and dreams.
Prior to her work in the ASC, Gayle was a long-time faculty member in the UFV Fashion Design program. She started at UFV as a sessional instructor in 1991, and became a full-time faculty members in Fashion Design in 1996.
Gayle holds the distinction of having been a four-time recipient of the UFV Teamwork award: she won as a member of the UFV Green team in 2016, the Global Lounge team in 2017, the Long Night Against Procrastination team in 2019, and the Professional Development Day committee in 2020.  
Gayle was active on a variety of UFV committees, including: 
Nominations and Elections committee

 

Indigenous Studies Advisory committee

 

Research Advisory committee

 

Fashion Design curriculum group

 

Academic Standards committee

Work Study advisory committee.

 
Related to her Fashion Design position, she was an educator, curriculum developer, textile artist, and apparel analyst. She also served as department head. 
While a member of the Fashion Design department she represented the university on curriculum development projects that took her to Kenya, Abu Dhabi, and Ghana. She was also heavily involved in the annual fashion show and hosted several study abroad international student tours.  
Gayle was an accomplished and dedicated team player for three decades at UFV, with heavy involvement in student development and education locally and internationally. Her quiet persistence served her well as an advocate for projects close to her heart.  
 In recent years Gayle was involved in the creation of an Indigenous Garden on the Abbotsford campus.  
Her husband Greg reports that she was a major proponent for Indigenous rights and acknowledgements, and that the issue spoke to her heart. He says that she was a strong believer in fighting injustice and seeing the beauty in everything. Days before she was admitted to hospital she attended the Truth and Reconciliation Day event on the Chilliwack campus. She also took several Halq'emeylem classes.  
Gayle was very proactive at UFV in the many years she worked there and was the catalyst for many ideas. She was loved and appreciated by many colleagues and students.  
An album of photos of Gayle at UFV
UFV has provided grief counselling services to students and staff who knew and worked with closely with Gayle.  
If you are a UFV student, counselling services are available through the UFV Counselling Services page.  
UFV has support programs available if you are a UFV employee experiencing distress or are having difficulty coping with this, or other events or issues. UFV employees may contact UFV's employee assistance provider, Homewood Health, in confidence by calling: 1-800-663-1142 or you may visit www.homewoodhealth.com.  
Human Resources also offers Not Myself Today, an initiative of the Canadian Mental Health Association. We encourage you to explore the resources, tools, and activities that are available online 24/7. 
To create an account for Not Myself Today, please visit their site.