Now that Annabelle and I are settled back in Canada, it's time to recap the 13th and final day of LIYSF! It is crazy to me that two weeks flew by so quickly, but I suppose that is a testament to how amazing our time in London truly was! 
Our final day began bright and early with our last breakfast at Imperial College. After breakfast, we headed to RGS for the participant forum. This event was similar to the debate evening, in that it was focussed on hearing participants voices, but this time featured a panel of students on stage! There were three categories, each with a pro- and anti- argument. Each of the six students were assigned their topic and stance and had to make their points in front of everyone. There was then opportunity for input from the audience where students from all over the world had an opportunity to have their voices heard! Overall, this event was very entertaining and featured a ton of insightful opinions and arguments!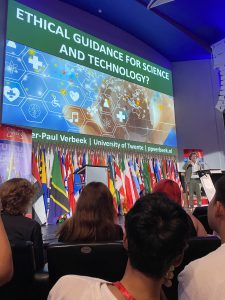 After the panel, it was time for lunch! My friends and I headed to Hyde park for one last picnic lunch of the forum. After lunch we headed back to RGS for the last time for the closing keynote address and closing ceremony. The closing keynote address was given by Dr. Peter-Paul Verbeek, a Dutch professor and philosopher whose work focusses on ethics in STEM. He gave a phenomenal address on the topic, covering the ethics of experiments, pseudoscience and the ethics of sharing misinformation online. It was amazing to hear a bit of a different perspective for one of these lectures, especially on such an important topic! 
After Dr. Verbeek's talk, we went straight into the closing ceremony. We gave thanks to those that made the forum possible, heard from the wonderful staff for the last time, and were presented with a beautiful video of all of our memories at LIYSF-memories which will most definitely not be forgotten anytime soon! 
After the closing ceremony, we headed to the Copthorne hotel for dinner and the farewell party. We danced the night away and said our final goodbyes to all of the amazing friends we met during our time in London! Annabelle and I then headed to bed to make sure we caught our early morning flights back to Canada!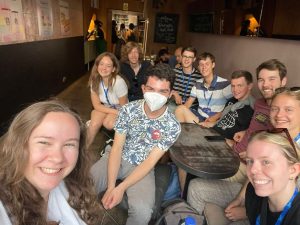 I think I speak for both Annabelle and I when I say these past two weeks in London were among the most exciting weeks of our lives. We heard from world renowned lecturers, toured incredible academic institutions and had the opportunity to share our work on an international scale. All amazing opportunities, but most amazing of all was the people we met during our time at LIYSF. We met like-minded students from over 50 countries and every major continent, all of whom came together with a common passion for science and technology. I am so grateful for the friendships I have made during my time in London, and have no doubt they will last a long time. 
I am incredibly proud to have represented the University of the Fraser Valley and Canada at the 63rd Annual London International Youth Science Forum. Annabelle and I are incredibly grateful to UFV and the Faculty of Science for the opportunity to have attended LIYSF this year. It was truly career altering and life changing. We will take what we have learned into our studies, apply what we have learned in our future careers, and hold onto the memories for the rest of our lives. 
~Rhien