Science Rocks! is a series of summer day-camps for kids in grades 4-6, held on UFV campuses, with three weeks in Abbotsford and three weeks in Chilliwack. https://www.ufv.ca/science/science-in-the-community/science-rocks/science-rocks-summer-camp/
We are looking for UFV students who …..
Have a passion for science, love working with kids, and are excited to bring these two together;
Work well in a team situation as well as on their own;
Have good organizational skills;
Have a broad science background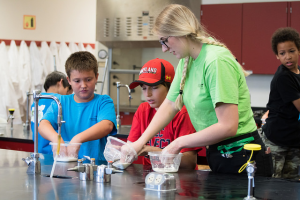 We are looking for 3 students with diverse backgrounds covering most of the science areas. Preference will be given to students who have experience working with children. Facilitators must obtain a criminal record check.
Dates: June 27, 2022-August 24, 2022
Hours: 8 hours per day
Salary: $16 per hour ( + 10% in lieu of vacation and statutory holidays)
Application process: Please complete the Science Rocks Application Form, and submit it with your resume and a brief letter of interest to sciencerocks@ufv.ca
Deadline extended: Applications received by May 6, 2022 will receive full consideration
Contact: Robin Endelman, sciencerocks@ufv.ca