Chemistry students, Connor Frey and Kenneth Ku, in collaboration with Dr. Golfam Ghafourifar, Chemistry and Dr. David Chu, Math & Stats presented at the 27th International Symposium on Electrophoretic and Liquid Phase Separation Techniques, ITP. The event was to be held in Nanjing, China, however, in light of the Covid-19 situation, the conference was held in a digital format with scientists participating worldwide from their respective locations, over the course of three days, from November 2-4, 2020.
Connor presented his poster, "The Crosslinking of Chymotrypsin with Formaldehyde: Determining Optimal Parameters Using Mass Spectrometry and UV-Vis Spectroscopy with Bradford Assay". https://itp2020.org/1086/speaker_details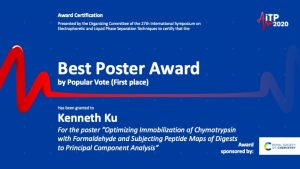 Kenneth's poster, "Optimizing Immobilization of Chymotrypsin with Formaldehyde and Subjecting Peptide Maps of Digests to Principal Component Analysis" won 1st place for Best Poster by Popular Vote. https://itp2020.org/1083/speaker_details
Congratulations to you both and to your faculty supervisors for a job well done!