Congratulations to Aisa Dobie, the recipient of the 2020 Faculty of Science Dean's Medal of Excellence.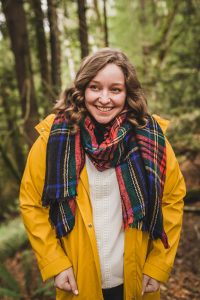 Aisa has been on the Dean's list every year and achieved an overall GPA of 4.07. The Dean's medal is awarded not only for academic achievements but also for leadership and participation in the life of the University. She has been an active member in the Biology and Chemistry Student Association (served as president), she was an SLG leader, a student representative for the Science Faculty Council, and co-founded the first Women in STEM club at UFV. She conducted a full research project with her supervisor, Dr. Nathan Bialas, and was awarded the UFV Undergraduate Research Excellence Award for Biology.
Dr. Lucy Lee, Dean of the Faculty of Science, visited Aisa at her home earlier this month and presented her with her medal.
The exemplar role Aisa leaves to the students at UFV is amazing and for that she is a very worthy recipient of this award.
I have truly loved my time at UFV and will carry this sense of community and school culture with me onto my continued studies.
So what's next for Aisa? She will be continuing her studies at the University of Waterloo, School of Optometry in the fall.
We wish her all the best on her next chapter!