Dr. Lucy Lee, Dean of the Faculty of Science and 2019 UFV BSc Graduate and UFV Biology Lab Technician, Eryn Braley, attended the 46th annual Canadian Ecotoxicity Workshop (CEW) held in Quebec City this week.
The CEW is Canada's predominant annual meeting in the field of ecological toxicology and related disciplines. It provides the opportunity to share information on current and emerging topics of regional, national and international importance related to contaminants in ecosystems, both aquatic and terrestrial.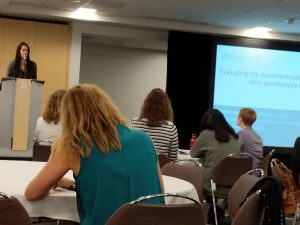 Dr. Lee presented her research entitled, "Development and uses of fish gill cell lines: an update with RTgill-W1 in toxicology" during the Alternative Approaches to Animal Testing for Ecotoxicology Session. Eryn's presentation entitled, "Evaluating the environmental risks of neonicotinoids in vitro: genotoxicity in fish cell lines" was during the Agricultural Contaminants: evolution and reduction of environmental risk session.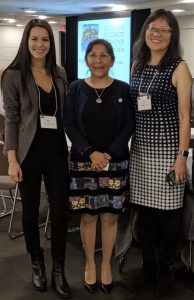 Lucy and Eryn also had the pleasure of meeting Senator Rosa Galvez. Senator Galvez is a member of the Ordre des ingénieurs du Québec, the Canadian Society for Civil Engineering and Engineers Without Borders. Her research has led her around the world to countries such as France, Italy, Belgium, Japan and China.